CERTOSA SAN MARTINO, Museum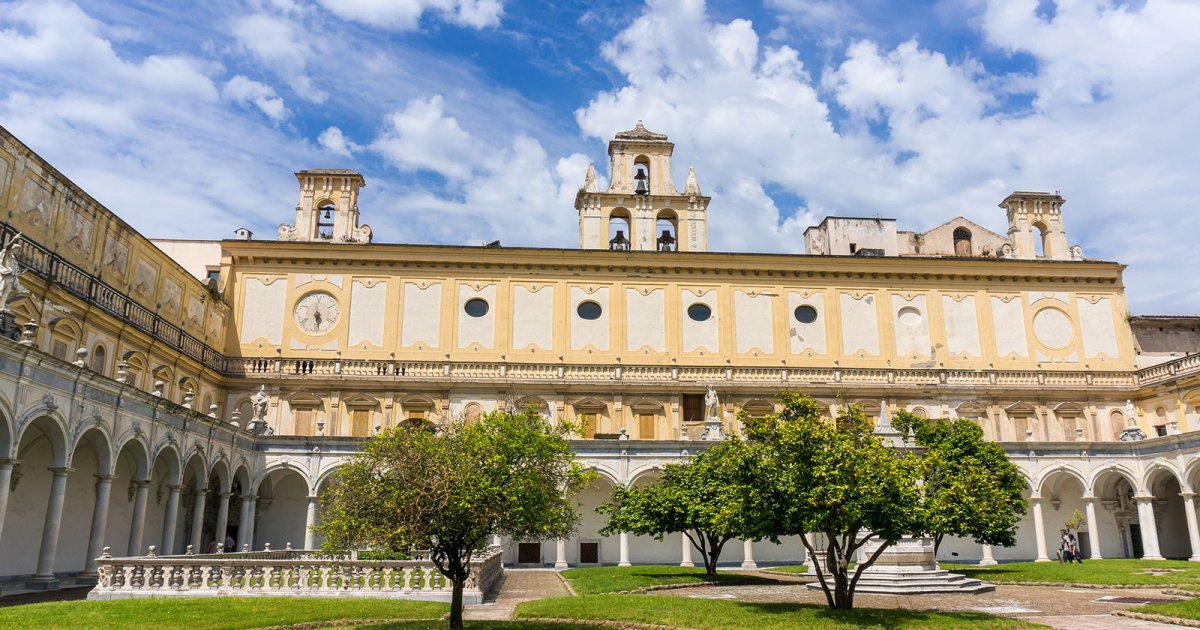 Audio File length: 3.16
Author: STEFANO ZUFFI E DAVIDE TORTORELLA

Language: English / USA
And now you can finally end your visit with a bang by visiting the National Museum of San Martino and going on a stroll through history and art among the convent's cloisters and the many rooms spread over many floors. The museum is dedicated to the history of the city of Naples and exhibits paintings, sculptures, maps, memorabilia, and objects of different ages, but above all you'll appreciate the relationship the collection has with the monumental rooms of the Certosa and the amazing views that open up from the windows and terraces.
While visiting the museum, make sure you don't miss the sixteenth-century Chiostro dei Procuratori, or procurator's cloister, that can be reached from the church through a passage with Gothic masonry remains. The cloister also provides access to the gardens that descend along Vomero Hill and are divided into three levels: the highest was the monks' herbarium, the one in the middle was the Parish's vegetable garden, and the lower one had vineyards.
Behind the church you still have the magnificent Great Cloister from the late 1500s: its style illustrates the period of passage from the end of the Renaissance, represented by the elegant linearity of the structure, to the beginning of the Baroque age. Surrounded by Doric-Tuscan order columns, the cloister is kept as a garden and is also the monks' cemetery: look at the beautiful skulls carved over the white marble balustrades.
Going back to the museum, let me point out the section that's displayed in the rich Prior's apartment that was frescoed by the 17th-century painter Micco Spadaro: you'll be able to admire important Renaissance and Baroque sculptures and the collection of paintings by the Certosa fathers, along with a selection of artists from the 17th-century Neapolitan school including Battistello Caracciolo and Jusepe de Ribera. But in the museum you'll also see stupendous collections of ceramics, porcelain, and glass in addition to carriages, theatrical memorabilia, objects related to traditional festivals and ceremonies... and above all a series of landscapes and maps of Naples from the 1400s to the 1800s that will show you the beauty of the city as it was hundreds of years ago.
FUN FACT: the museum's pièce de résistance is the Cuciniello Nativity Scene, a masterpiece of the Neapolitan tradition of recreating the scene from Christmas. It dates back to the 18th century and includes more than 200 figures, all with astonishingly refined costumes, jewels, and miniature items. It is displayed in a cave where the ancient Certosa kitchens once were.
And with this we have finished our tour of the Certosa and the Museum of San Martino. MyWoWo thanks you for staying with us, and will see you at the next Wonder of the World!