MUSEO DI CAPODIMONTE, The 15Th Century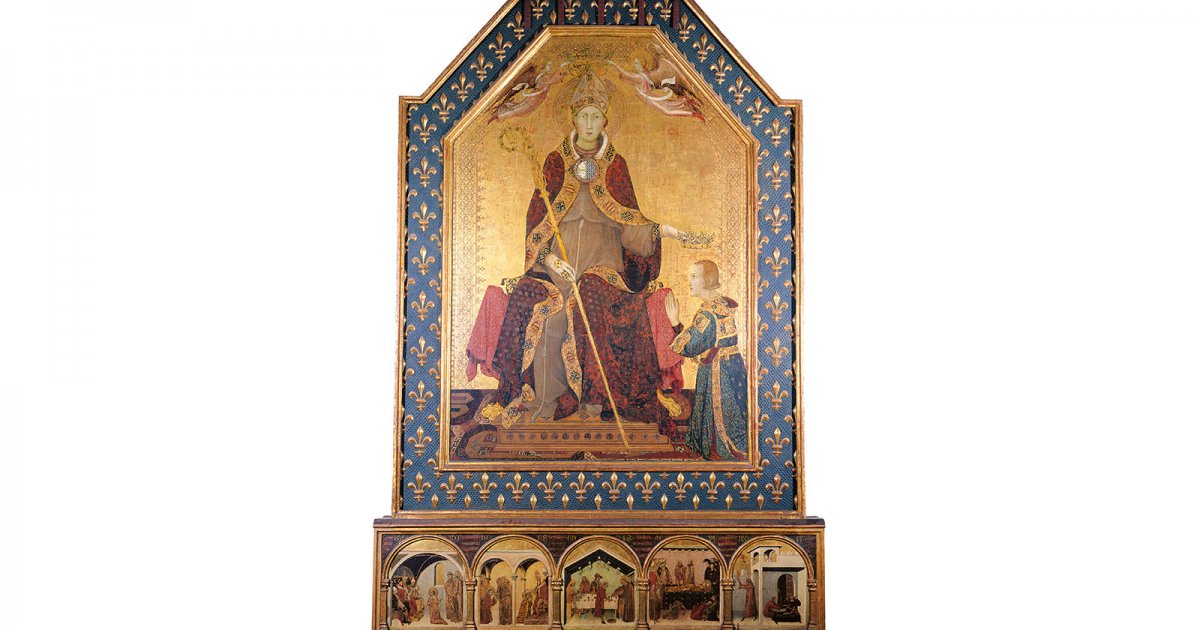 Audio File length: 3.11
Author: STEFANO ZUFFI E DAVIDE TORTORELLA

Language: English / USA
Now let me tell you about some of the paintings that you absolutely must see while here at the Galleries of Capodimonte.
An absolute masterpiece of international Gothic painting is the large, shining panel by Simone Martini depicting St. Louis of Toulouse on the Throne.
In 1317 the Sienese painter was named a Knight by the King of Naples, Robert of Anjou: the panel apparently celebrates a saint who had been canonized that same year, but as Louis was the heir to the throne and had abdicated in favor of his brother Robert, the painting is actually a political manifesto that aims to legitimize the Angevin power. Never has a painting had such an explicit aim of propaganda. In fact, you can see Robert together with the saint in the act of receiving the crown from Louis's hands: just think, this is the first realistic portrait of a living character in Italian painting! Carefully admire the five paintings on the bottom as well, because architectural views are depicted as a viewer would see them if he were standing at the exact center of the painting!
Now go to the fifteenth-century section: Capodimonte has some absolute masterpieces from this period.
I highly recommend a few pieces from the Florentine school: the painted panel with a gold background depicting the Crucifixion by Masaccio, and the enchanting Madonna with Child and Angels by Botticelli, a refined example of art from the age of Lorenzo the Magnificent.
Instead from the Venetian school, I suggest comparing two masterpieces: the austere and statuary Saint Euphemia painted by Andrea Mantegna and the gorgeous Transfiguration of Christ, where Giovanni Bellini reveals a new sense of landscape and atmospheric light.
From the fifteenth-century Neapolitan school, right at the time of the passage from the Angevins to the Aragonese, let me point out the mysterious Colantonio, perhaps the most interesting Neapolitan artist of the late-1400s, famous also as the master of Antonello da Messina. You'll see an extreme attention to detail in his paintings, but also an increasingly larger and surer sense of space and volume. His main work is the so-called Ancona dei Rocco painted for the altar of San Lorenzo Maggiore. Initially the painting had several different parts, but then it was separated and you can see only two panels here entitled: St. Jerome in His Study and Delivery of the Franciscan Rule.
FUN FACT: as I mentioned, little is known of the fifteenth-century painter Colantonio. But one thing is certain: he could copy any painting by any artist. In short, he was a great counterfeiter, one of the first in history!