MUSEO DI CAPODIMONTE, Titian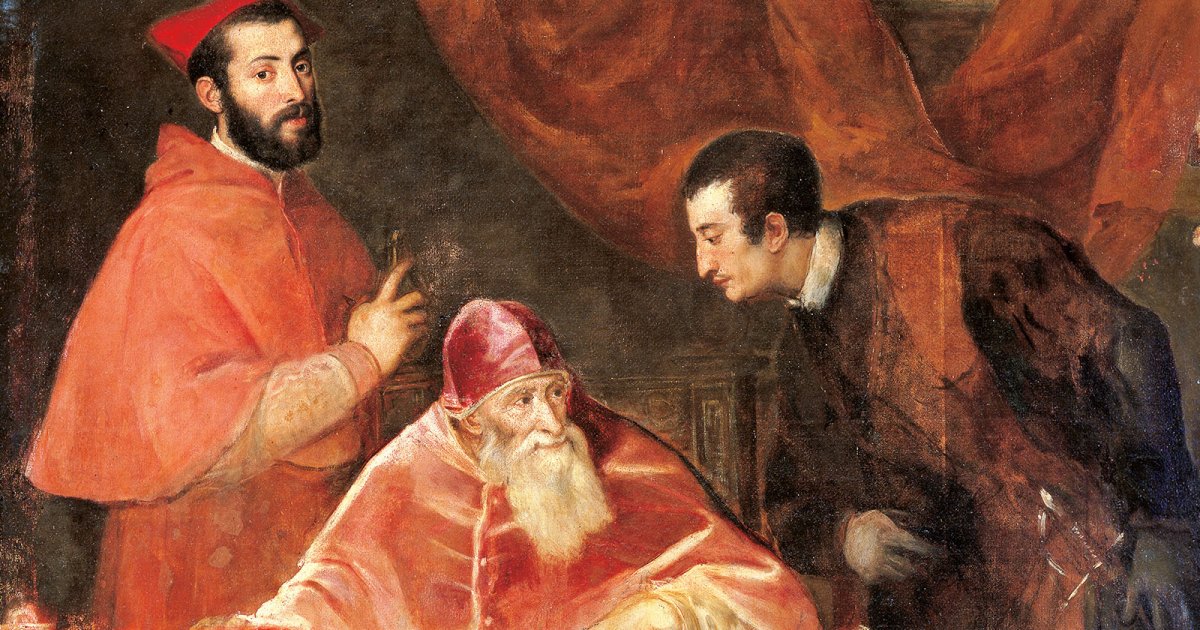 Audio File length: 3.13
Author: STEFANO ZUFFI E DAVIDE TORTORELLA

Language: English / USA
The Farnese collection naturally has several works by Emilian painters such as Correggio and Parmigianino, but the most fascinating room is definitely the one with paintings Titian made in Rome between 1545 and 1546 when he was the guest of Pope Paul III Farnese.
The great Portrait of Pope Paul III with his Nephews Alessandro and Ottavio Farnese is the most important of all the paintings made for the Farnese family, and one of the greatest portrait masterpieces of all time. In this painting Titian adopted a particular technique, leaving some details almost unfinished to accentuate the atmosphere of intrigue and ceremony. In a harmony of reds that is both lavish and suffocating, this great canvas demonstrates the impression that Titian got from his stay in Rome. The psychological triangulation between the pontiff, apparently decrepit and fragile but with the eyes of an old fox, the young Cardinal Alessandro who's nonchalantly leaning on his uncle's chair, and his grinning grandson Ottavio is truly worthy of a Shakespearian tragedy. Not only that, Ottavio's pose is a parody of one of the most famous statues of Classicism, the Discobolus, and this says a lot about the casual attitude with which Titian approached the classical models!
Now pause the audio and move on to another famous work that's also by Titian, titled Danae.
According to mythology, Danae was a beautiful young woman that Jupiter yearned after so much that he became a shower of golden rain in order to physically take her. The author Giovanni Della Casa speaks of the erotic intensity of this "naked woman who makes your blood boil", who was destined to delight Cardinal Alessandro upon seeing her.
Anticipating his trip to Rome, Titian skillfully organized the time it would take him to complete it by starting the canvas in Venice and bringing it with him to finish off in the first days of his stay in the Vatican. With this move, Titian tried to make an "example" in Rome's cultural atmosphere, and managed to create precisely the effect he was hoping for. Titian was about fifty-five when he painted the canvas, but had never depicted a naked female with such explicit eroticism before.
FUN FACT: giving the best of his extraordinary ability to make figures come to life, Titian has immortalized the Farnese family in other portraits you can admire in this room: the twenty-five year old Cardinal Alessandro wrapped in purple, the fiery Pier Luigi in armor, and the seated pope. It is said that when the latter had just been finished and was left to dry on a terrace, it resembled the pope so much and was so realistic that the passersby bowed in front of it!