PIAZZA PLEBISCITO, Church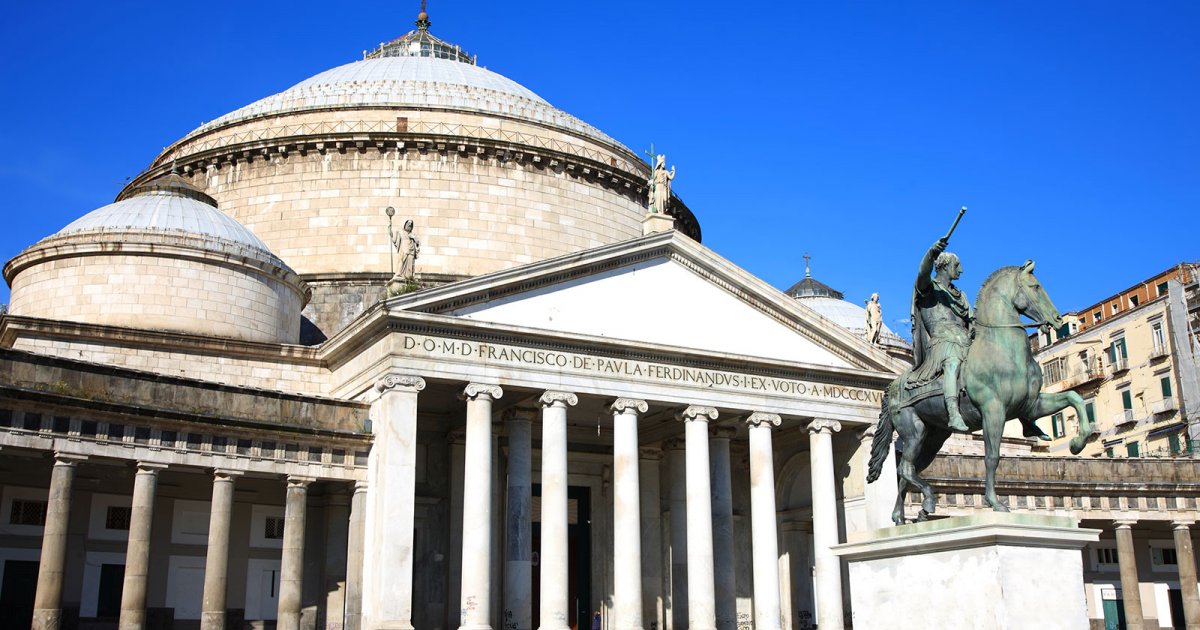 Audio File length: 2.42
Author: STEFANO ZUFFI E DAVIDE TORTORELLA

Language: English / USA
Piazza del Plebiscito is a privileged venue for political, social, and cultural events thanks to its dimensions and scenic architecture; one such example is the moving ceremony that was organized for the funeral of the much-loved Neapolitan singer Pino Daniele. Instead during Christmas, the monumental space is the backdrop for installations by contemporary artists, which are always surprising and the topic of much discussion.
And now let me tell you about the square's history, which as I mentioned, has a Neoclassical style. When Napoleon placed his brother-in-law Joachim Murat on the throne of Naples at the beginning of the nineteenth century, this public space was finally reorganized in a more rational manner. Thanks to the demolition of several monasteries that stood here, the "Joachim Forum" was created, a monumental site that among other things would serve to celebrate the splendor of the Napoleonic dynasty. Then the two twin palaces that you see facing one another were built: one was the seat of the State Ministry, and the other the Foreign Ministry.
After the fall of Napoleon, the Bourbons returned to power and the square changed character. King Ferdinand IV restored a religious aspect by erecting the Church of San Francesco di Paola preceded by a semicircular arcade around the churchyard; the church was inspired by the Pantheon of Agrippa in Rome. And so the square was majestically inaugurated in 1846 with the name "Piazza Ferdinandea" or "di San Francesco di Paola" in honor of the saint who, according to the king, had aided in his return to the throne.
If you go inside the church you'll see that the interior was also inspired by the Pantheon, with its vast circular space, the dome with square, paneled niches called "cassettoni", and the large round window above. I suggest admiring the beautiful floor with colored marble, the nineteenth-century decorations, and the works of art and furnishings from churches that had been demolished or modified in previous centuries.
I'd especially like to point out the main altar that was made in porphyry in the middle of the 18th century, with inlays of precious historical stones known as agate and lapis lazuli.
FUN FACT: the statue in the square of Charles III of Bourbon on horseback has a funny story. It was originally supposed to be a statue of Napoleon, but before it was completed the Bourbons had returned to power. However, the king was sorry to throw away the whole group, so he simply had the emperor's statue destroyed and saved the horse. So now Charles III is on Napoleon's horse!