ROYAL PALACE OF CASERTA, Exterior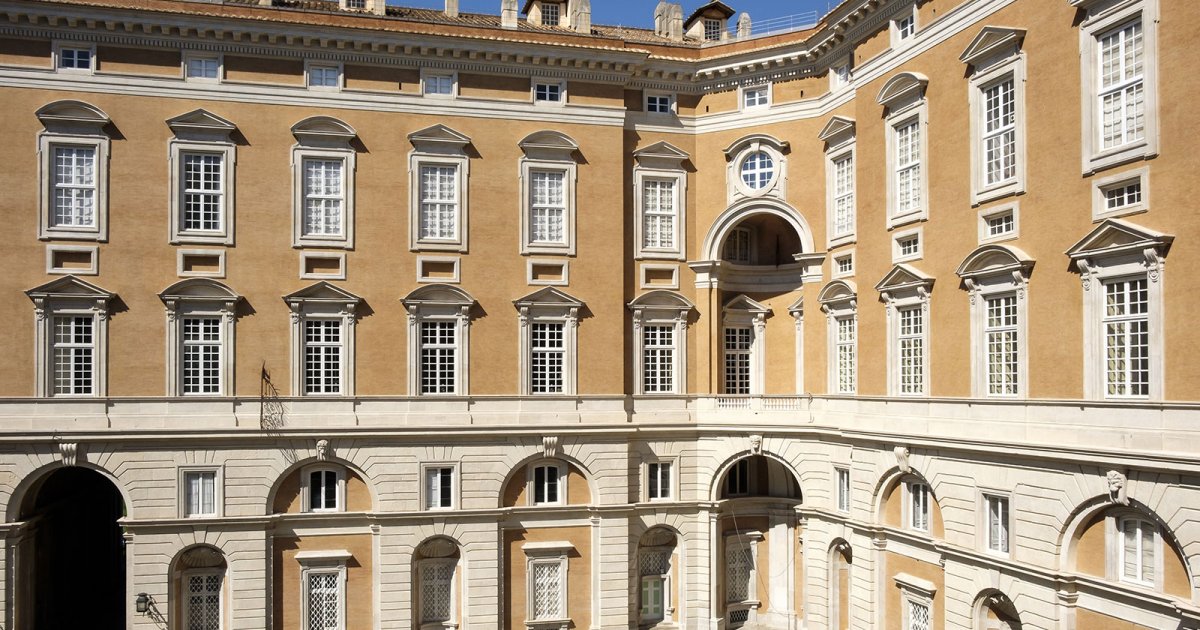 Audio File length: 2.29
Author: STEFANO ZUFFI E DAVIDE TORTORELLA

Language: English / USA
The Royal Palace's style marks the passage from late-Baroque architecture to the formal sobriety of early Neoclassicism. If you stand directly in front of it this will be quite clear: the architect Vanvitelli conceived it as an enormous rectangular block divided at the center into four courtyards with two perpendicular arms. At the intersection of the arms, which is the heart of the complex, a large octagonal two-story hall leads you to a grand staircase and the upper floor. A stunningly large building, it is thirty-six meters tall with six floors and a basement, 34 stairways and staircases, and 1,200 rooms illuminated by 1,790 windows, all surrounded by a 120-hectare park!
The director of its construction was supported by a local architect responsible for the construction site, a Lombard foreman, a crowd of sculptors and painters, a Parisian garden designer, and an English botanist who cared for the park and garden. The designs, models, and sketches can be seen inside the palace along the tour itinerary.
For the Palace's construction, all the marble and stone quarries of the Kingdom of the Two Sicilies were recruited, while the furnaces for the bricks were installed in the vicinity of the construction site, and all the upholstery was made on the factory looms of nearby San Leucio, just three kilometers away. Hundreds of convicted prisoners were employed as workers, whose punishment was converted to forced labor; captives from North African coasts were even brought to work here. Altogether, about 3,000 people were employed in the Royal Palace's construction.
The long main façade faces a large, semicircular square. Admire the simple elegance of the two rows of windows with alternating triangular and semicircular pediments, as well as the sobriety with which the simple Corinthian columns make it seem as if the central section slightly protrudes from the wings at its sides. Keep in mind, however, that this type of palace always has the most striking façade facing the garden.
FUN FACT: when the Royal Palace became part of the patrimony of the Kingdom of Italy in 1861, a group of Piedmontese officials were sent to create a complete inventory of its furnishings. When they found themselves in front of a "bidet", they were puzzled because they had never seen one before, and wrote: "Object for unknown use in the shape of a guitar".