ROYAL PALACE OF CASERTA, Interior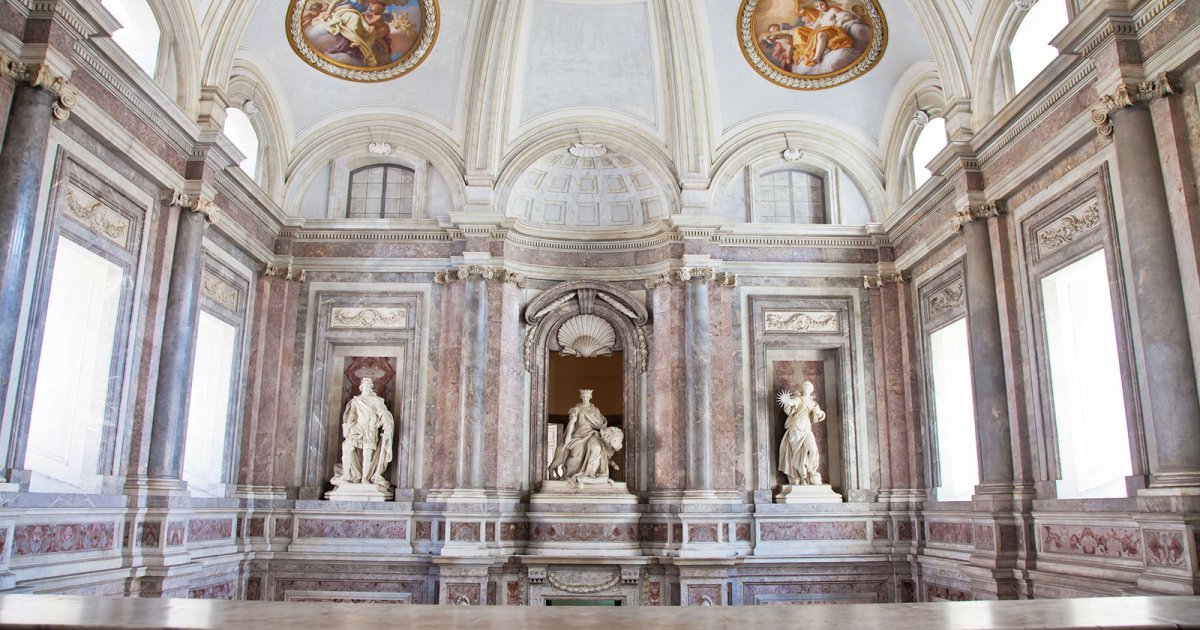 Audio File length: 2.42
Author: STEFANO ZUFFI E DAVIDE TORTORELLA

Language: English / USA
Coming in from the main façade, the entrance opens up onto the immense lobby that continues along the palace and opens onto the inner courtyards; in the middle of the courtyards you'll see the octagonal atrium with its grand staircase.
The vestibule and grand staircase are the real architectural jewels of the Palace. The vestibule is the meeting point of all four courtyards and the center of the entire building; the grand staircase is a spectacle of style and features. The flights are decorated with statues of lions, and the statue of King Charles of Bourbon sits on a lion in the central niche. All around, you can see eighteenth-century sculptures alternating with statues from the excavations of the ancient cities buried by Vesuvius.
Two flights take you to the lower vestibule and a single central flight of stairs leads you to the upper vestibule facing the Palatina Chapel and its platform reserved for the king: this part of the palace was most clearly inspired by the Palace of Versailles.
The royal apartments include the Alabardieri Hall, Guards' Hall, and Alessandro Hall, which is located directly at the center of the main façade: they were all built under the direction of Carlo Vanvitelli, the son of the original architect, and weren't completed until the 1800s. The best artists of the kingdom were called to fresco the rooms and decorate them with marbles and stuccoes.
The royal apartments include dozens of rooms, and were all decorated and furnished with the styles that were popular between the 1700s and 1800s. After the Royal Palace was modified and damaged when it was used as the seat of the Allied Command in World War II, it took several decades to restore it and reopen it to the public.
Today, its itinerary will surprise you for its glamour and harmony. You'll be fascinated by the eighteenth-century views of the Neapolitan kingdom's ports, the work of a great German landscape designer, as well as the fantastic nativity scene with about 1,200 statuettes, and by the bedroom of Ferdinand II, the last Bourbon king, who died in 1859 from a contagious disease, after which all the furniture of his room was burnt.
That fire was prophetic: the following year Garibaldi entered the Royal Palace, delivering the monument and the entire Kingdom of Naples to Vittorio Emanuele of Savoy.
FUN FACT: the symbolic "first stone" of the palace bears an inscription that says: "The palace and the Bourbon lineage will last until this stone flies into the skies on its own accord". Apparently not all prophecies come true!