ROYAL PALACE OF CASERTA, Park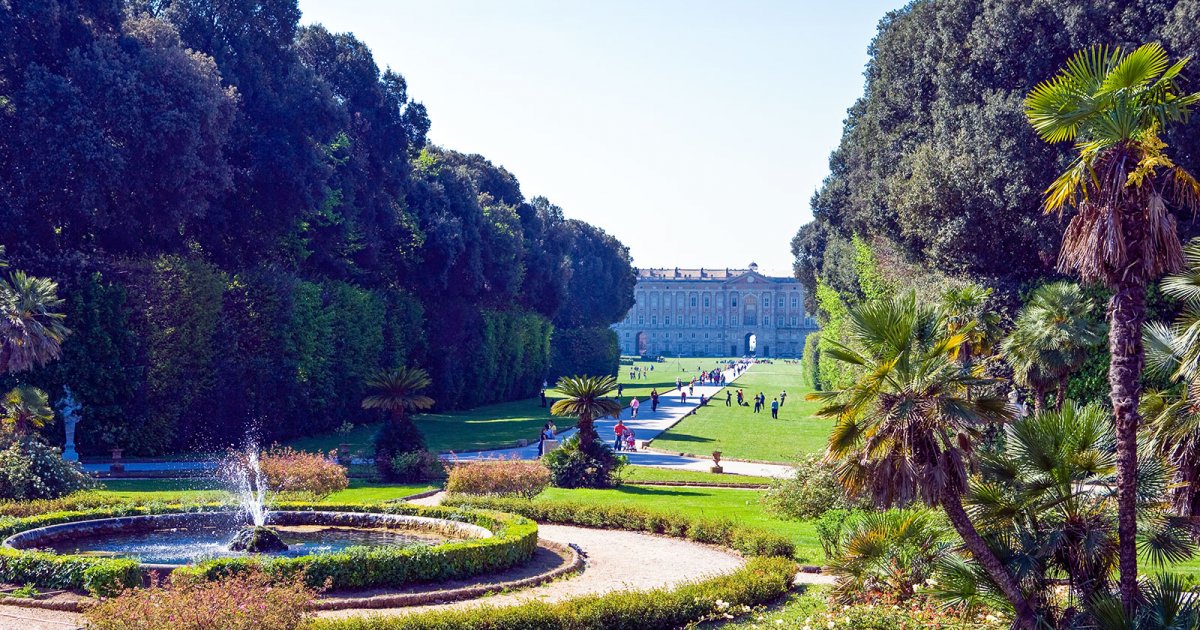 Audio File length: 2.30
Author: STEFANO ZUFFI E DAVIDE TORTORELLA

Language: English / USA
From here you can enjoy a very different setting than that of the immense and somewhat stern building: a green paradise immersed in the light of fantastic Mediterranean nature, with precious additions of sculpture and architecture. The park is so large that it is even crossed by a bus line, which can at least partially help with the long, but wonderful, paths through the park.
The park is structured around a waterway that runs in a three-kilometer straight canal just behind the palace façade, and is decorated with waterfalls, statues, and fountains.
The rectangular garden immediately behind the rear façade is called a "parterre", and is arranged according to French garden rules based on the Versailles model, with regular flowerbeds and large avenues that create geometric paths. Instead the sides have an opposite inspiration and are based on the then-new concept of an "English" garden with groups of trees, meadows, and green areas that seem spontaneous and natural. At the back left you'll find the basin of the Great Peschiera, which provided the court kitchen with always-fresh fish.
The roundabout of the Fountain of Canestro takes you to the Hercules Bridge. From here you can take in a grandiose scene full of plants and water nourished by the wonderful waterfall supplied with water from the Carolino Aqueduct.
Walking along the Great Peschiera, you'll reach the Fountain of Dolphins. After a long meadow, the grandiose Fountain of Aeolus awaits, with 29 statues of the winds arranged on artificial rocks. Climbing up next to a narrow pool with rapidly flowing water, you'll reach the Fountain of Ceres and then that of Venus and Adonis. But the real star here is the Fountain of Diana and Actaeon, where two large pools depict The Bath of Diana and Actaeon's transformation into a deer. And if you turn around you'll get a fantastic panorama of the Phlegraean Fields and the Gulf of Naples.
FUN FACT: the Royal Palace of Caserta was used for Queen Amidala's royal palace in The Phantom Menace, and then as Queen Jamila's home in Attack of the Clones, the 1st and 2nd episodes of the Star Wars saga; it was also used as Vatican City in Mission Impossible 3 with Tom Cruise.
And with this we have finished our tour of the Royal Palace of Caserta. MyWoWo thanks you for staying with us, and will see you at the next Wonder of the World!