VIA TOLEDO, Palazzo Zevallos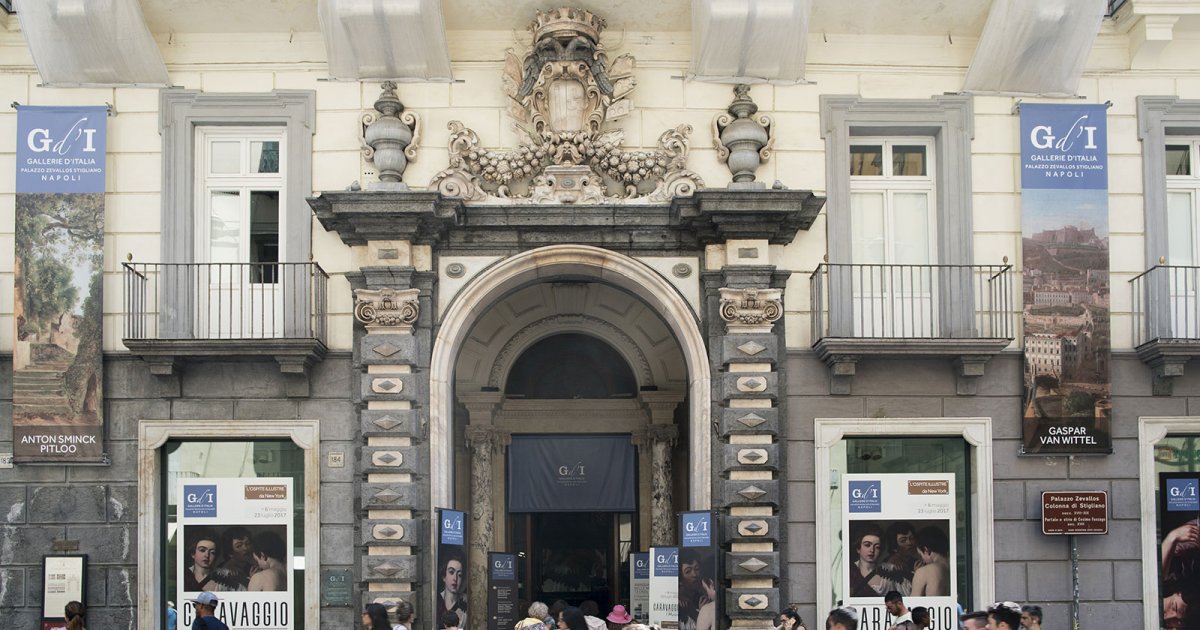 Audio File length: 2.35
Author: STEFANO ZUFFI E DAVIDE TORTORELLA

Language: English / USA
You've almost reached the "Spanish Quarter", which is to the left of Via Toledo along the slopes of the hill of the San Martino monastery. This narrow, regular grid of overcrowded roads also known as "Montecalvario" was created in the mid-1500s as a low-cost housing settlement to accommodate Spanish garrison soldiers. This area is the most picturesque Naples, with clothes hanging out to dry, impossible traffic, rigorous dialect, and warm humanity.
The vivid seventeenth-century portal of Palazzo Zevallos Stigliano was designed by Cosimo Fanzago and faces Via Toledo; it was restructured at the beginning of the 20th century and turned into a bank, and is now a museum.
Going inside to visit the beautiful collections, you'll find that the large ground floor hall with its bank counters has been rightly maintained with its tasteful Liberty style, which was originally made by covering the courtyard with glass.
The collections are mostly from the Art Collection of Banco di Napoli, and are on the first floor. Your itinerary begins with a good selection of Neapolitan painters of the 17th century, followed by a series of city landscapes inaugurated by an absolute masterpiece by Caspar van Wittel, then excellent local paintings from the 19th century, and lastly a room dedicated to the great Venetian sculptor Vincenzo Gemito, who was also a formidable designer.
The museum offers an absolute masterpiece: The Martyrdom of St. Ursula, Caravaggio's last work. Completed in May 1610, the painting was immediately shipped to Genoa by sea; less than two months later Caravaggio died at Porto Ercole on the Tuscan coast. Although tradition holds that Ursula was martyred along with many companions, you can only see a few shadows in the twilight in this painting. The brushstrokes are quick and essential: an arrow shot from up close pierces Ursula under her breast; more than sorrow, she seems to express surprise and bitterness. Notice how the colors are all very dull grays and browns, except for the red of the killer's sleeves and the saint's mantle. In its naked essence, this canvas represents the end of Caravaggio's long meditation on the meaning of suffering, martyrdom, and death.
FUN FACT: of all the works by Vincenzo Gemito exhibited in Palace Zevallos Stigliano, I'd like to point out the beautiful statue entitled L'Acquaiolo: in order to sculpt it, the artist forced his model to stand on a slippery stone he had covered in soap. This is how the sculptor managed to carve the figure's legs, depicting him as if he were trying to keep his balance.