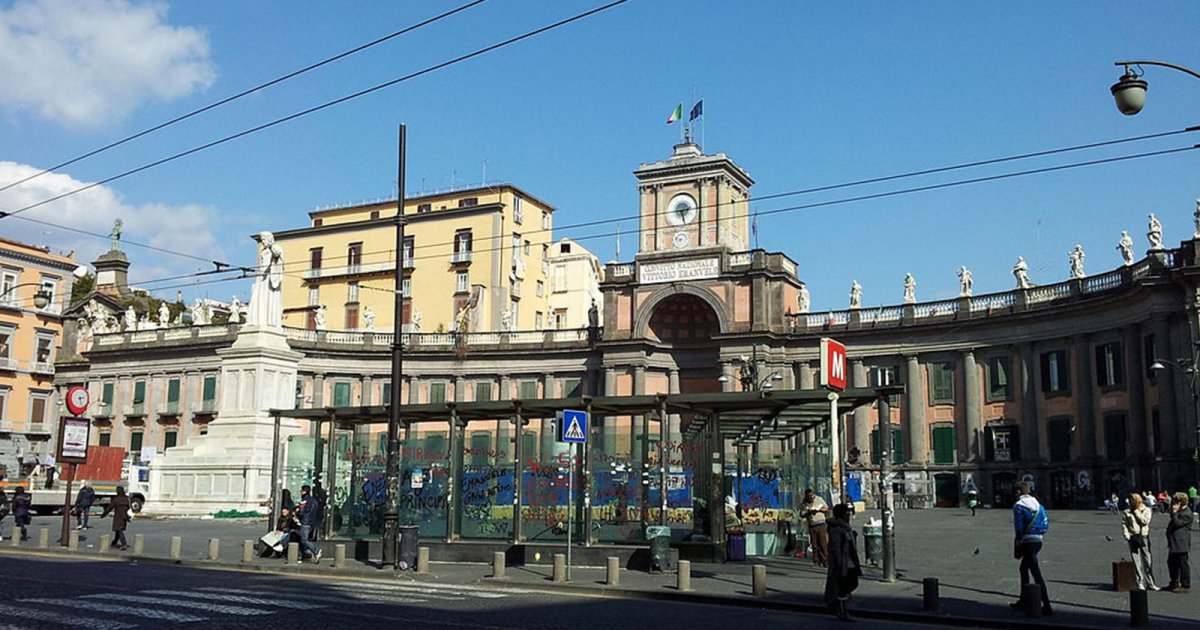 Audio File length: 2.45
Author: STEFANO ZUFFI E DAVIDE TORTORELLA

Language: English / USA
After the Conservatory of the Holy Spirit, take a short scenic route to the left in the narrow part of a housing district to reach two important monuments. The first is the interesting Church of the Santissima Trinità dei Pellegrini, which is the chapel of a hospital today, with a beautiful interior full of interesting canvases from the 1600s. A little further on you'll see the vast Palazzo Tarsia, an immense noble building that was never finished and is in a precarious state today. It would have been one of the most spectacular private buildings in Naples, and we all hope it will be restored soon! Its exterior courtyard has been transformed into a small square where you can still recognize Baroque architectural elements.
Going back to Via Toledo, on the right hand side you can see, one next to the other, two important noble palaces: they are Palazzo Carafa di Maddaloni from the end of the 16th century and designed by Cosimo Fanzago, and the splendid Palazzo Doria d'Angri designed by Vanvitelli with a trapezoidal layout. First look for the balcony above the portal's Doric columns in the white marble façade divided into three orders: this is exactly where Garibaldi announced the annexation of the Kingdom of the Two Sicilies to the Kingdom of Italy in 1860.
After this emblematic palace, your walk ends with the beautiful Piazza Dante, which was recently turned into a pedestrian square. Designed by the great Vanvitelli, it is also called the Carolino Forum and is a jewel of eighteenth-century urban planning. It has an elegant semicircular shape with the statue of King Charles III of Bourbon on horseback in the center. The twenty-six statues you see in the upper part allude to the virtues of the king. Through the great central niche you enter a historic school in the former Convent of San Sebastiano, which has two cloisters: one Medieval and the other Renaissance.
On one side of Piazza Dante you can admire the Rococo façade of the eighteenth-century Church of San Michele Arcangelo, whose interior is just as beautiful, with exquisite furnishings from the 1700s. The church is also called "San Michele a Port'Alba", which comes from the name of the nearby ancient seventeenth-century gate.
FUN FACT: during the Fascist period a famous soccer player, Attilio Sallustro, was rewarded by his team's president with one of the first Balilla cars. Super excited, he inaugurated the car in Via Toledo. Except that he hit a pedestrian, who faked a serious injury to make money. But as soon as he realized that his favorite soccer player was at the wheel, he took it all back!
And with this we have finished our tour of Via Toledo. MyWoWo thanks you for staying with us, and will see you at the next Wonder of the World!