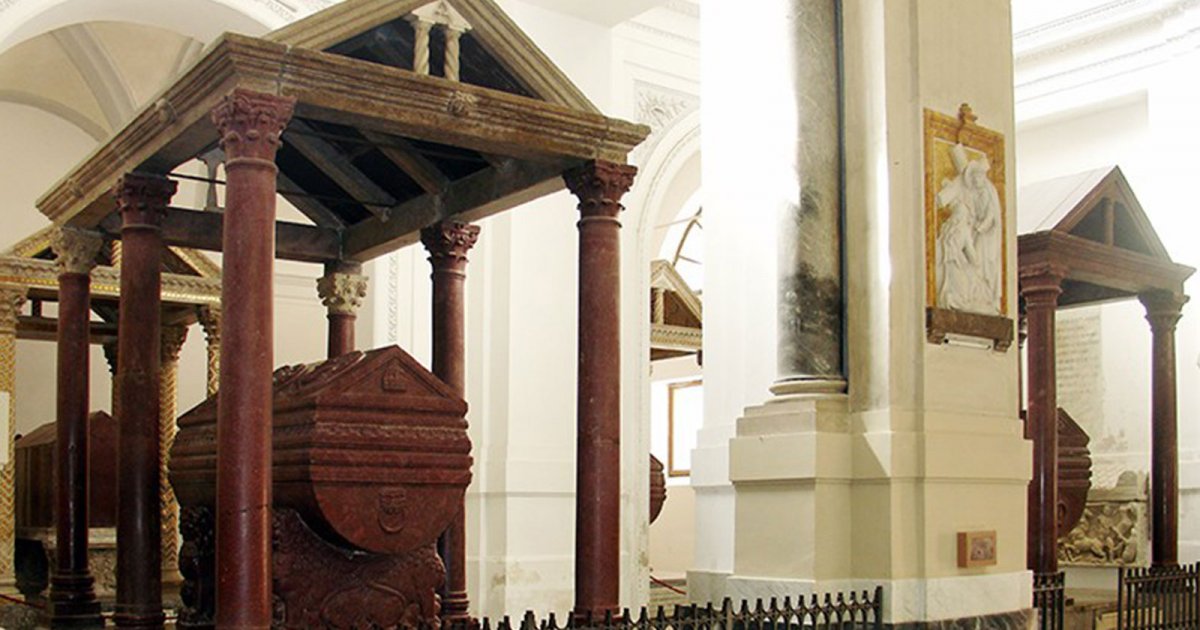 Audio File length: 2.37

Language: English / USA
Two important chapels, easy to find thanks to the signage, contain the monumental tombs of kings and emperors, moved here after the renovation of the basilica.
The first of the tombs, with a porphyry baldachin, is of Henry VI, Holy Roman Emperor from 1189 to 1197 and father of the great Frederick II. The choice of porphyry is no coincidence: it is an exceptionally hard stone, used for the most important monuments and also reserved for emperors during the Byzantine Empire.
Behind the tomb of Henry VI, you can see the tomb of his wife Constance I, Queen of Sicily, also in porphyry and with a striking mosaic baldachin.
An ancient Roman sarcophagus in white marble, decorated with a hunting scene, contains the mortal remains of Constance II of Aragon, the first wife of Frederick II. A splendid crown was found inside which you can admire in the fascinating Cathedral Treasury.
The magnificent sarcophagus you can see in porphyry, with a semi-circular bottom, supported by four lions holding human figures in their paws and topped by a monumental baldachin with six red marble columns, is the tomb of Frederick II who died in 1250. Later additions to the tomb included Peter II of Aragon in 1352, and an unknown woman.
Behind this tomb, protected by a similar baldachin with an elaborate mosaic decoration, is the tomb of Roger II, the first king of Sicily, who died in 1154 and was the grandfather of Frederick II. Made of porphyry slabs, it is supported by telamons, male figures sculpted in marble. The last of the tombs on the left is of William II, Duke of Athens, who died in 1338. He is dressed in the Dominican habit as a sign of his devotion.
We know that two of the sarcophagi were transported here on the orders of Frederick II from the Cathedral of Cefalù, to which they had been given by Roger II: they are probably those of Henry VI and Frederick II.
An interesting fact: Frederick's mother Constance was 40 when she became pregnant. Since much of the population did not believe she could actually give birth at such an advanced age, the queen was forced to do so in public, in a square in Jesi, in order to convince the doubters.
Our visit to Palermo Cathedral ends here. MyWoWo would like to thank you - see you again at another Wonder of the World!