CHURCH OF SAN CATALDO, Presentation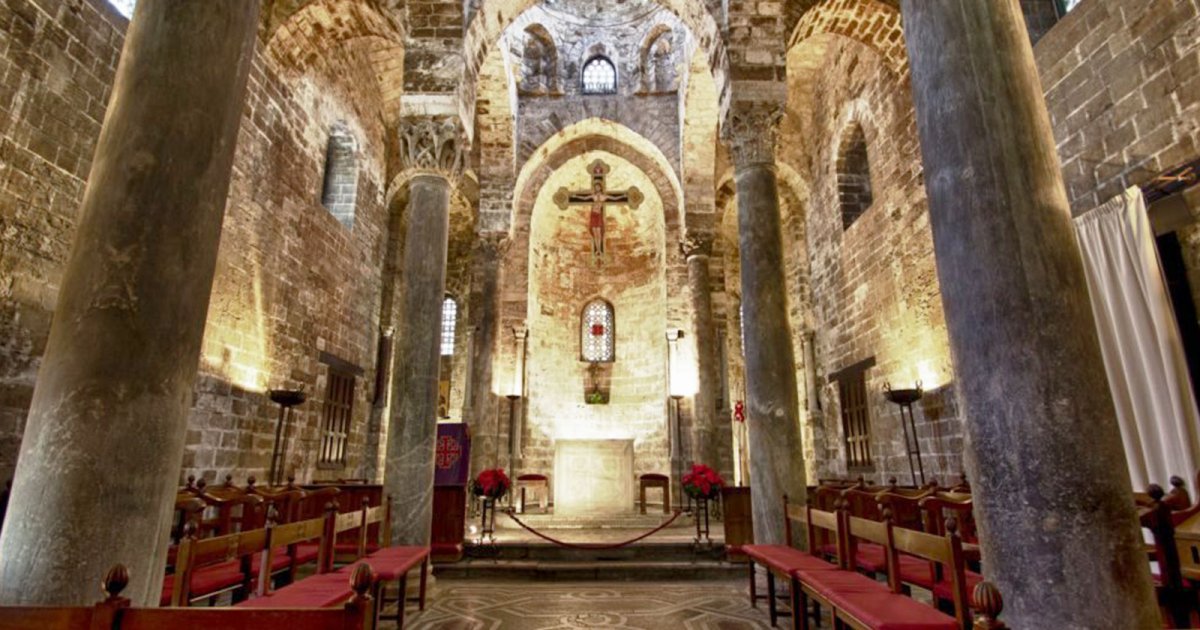 Audio File length: 2.43

Language: English / USA
Hi, my name's Scott, and I'm your personal guide. Along with MyWoWo, I'd like to welcome you to one of the Wonders of the World: the Church of San Cataldo, a masterpiece of austere Norman style.
The little Church of San Cataldo looks onto Piazza Bellini, which during the Norman period was the center of civic life in Palermo; at the time, it was known as Piano di San Cataldo or Piano della Corte.
The church was probably built around 1154 by the Great Admiral of Sicily Maio of Bari, the successor of George of Antioch, the most powerful figure in the kingdom after William I.
Maio was originally from Apuglia, and the church is a small triple-nave basilica typical of those built in his home region, and very different from the nearby Martorana, with a Greek-cross plan. In 1182, William II gave the church over to the Benedictine monks of the Abbey of Monreale, to whom it belonged until 1787, when the annexes were unfortunately turned into post offices.
In 1884, the architect Giuseppe Patricolo restored it in keeping with the tastes of the time, attempting to recover the illustrious traces of medieval architecture, and removing all elements from other periods. Patricolo's intent was to restore the church to its original appearance, but at the same time, he completely isolated it from its surroundings.
The first element you'll notice are the three small, identical, semispherical domes that make up the crown of the church, where you can see the windows with stone gratings. The domes stand high above the church, and are painted in a distinctive red color not usually found in churches.
The exterior is in a very simple, square shape, divided by arches. The cornice at the top of the facade is adorned with a motif reminiscent of precious embroidery, inspired by the Islamic tastes of which many traces remained in Sicily after the island was conquered by the Normans.
The triple-nave interior is divided by six columns recovered from Roman buildings. The central nave, dominated by the perfect geometries of the three domes, is the highest of the three. Although the church is of very modest dimensions, measuring just 10 meters by 7, it is a masterpiece of beautifully simple style.
Let me leave you with an interesting fact: the church currently belongs to the Equestrian Order of the Holy Sepulcher of Jerusalem, the oldest of the religious orders established for the protection of the Holy Sepulcher of Jerusalem at the time of the Crusades.