CHURCH OF THE GESÙ, Interior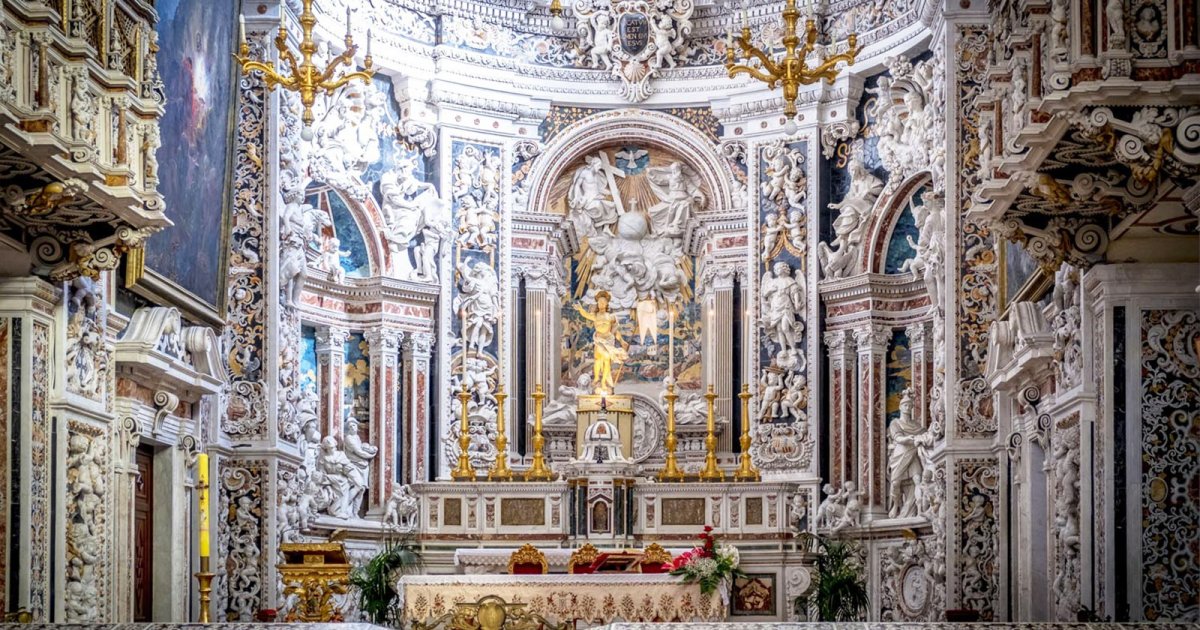 Audio File length: 3.03

Language: English / USA
The interior of the Church of the Gesù is sure to leave you speechless: the decorations are the most extraordinary in Palermo. This is not only one of the finest examples of Sicilian Baroque, but indeed one of the finest works in Europe from the period.
As I mentioned, the original sixteenth-century church was plastered in white throughout, to transmit a mystical sensation of light, perfectly suitable for conveying the profound spirituality of the Jesuit Order which placed an accent on sobriety, the value of prayer and meditation. Later, however, many churches were completely renovated, with the addition of elaborate decoration designed to highlight the victory of Catholicism over Protestantism that was clear to all, at least in Italy.
This church was no exception, and was thus embellished with incredible decorative elements in "mischio" marble: a marble on which inlay patterns are created by placing extra-thin pieces of stones – shaped to compose the desired pattern – on top of a base slab a few centimeters thick. The "tra-mischio" marble technique consisted of then adding relief figures virtually all over, to create even more spectacular effects. This technique, difficult and extremely expensive to carry out, was used to bring a magnificent finish to particularly significant altars and chapels.
What makes the Church of the Gesù so exceptional, however, is that literally every centimeter of wall was covered in marble. This incredible undertaking was begun by the sculptor Francesco Scuto, and completed impressively by his sons, aided by Baldassarre Pampillona and Giovanni Battista Ferrera.
At the beginning of the 18th century, the painter Antonio Grano, with the collaboration of the talented stucco artist Procopio Serpotta, created some outstandingly beautiful works, using paint to mimic stucco and adding marble statues to the decorative elements. The frescoes on the vault, completed in 1751 by Gaspare Serenario, met with less praise, and indeed were criticized by the Jesuits for the poor quality of the figures. In 1767, when the Society of Jesus was temporarily suppressed, the most spectacular decorative undertaking in Sicily had not yet been completed.
An interesting fact: from the church's Museum, you can go down into the Crypt, where you can see the decomposition chambers, known as colatoi (strainers) used to drain away the fluids from the corpses of the monks and dry them out before they were laid to rest in the common burial area.
Our visit to the Church of the Gesù ends here. MyWoWo would like to thank you - see you again at another Wonder of the World!