LA MARTORANA CHURCH, Interior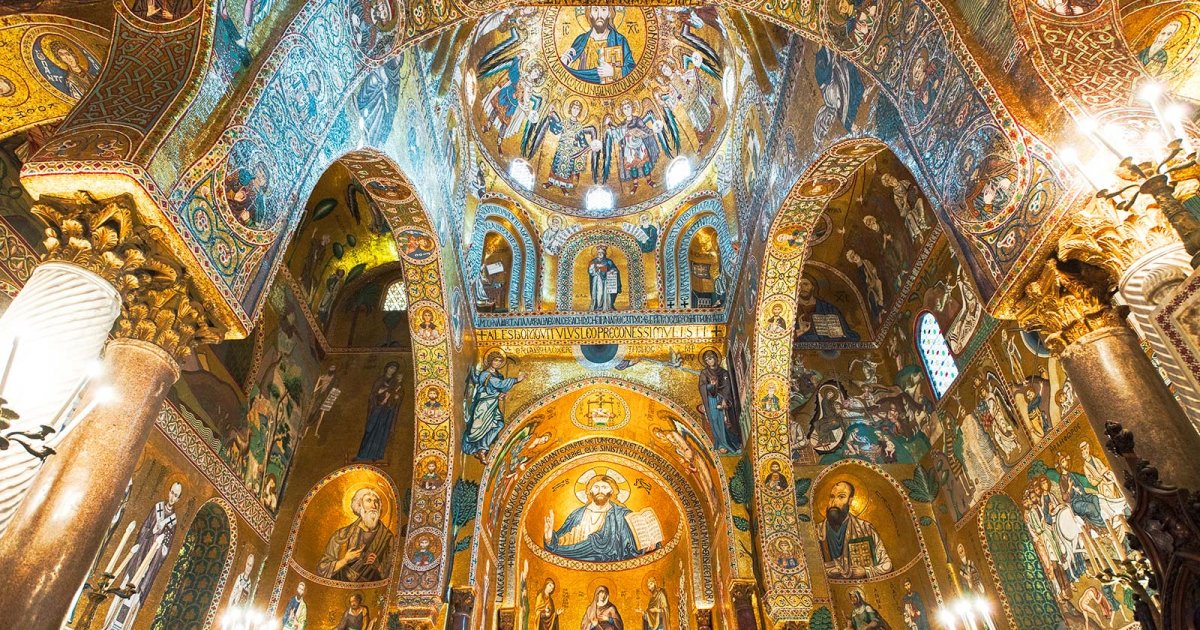 Audio File length: 2.17

Language: English / USA
As you can see, the first part of the church dates to the Baroque period, and it is decorated with frescoes from the 18th century. The most interesting part is further along, towards the dome, where marvelous glittering gold lights up the interior. Unfortunately, only two panels from the Norman decoration have survived: Christ crowning Roger II, and George of Antioch in adoration of the Virgin.
You'll see that the church is organized around the dome supported by four columns from which four arms form the pattern of a cross, with the altar in the center. The most enchanting feature of the church is the extraordinary mosaic decoration which is quite well preserved. Each moment of the liturgy is illustrated with the appropriate figures.
The mosaics, dating to around 1150, are arranged in a simple, symmetrical pattern, in which everything revolves around the all-powerful figure of Christ Pantocrator, depicted at the center of the dome. Christ is seated on the throne administering blessings surrounded by angels in adoration. The Prophets are depicted on the drum that connects the church to the dome, and you can see the Four Evangelists in the niches.
If you look carefully, you'll see that the scenes and the figures become progressively less important the closer they are to the ground, representing the passage from heaven to earth. On the vault of the triumphal arch is the Annunciation, and in the side apses you can admire Saint Joachim and Saint Anne, while the central apse, destroyed to build the choir for the nuns, originally there was an image of the Virgin Mary. The 8 Apostles are depicted on the vaults, while near the entrance, in the space occupied by worshippers during mass, you can admire the magnificent Nativity of Jesus and the Transit of the Virgin.
An interesting fact: between the mosaics, you can see Greek lettering because the Byzantine rite of the Eastern Church is still officiated in the church. La Martorana belongs to an eparchy, or diocese of the Italo-Albanian Church, so the services are officiated in both ancient Greek and Albanian.
Our visit to La Martorana Church ends here. MyWoWo would like to thank you - see you again at another Wonder of the World!