MONREALE CATHEDRAL, INTERIOR MOSAICS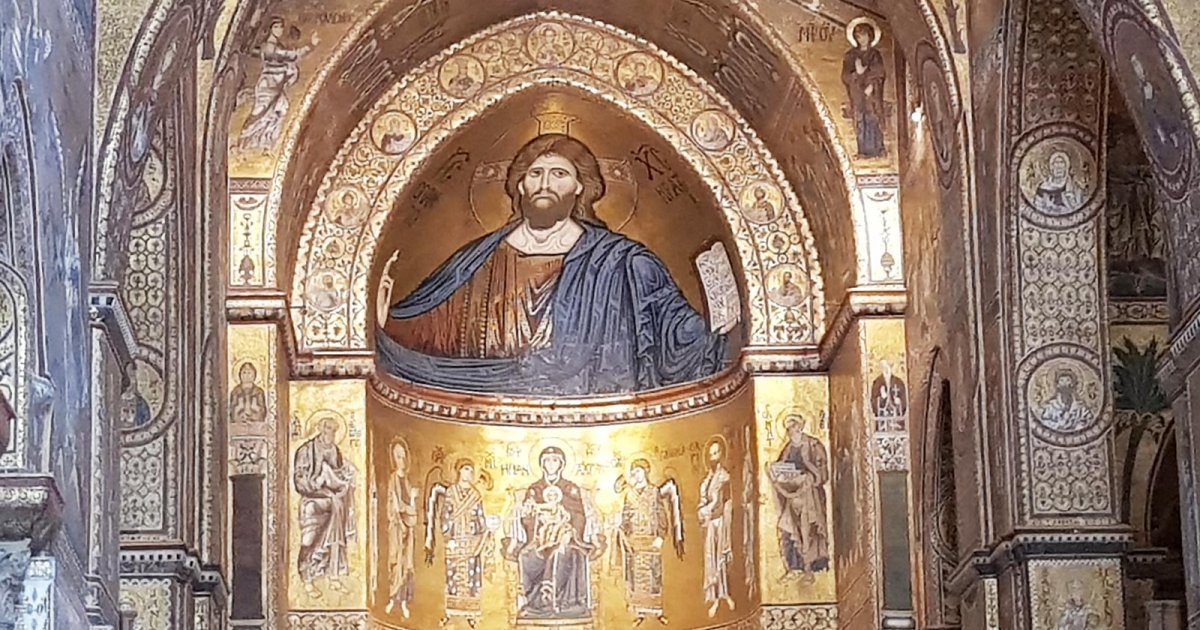 Audio File length: 2.37

Language: English / USA
The moment you enter, you'll be enchanted by the regal magnificence of the interior, thanks to the bright, glittering gold that covers all the walls.
The church is divided into three naves by two rows of splendid columns topped with beautiful capitals. The superb marble floor, with porphyry and granite inlays, was completed in the 16th century, while the colorful wooden ceiling was extensively restored after the fire in 1811.
The mosaics are the pride of the Cathedral, and practically cover the entire surface without interruption, totaling an area of 6340 square meters. Most of them are believed to have been created between 1180 and 1189, the year William II died, which was followed by a period of unrest.
The central apse is dominated by the magnificent image of Christ Almighty, from which all the golden light of the church appears to radiate. This majestic figure is shown blessing the faithful with his right hand, but as you can see in the Virgin on the Throne with Child below, the immensity of Christ takes on a human dimension thanks to the incarnation of the Baby Jesus being offered up, like a little emperor, for the adoration of the faithful.
The two side apses are dedicated to the Stories of Saint Peter and Saint Paul, symbolizing the Church and preaching and featuring episodes related to the lives of the two saints.
Depicted on the walls of the central nave are episodes from the Old Testament, which should be observed starting from the Creation of Heaven and Earth, at the top, to the right of the triumphal arch on which you can see the Annunciation. In the naves at the sides, you can see episodes from the New Testament, again starting from the right, near the apses.
The walls of the church are a sort of magnificent book illustrating the story of Man, from Creation to Salvation, going from Original Sin to Christ's Sacrifice.
An interesting fact: on the pillar to the right of the altar, on the wall overlooking the royal throne, you can see the mosaic with Christ crowning William II, opposite which is William II offering Monreale Cathedral to the Virgin Mary, placed above the bishop's throne. This is explicit propaganda highlighting that the monarch enjoyed God's favor. The mosaic transmits the idea that the sovereign's power came directly from God, and required no intermediaries.