PALAZZO DEI NORMANNI AND PALATINE CHAPEL, Palatine Chapel 1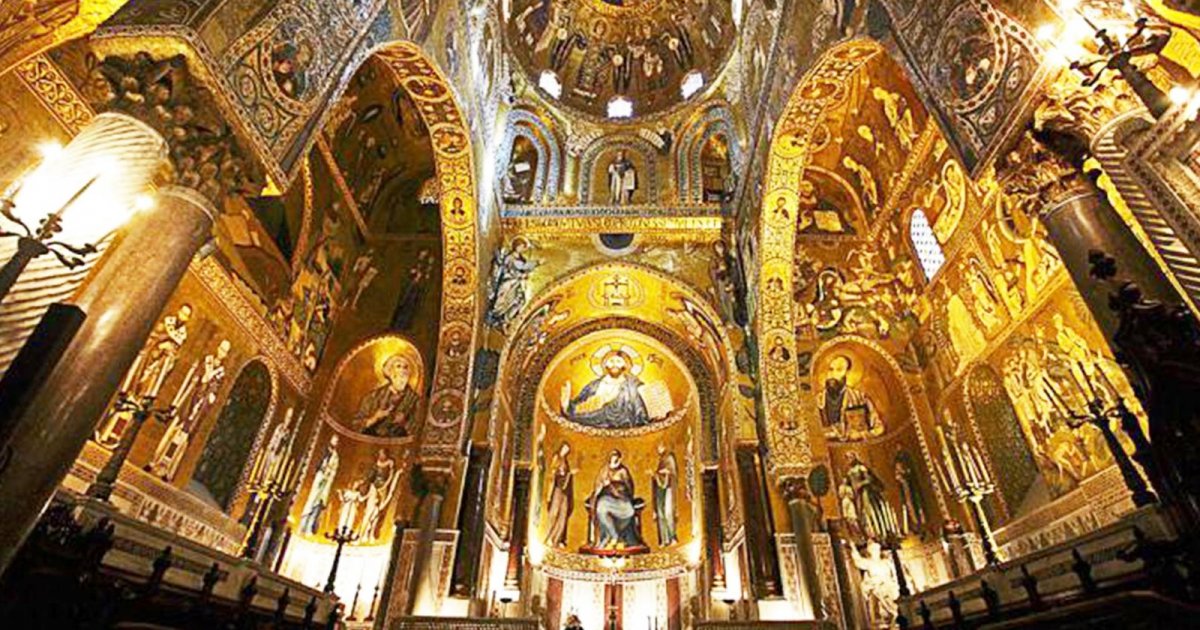 Audio File length: 2.32

Language: English / USA
After you cross the monumental courtyard with its three light, airy loggias, built in the 17th century under the Viceroy Maqueda, and take the monumental staircase up to the loggia on the first floor, you'll find the Palatine Chapel.
It was built for Roger II between 1130, the year of his coronation, and 1140, when it was consecrated as a private oratory inside the Royal Palace.
The entrance, divided into three spans of arches supported by columns, originally linked the chapel to the royal apartments. Two magnificent doors with bronze panels lead into the hall. The moment you enter, you'll realize this is a masterpiece of medieval art, and indeed the most extraordinary combination of Arab and Western art that has survived to this day: architecture, mosaics, furnishings, marble inlay work and a carved, painted ceiling, all in perfect harmony, create the unforgettable sensation of being in a world of miraculous beauty.
Rather than a chapel, this is actually a proper church, divided into three naves and with three apses, with a raised altar area and topped with a dome.
The materials used were chosen with great care, to create a sensation of magnificent opulence. The naves are divided by alternating columns in ribbed cipollino marble – a variety with green streaks from Greece – and smooth Egyptian granite. The pointed arches are supported by gilded capitals, dating back centuries or modelled on styles from the past because they were considered more attractive.
On the floor, you can see a magnificent geometric pattern in marble, with inserts in mosaic and precious stones such as porphyry, serpentine and granite. It's been compared to a meadow, where the marvelous spring flowers remain eternally in bloom.
The walls are covered in marble slabs and panels with inserts in mosaic, glass paste and precious stones, topped with a sophisticated, lace-like decoration, in which the use of gold sets off an explosion of light on the ceiling.
An interesting fact: in the exterior loggia, protected by a glass panel, is a stone with an inscription dedicated to a hydraulic clock Roger II had made. The inscription is in Greek, Latin and Arabic, because all three languages were spoken in the learned Norman court.