PIAZZA DEI MIRACOLI, Camposanto Presentation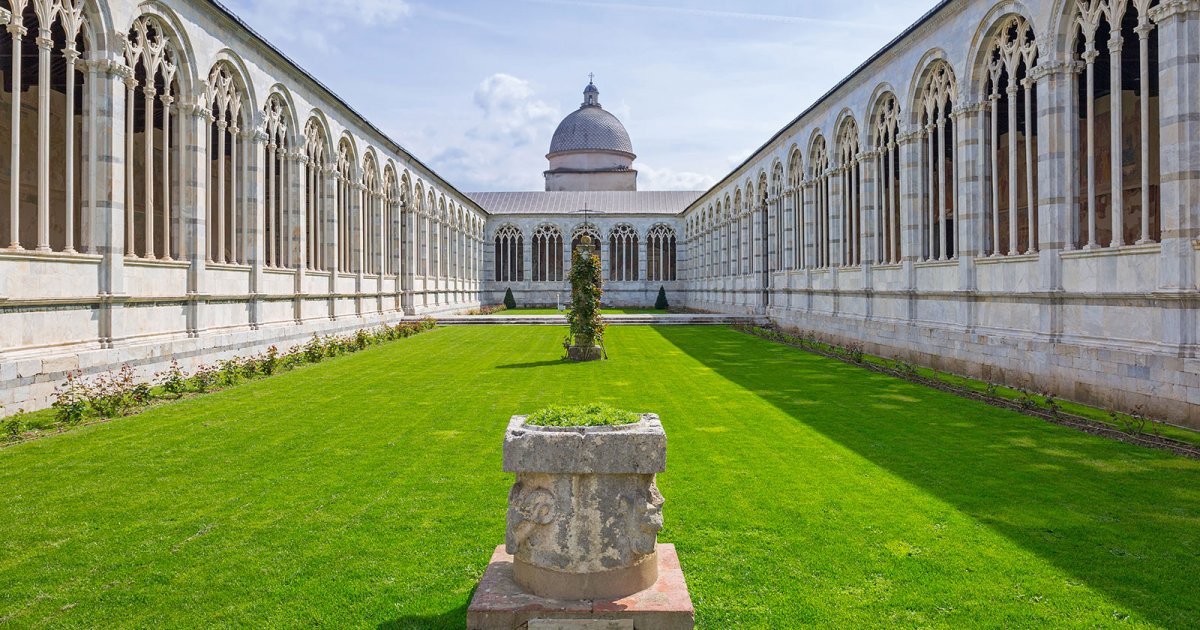 Audio File length: 2.42
Author: STEFANO ZUFFI E DAVIDE TORTORELLA

Language: English / USA
If you look at it from the outside, Camposanto, or the Cemetery, that's on the north side is perhaps the least spectacular monument in Piazza dei Miracoli. In fact the façade facing the Cathedral and the Baptistery is a simple but elegant marble wall with a row of blind arches at the bottom. But it is inside that you'll discover the extraordinary beauty of this monumental cemetery which you enter from a portal surmounted by a tabernacle with Gothic statues.
In chronological order, this was the last building erected in the square. The Cemetery is rectangular and resembles a cloister. According to legend, the central space of the Cemetery preserves soil from the hill of Mount Calvary in the Holy Land, where Jesus Christ was crucified, which was brought here by some Pisan ships involved in the crusades. Apparently, the Cemetery was built to gather the myriad of tombs that had multiplied in the area around the Cathedral over time. Archbishop Federico Visconti promoted the initiative. Its construction began in the second half of the 1200s and ended in the following century when the beautiful, pointed, perforated arches in a typical Floral Gothic style were made; you can see them surrounding the great central space.
In the beginning the sarcophagi of the most illustrious citizens were placed in this uncovered space, including the rectors and professors of the prestigious University as well as members of important local families, while lesser figures were buried in the vast side corridors.
If you're wondering why you can see some medieval capitals on the central lawn, you should know that in the nineteenth century they decided to move the tombs into the covered galleries, where you can now not only admire the famous medieval frescoes decorating the walls, but also the extraordinary sarcophagi of the Roman ages, ancient epigraphs, sculptures, and more paintings. More than a cemetery, this will almost seem like a museum!
And indeed the cemetery is also a museum where, besides funerary monuments, you can see splendid works of art and magnificent archaeological remains that remind you of Pisa's glorious past.
FUN FACT: in the first decades of the 1800s Camposanto became one of the first public museums in Europe, and for this reason numerous works from local churches and monasteries were collected, as well as from the Cathedral and Baptistery.