PIAZZA DEI MIRACOLI, Cathedral Interior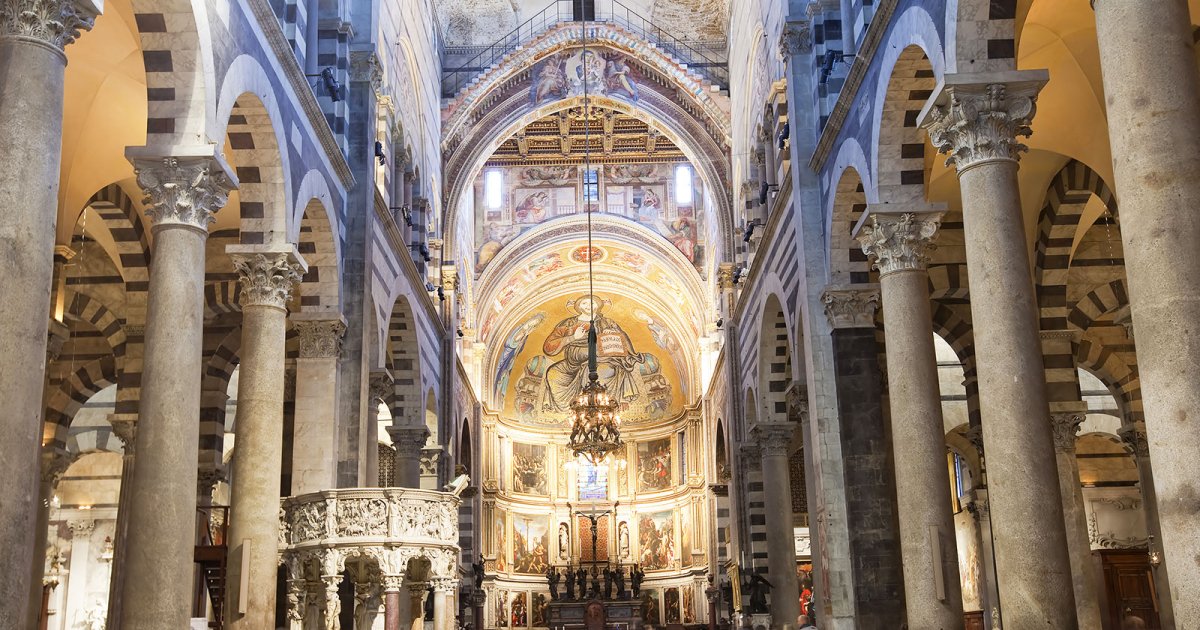 Audio File length: 2.52
Author: STEFANO ZUFFI E DAVIDE TORTORELLA

Language: English / USA
Welcome to the interior of Pisa's Cathedral, with its five naves divided by rows of Corinthian columns. The two loggias you see at the upper part of the naves are known as matroneums, or women's galleries, and are decorated by double-arch windows divided by pillars that take up and continue the momentum of the underlying columns.
At the end of the 16th century there was a severe fire in the Cathedral that you can still see traces of today. The interior furnishings belong to the time just after the fire, such as the rich golden wood ceiling or the 17th-century holy water fonts at the entrance to the naves.
After the fire the Cathedral's most important work of art, a 14th-century masterpiece pulpit by Giovanni Pisano, was dismantled. Fortunately, it was put back together at the end of the central nave in the 1920s. This pulpit was made to substitute a previous one that had been dismantled and sent to Cagliari, where it still remains today. For many years, its creator Giovanni Pisano had collaborated with his father Nicola, an absolute genius of 13th-century sculpture; you'll soon see his pulpit inside the Baptistery.
For both his temperament and expressive choice, Giovanni was more inclined to Gothic style, which at the time was a novelty coming from France. Thanks to the game he plays with light and shadow in his sculptures, everything seems to be in motion: figures, feelings, and expressions. You can recognize the style both in the big figures supporting the pulpit and in the balustrade's panels depicting scenes filled with characters.
Near Giovanni Pisano's pulpit you can see a large bronze chandelier called "Galileo's lamp". In fact, it seems that during the long and somewhat boring ceremonies, the young scientist Galileo Galilei would watch the oscillations, formulating his theory which states that the oscillations of a pendulum always have the same duration, regardless of their range.
I also suggest stopping for a moment near the high altar. In the vault in the back you can see a beautiful gold mosaic from the late 1200s that was partly made using designs by Cimabue, Giotto's master. Don't miss the large cycle of paintings on the walls made by Tuscan masters of the sixteenth century, such as Andrea del Sarto and Domenico Beccafumi.
FUN FACT: above a small column in the back, you can see an amphora that comes from Cana in Galilee. According to legend, this is the amphora with which Jesus transformed water into wine!