PIAZZA DEI MIRACOLI, Square - History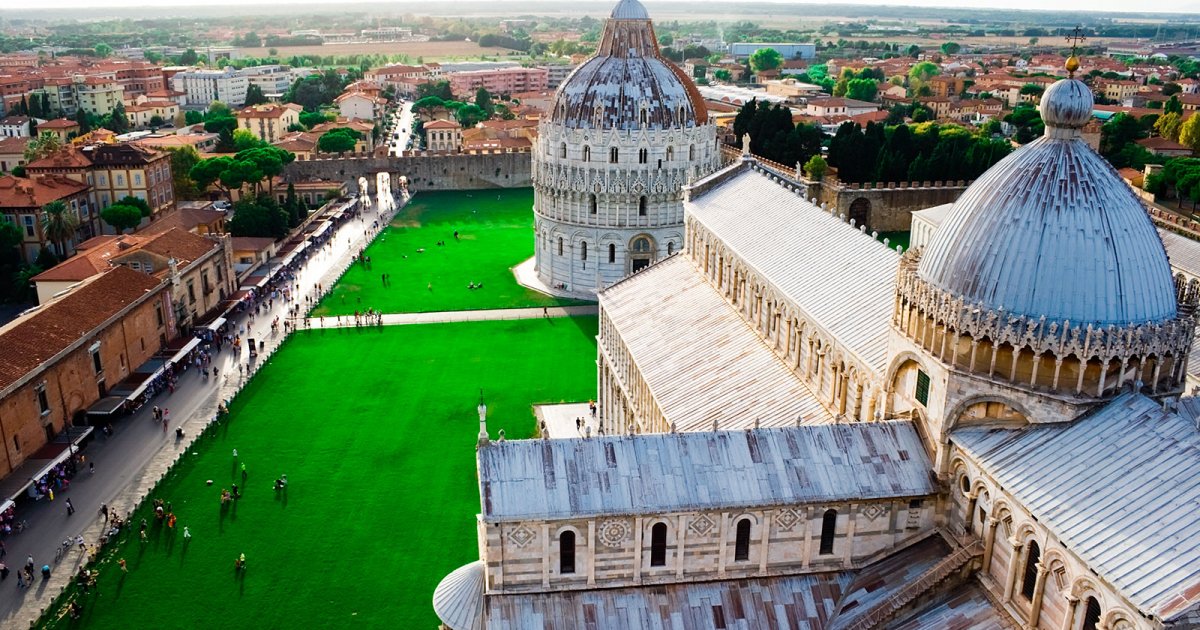 Audio File length: 3.01
Author: STEFANO ZUFFI E DAVIDE TORTORELLA

Language: English / USA
Before describing the monuments one by one, I'd like to briefly tell you about their history so that you can orient yourself and choose your own path to take, perhaps considering the presence of other tourists or religious functions in the Cathedral.
As I mentioned in the previous file, Piazza dei Miracoli was first established with the construction of the Cathedral, whose façade was probably built towards the mid-1100s by the same architect who extended the naves inside the church. The bottom of the façade has the same blind arches that surround the whole building, while as you can see, the top is lighter thanks to a series of small loggias. Both the exterior and the interior are covered with white and black striped marble slabs.
While the Cathedral's façade was still under construction, works on the Baptistery placed in front of the church began, and were only completed in the 1300s. It has a circular layout, with a decoration on overlapping orders where you can easily note the stylistic similarities with the Cathedral. Here too you can see small arches surrounding the lower part of the building, and a small loggia in the middle section. The upper part above the loggia is instead clearly Gothic, full of pinnacles and pointed niches.
Twenty years after works on the Baptistery were underway, construction on the ultra-famous, cylindrical Tower began in an isolated spot behind the Cathedral. Without a sliver of a doubt, I can confirm that this is definitely the most famous bell tower in the world! The tower is decorated like the other buildings, with blind arches separated by shaped frames on the lower level, and small loggias on the upper levels. The construction of these three buildings took a long time and they were only completed in the 1300s: land subsidence caused by a natural aquifer created considerable technical problems, which even today make the stability of the tower quite precarious, although in compensation the same problems have given the tower its planetary reputation.
Started in the mid-1200s and finished in the 1300s, the pure-white Camposanto, or Cemetery, is instead the "newest" building in the square. Outside it appears to be a simple marble rectangle, but inside you'll discover the wonder of its perforated loggias, and above all its sculpture and painting masterpieces.
FUN FACT: Piazza dei Miracoli owes its name to a novel called Forse che sì forse che no, in English "Maybe, maybe not" by Gabriele d'Annunzio, in which the author calls it the "Prato dei Miracoli", or Lawn of Miracles. It should actually be called Piazza del Duomo, or Cathedral Square, but thanks to D'Annunzio its name has even changed in guides and street maps!