PIAZZA DEL POPOLO, Presentation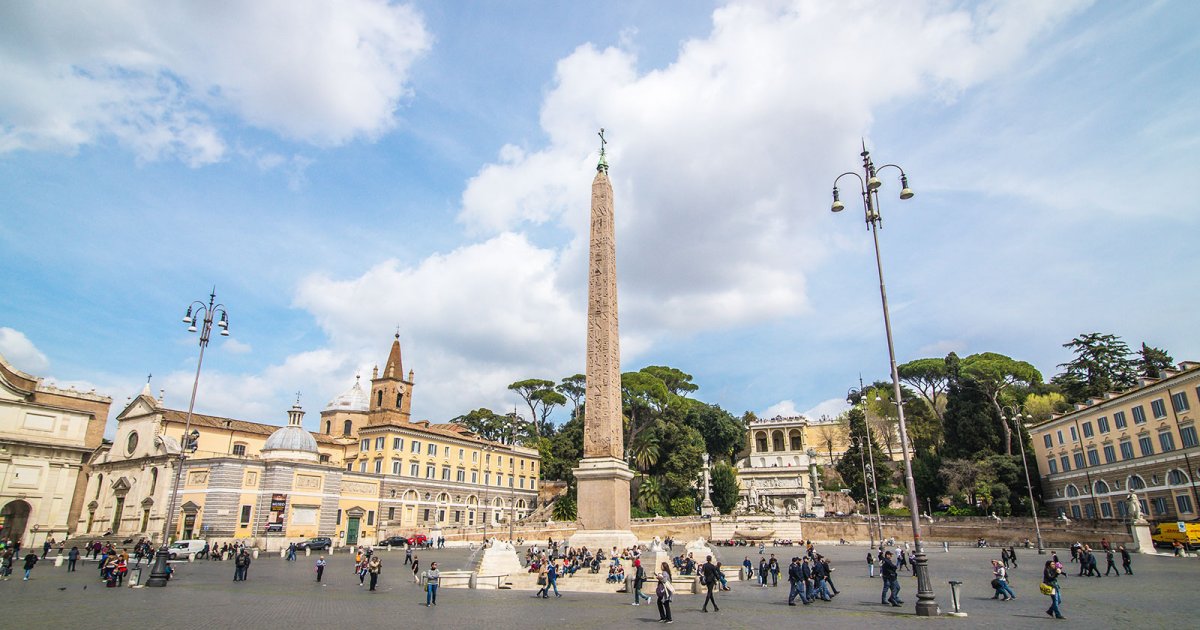 Audio File length: 2.45
Author: STEFANO ZUFFI E DAVIDE TORTORELLA

Language: English / USA
Hi, I'm Ed, your personal guide. Together with MyWoWo, I'd like to welcome you to one of the wonders of the world.
Today I'll accompany you through Piazza del Popolo, one of the most scenic squares in Rome!
If it looks familiar, it's because you've probably seen it in a lot of movies! It's located at the end of Via del Corso, near the historic city walls that were built by Emperor Aurelian and are still well preserved. Take a quick look around you at the monuments surrounding the square and its particular oval shape, which was designed by the sophisticated architect and sculptor Giuseppe Valadier in the early 1800s.
In 1818 Valadier had the idea to surround the Flaminio Obelisk in its center with four pools adorned with Egyptian lions; he also placed terraces on the right side of the square, in the direction of the green Pincian Hill. The obelisk in Piazza del Popolo was raised by Pharaoh Ramses II in Heliopolis, an ancient Egyptian city. Of all the obelisks that were scattered throughout Rome by Pope Sixtus V, the Flaminio Obelisk is certainly the one with the best and most strategic urban layout, as it is located at the junction of three long, straight roads: Via del Babuino, Via del Corso, and Via Ripetta, which form the so-called "trident" that's closed by the two Baroque churches with domes, Santa Maria di Montesanto and Santa Maria dei Miracoli.
At the back of the square you can admire the historic Porta del Popolo, or People's Gate, which was rebuilt at the end of the sixteenth century and restored by Gian Lorenzo Bernini to welcome Queen Christina of Sweden, who solemnly entered Rome after having embraced Catholicism.
The gate is part of Santa Maria del Popolo, one of the richest and most fascinating churches in the city, which got its name from the fact that it was built thanks to a public collection of money in the Middle Ages. After being passed on to the Order of the Augustinians of the Lombard Congregation, it was rebuilt in the second half of the 15th century, and even if it was restructured by Gian Lorenzo Bernini in the Baroque period, it still preserves its sober and gentle Renaissance forms. The sloping façade and the pointed belfry remind you of Lombard architecture, in homage to the friars' origins.
FUN FACT: if you look towards Via del Corso from Piazza del Popolo, the church on the left dedicated to Santa Maria in Montesanto is also called the "artists' church". Funerals or celebrations in memory of famous figures from the world of entertainment, culture, cinema, and television are held there.