ROMAN FORUM, Arch Of Titus And Basilica Of Maxentius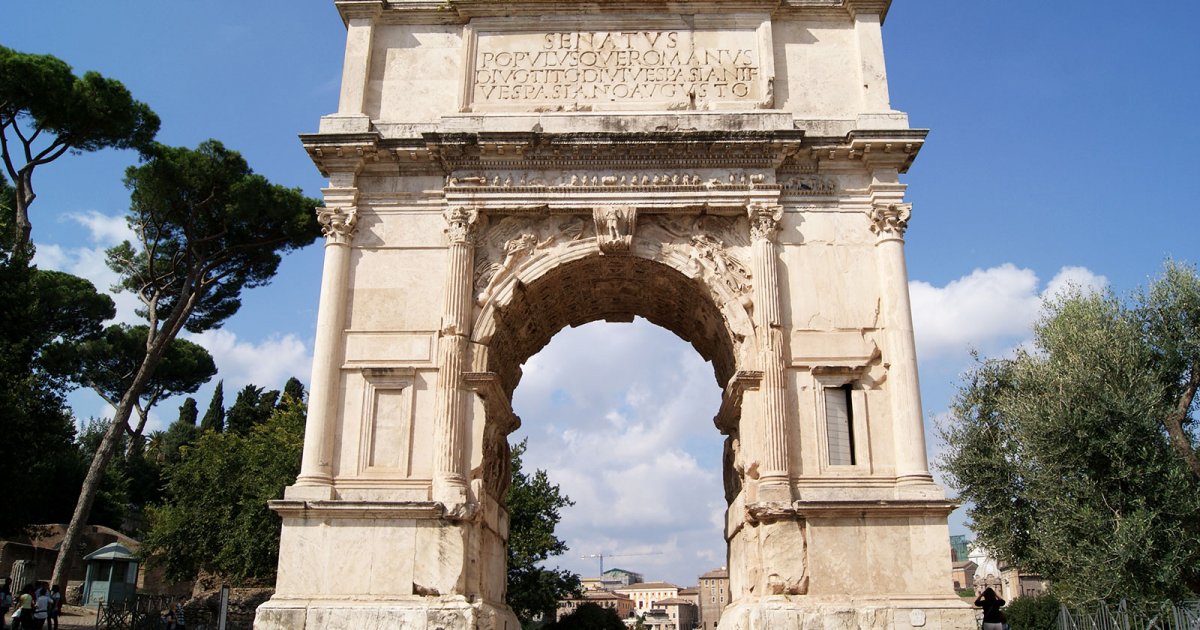 Audio File length: 2.58
Author: STEFANO ZUFFI E DAVIDE TORTORELLA

Language: English / USA
You'll likely have heard the Roman Forum's monuments praised for their great practicality that's owed to careful attention to construction techniques, the use and combination of materials, practicability, and hydraulic works.
The Church of Saints Cosmas and Damian, whose façade is turned towards the Imperial Fora, includes an ancient library and the remains of the so-called Temple of Romulus, which was more likely dedicated to Jupiter. From what remains of the circular building, you can still see the portal with the bronze door made in the early 300s and including a lock.
Right next to it, you've probably already noticed the remains of one of the largest and most important buildings of ancient Rome: the Basilica of Maxentius and Constantine. Work on it was begun by Emperor Maxentius in 306 and finished six years later under Constantine; it was marked by eight colossal pillars alongside columns that no longer stand today. Thirty five meters up, a large part of the square-paneled vault remains, called "cassettoni" in Italian; you've probably already seen them in the dome of the Pantheon.
The Basilica of Maxentius was one of the preferred models for Renaissance architecture, especially for Bramante.
Nearby you can visit the Baroque church of Santa Francesca Romana, which has beautiful mosaics insde, as well as The Arch of Titus that was built in the year 81 by his brother Domitian, who in turn became an emperor.
It is made of a single arch covered in Greek marble and celebrates Titus' victory in the year 71 in the Siege against Jerusalem. The large reliefs that you can admire within the arch are very important from an artistic and historical point of view, as they illustrate two phases of the triumphal court. The first shows Victory crowning Titus on a carriage in front of the people and senators, and the other shows the legionaries bringing Rome the spoils from the destruction of the Temple of Jerusalem; you can easily recognize the great seven-armed ritual candelabrum.
If you look towards the back of the Forum, you can see the unmistakable mass of the Colosseum, while on the right, immersed in the green of a park, you can see Palatine Hill, where the remains of the oldest settlements of the area have been found.
FUN FACT: during the Olympics of 1960, the Basilica of Maxentius hosted the freestyle and Greco-Roman wrestling matches. An African-American competed in those Olympics who was completely unknown at the time. He was a "certain" Cassius Clay, who would later become Muhammad Alì.