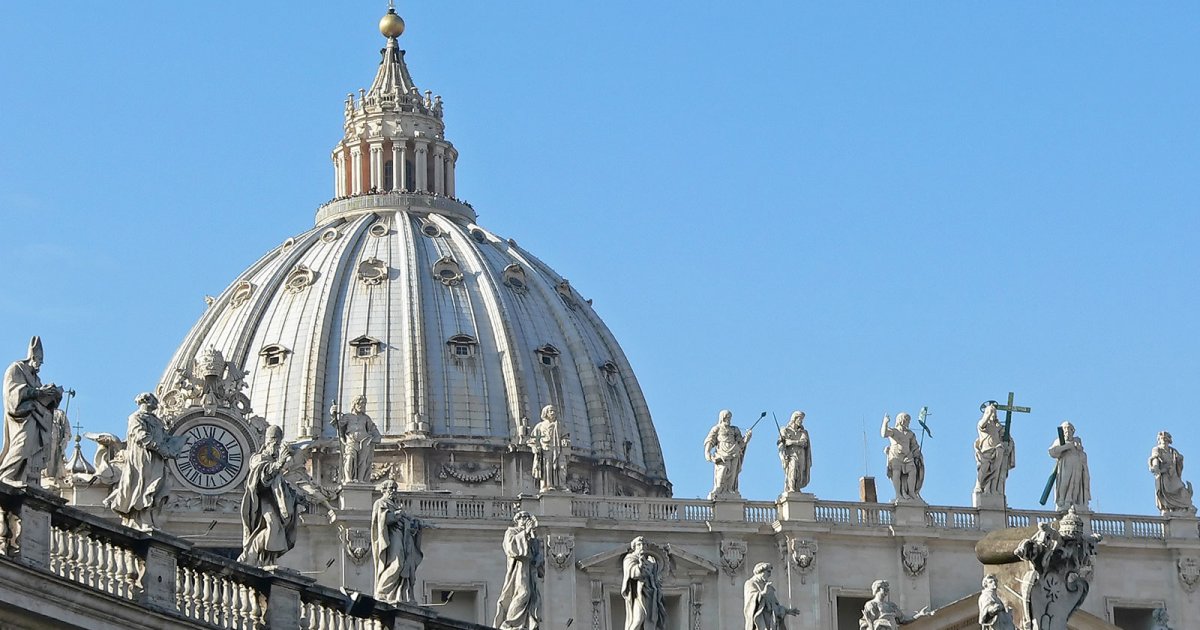 Audio File length: 2.49
Author: STEFANO ZUFFI E DAVIDE TORTORELLA

Language: English / USA
All the Romans call St. Peter's dome "er cupolone" (dome is cupola in Italian): it is an unmistakable characterizing element of the city, even more so than the Colosseum.
Its external height reaches 137 meters, and it is always the indispensable reference point in Rome's skyline. Instead of admiring it from the square, I suggest going to see it better from the Vatican Gardens behind the basilica, where you can clearly distinguish its massive sculptural mass all the way up to the small temple-shaped lantern at the top, whose momentum liberates the energy given off by the building.
To build the immense dome, Michelangelo based his design on the work of his predecessors: he used the structures laid down by Bramante, with four gigantic pillars of a complex shape, and reintroduced the double shell technique invented by Filippo Brunelleschi for the dome of Florence's Cathedral.
And just like in Florence, he left a gap between the two shells that are placed one on top of the other, with a staircase inside that you can go up to enjoy two amazing views: the balcony at the base of the dome offers you a spectacular view of the basilica's interior, while at the top of the stairs you'll get a breathtaking view across all of Rome.
As you climb up the dome's staircase, you have the opportunity to admire Michelangelo's great conception, as well as see his beautiful mosaics up close. As I mentioned previously and as you can now see for yourself, the base of the dome is surrounded by windows alternating with pairs of columns. The mosaic tondi you can see all around you are each about eight meters in diameter and depict the Evangelists, while the mosaics in the shell depict popes, doctors of the church, saints, apostles, and angels, all the way up to the fresco directly underneath the lantern entitled Eterno padre benedicente, or Eternal Father's Blessing.
Michelangelo applied a sculptural-like view to architecture, and conceived the dome of the basilica like a massive compact mass. The heavily protruding ribs that delimit it seem to barely hold back the energy of its bulky volume.
FUN FACT: the ball on the top of the dome under the Cross is made of bronze and entirely covered with gold. It might look small to you, but it can hold an incredible 20 people! Up until the 1950s, people were allowed to climb all the way up to it, but now it's unfortunately forbidden. Yet just think, it was precisely inside that ball that Pope Gregory XVI offered tea and refreshments to the Emperor of all the Russias, Nicholas I, in 1845! Imagine the exhaustion of those poor waiters who had go up and down with trays and glasses!