SAINT PETER'S, Interior And Michelangelo Pieta'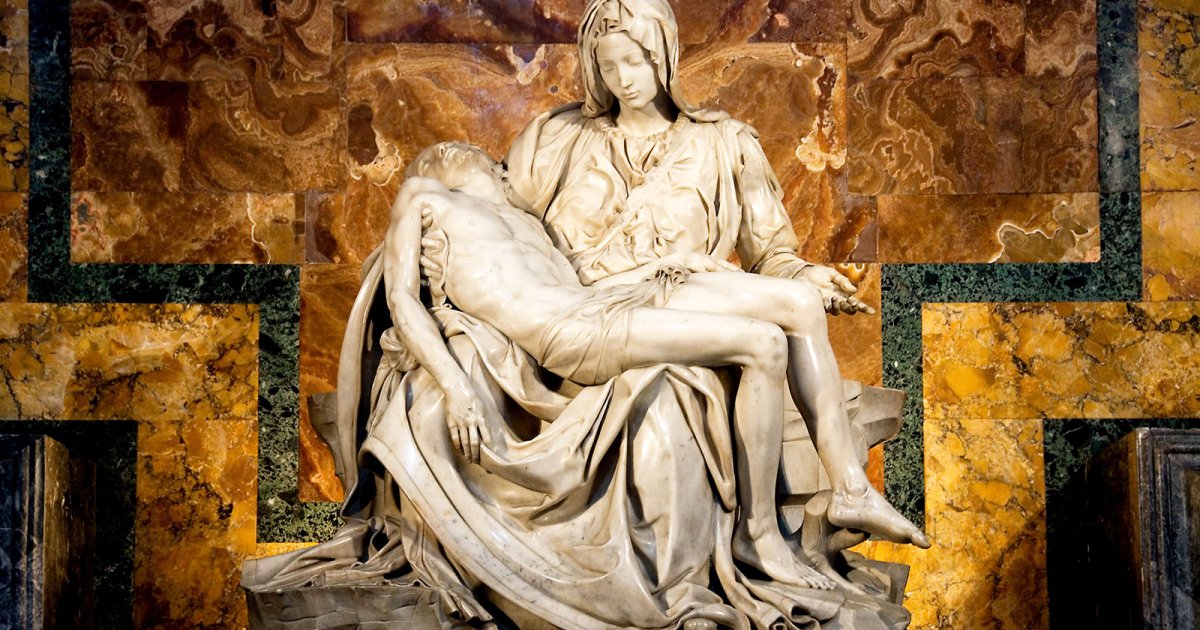 Audio File length: 2.48
Author: STEFANO ZUFFI E DAVIDE TORTORELLA

Language: English / USA
Once you enter St. Peter's you're practically dazed by its size: they estimate that it can hold up to sixty thousand people. The entrance and the back wall are 218 meters apart, which is the equivalent of two soccer fields, one after the other, and its walkable surface exceeds 15,000 square meters! Here you can sense all the power of Bernini's Renaissance architecture and visual acuity, who rendered the proportional and harmonious set a perfect blend of style, light, and color. At the end of the central nave, in an exciting widening and narrowing of spaces, the dome majestically opens up before you. The extraordinary baldachin below it takes the spot of the high altar.
But at the beginning of the seventeenth century the architect Carlo Maderno added the naves and completed the façade, and the immense central layout of the basilica conceived by Bramante and Michelangelo was radically distorted. The effect was that of an "empty", disconcerting, spread out building, almost without any reference points: the high altar was far away and too small - almost invisible - and subdued by the gigantic dimensions of the structure.
The great Bernini devoted over 30 years of the most important part of his career to the design and construction of St. Peter's: from the smallest furnishings to the immense square before it, from the tombs of the popes to the baldachin of the main altar, and from the bronze statues to the niches in the main pillars. All of these works should be considered as parts of a single program, fulfilled over a long period of time but with a great overall effect, beyond the extraordinary quality of the individual works of sculptural art.
Before you begin to visit the basilica, go straight into the first chapel to the right to admire the most famous work of art inside the basilica, Michelangelo's Pietà, which he created at the mere age of 23, immediately making him one of the top sculptors of his time. Starting with a motif of German origin (the Madonna sitting with the dead body of Christ on her knees), Michelangelo modeled the marble with an extraordinary finesse. The surfaces are polished and perfect, and the delicacy of young Mary's face provokes deep emotion. You can still see Michelangelo's name engraved along the band running across the Virgin's chest: Pietà will remain his only signed work.
FUN FACT: if you look at the floor of the central nave, you'll notice a series of stars. Each star indicates the point that a church would go up to if it were to be placed inside St. Peter's. For example, Notre-Dame of Paris would occupy about two-thirds of the basilica!