SAINT PETER'S, Interior - Bernini's Baldachin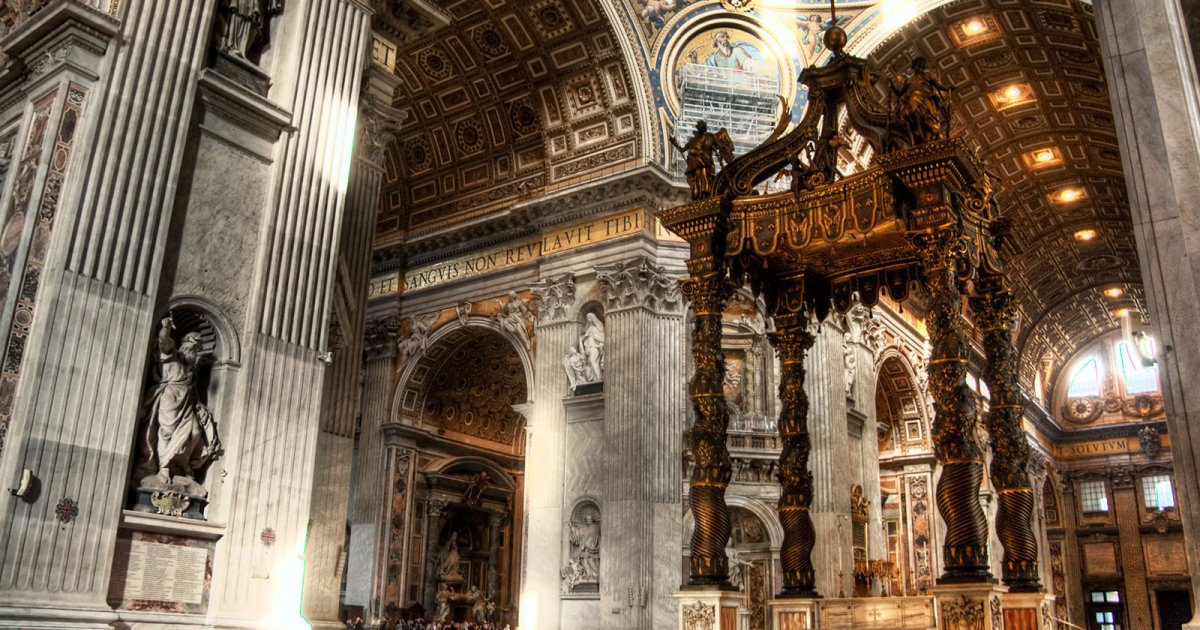 Audio File length: 2.30
Author: STEFANO ZUFFI E DAVIDE TORTORELLA

Language: English / USA
Now cross the large spaces of the basilica and head towards the main altar.
Let me immediately start with a premise: if you want to truly understand the spirit of the Baroque reconstruction of St. Peter's, you must concentrate on the bronze baldachin above the altar: all the basilica's magic starts from there. Without being intimidated by Michelangelo's immense dome, Bernini conceived a tall but agile structure supported by four helical, grooved columns. The form of these columns is together a tribute to and reconstruction of the basilicas from Emperor Constantine's era. The baldachin adds a note of movement and vivacity to the vast, solemn, but potentially static basilica atmosphere. The animation of the helical columns is enhanced by their dense grooves, clever gilding, and the effect produced by the baldachin's fringes on the top, which seem to be moved by the wind.
For Pope Urban VIII's tomb next to the baldachin, Bernini took inspiration from the patterns of Renaissance tombs, but as before, impressed it with an innovative charge of dynamism and action, underlined by the combined use of different colored and textured materials including white and colored marble, bronze, and gilding. His idea to use Death almost seems like it's from a horror movie: Death is depicted here as a skeleton, writing the pope's name on his tombstone.
If you think about it, the baldachin is even more effective thanks to its placement. Bernini remodeled the basilica's four gigantic central pillars, placing four enormous marble statues depicting saints in the niches; the saints are supporting the precious relics that are conserved in the loggias above them. Bernini personally sculpted Longino, the Roman centurion that was converted during the Crucifixion. The statue is made of four different blocks of marble that are wedged one inside another, but let me tell you a small secret: the centurion's great, theatrical gesture also has the practical role of hiding the joints and giving the impression that the sculpture was made with a single piece of marble.
FUN FACT: the cost of the baldachin was no concern for Pope Urban VIII Barberini: to obtain all the metal Bernini needed to make it, he even took the ancient bronze sculptures down from the Pantheon and had them melted. This act met a lot of criticism and gave rise to a famous motto: "That which the barbarians didn't do, Barberini did".