VATICAN MUSEUMS, Art Gallery - Raphael And Caravaggio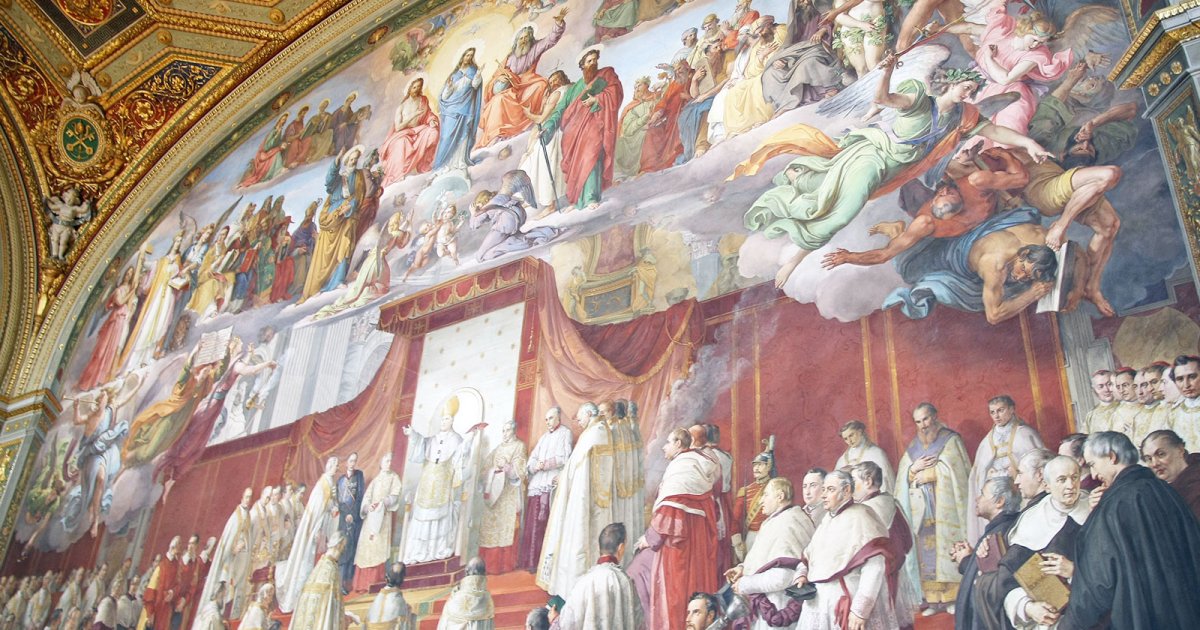 Audio File length: 2.58
Author: STEFANO ZUFFI E DAVIDE TORTORELLA

Language: English / USA
The central hall of the Art Gallery is entirely dedicated to Raphael. Here you'll see the tapestries that were woven in Brussels based on his drawings, with his Acts of the Apostles which were originally meant to cover the lower part of the Sistine Chapel.
Among the many paintings by Raphael in this room, I suggest starting with his last work, the Transfiguration. This great altarpiece actually depicts two different episodes: below you can see the Apostles trying in vain to heal a possessed boy; above, on the summit of Mount Tabor, you can see Christ rising up into the air wrapped in white robes between the prophets Moses and Elijah. Despite the difficulty of connecting the two different situations, the painting is fluid and homogeneous, and loaded with emotions and reciprocal references. Only a few brush strokes were missing from the painting when Raphael died early at the young age of 37, leaving an immense void in Renaissance art.
When you pass through the section of 17th and 18th-century painting, along with masterpieces by Poussin, Guido Reni, Guercino, and other Italian and foreign painters, I'd especially like to point out The Entombment of Christ by Caravaggio, painted around 1604.
Meant for the chapel of a church, this work is generally considered a "classic" moment in the artist's lifetime, who would soon have to flee from Rome for having killed a man. Unlike Caravaggio's other altarpieces, this one has never been accused of being barely "decorative" or not closely following the evangelical tale. Note the explicit homage to Michelangelo's art in the body of Christ in powerful chiaroscuro, and the expedient of the corner of the tombstone placed obliquely in the foreground to form a sort of pedestal: it's practically a stage-like representation, where the dramatic gestures of the characters' pain vehemently stand out over the black background. Look how realistically he painted the feet and legs of Nicodemus, the character holding Christ on the right.
FUN FACT: when Raphael died in 1520, the painting Transfiguration was placed near his funeral bed. The public interest for his latest work was so strong that to print multiple copies, they used one of Raphael's preparatory drawings where all the characters appeared naked.
And with this we have finished our tour of the Vatican Museums in Rome. MyWoWo thanks you for staying with us, and will see you at the next Wonder of the World!