VICTORIAN AND ARACOELI, CHURCH OF ARACOELI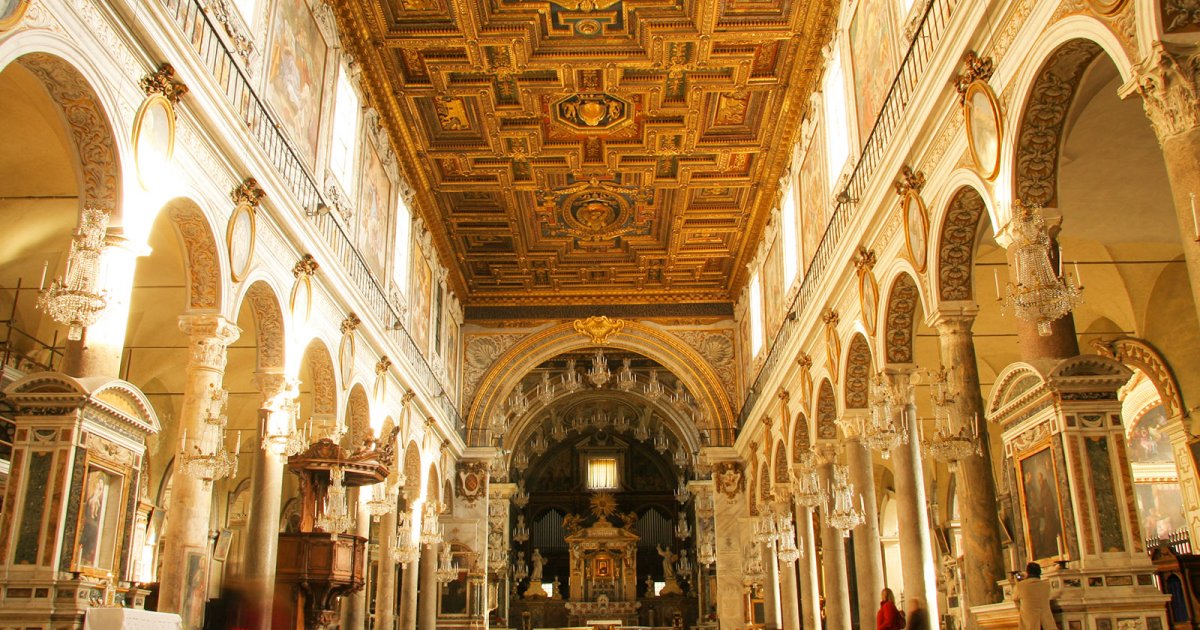 Audio File length: 2.32
Author: STEFANO ZUFFI E DAVIDE TORTORELLA

Language: English / USA
Walk around the marble ramps of the Vittoriano and take the steep 14th-century staircase of Santa Maria in Aracoeli, one of the many churches in Rome with the Saint's name, which is why they're always also indicated with a "last name".
You should know that this beautiful thirteenth-century church connected to a Franciscan convent stands where an ancient temple dedicated to Juno once stood and where, according to tradition, the Tiburtine Sibyl announced the birth of Jesus to Emperor Augustus. You can also reach the church by passing behind the Vittoriano, taking a nice walk among the smooth surfaces of the monument's pure-white marble and the church's medieval brick walls, enjoying the pleasant contrast between its simple façade and the nearby stately architecture.
You'll discover a wealth of decorations and a remarkable mix of styles inside, from Romanesque to Baroque, which is quite common in the churches of Rome. Let me point out its oldest parts, which are the beautiful floor with geometric inlays of colored marble, the two pulpits resting on the pillars at the end of the central nave, and some thirteenth-century arched tombs with sculptures and frescoes of the time.
I also recommend visiting the first chapel on the right to admire the frescoes that Pinturicchio dedicated to the Franciscan saint Bernardino da Siena at the end of the 15th century. The funerary monuments you see against the façade's interior are also from the same period, one of which is by Donatello.
At the back left, in the chapel dedicated to the mother of Constantine, Saint Elena, you'll find her relics. But you should know that the church is also famous for a fifteenth-century statuette of Baby Jesus that was believed to be miraculous because it was carved with the wood of an olive tree brought from Jerusalem. In 1994 it was stolen and has not been found, but its copy still receives intense popular devotion.
FUN FACT: do you want to win the lottery? An old legend says how: all you have to do is climb the 124 steps up to the Church of Aracoeli on your knees while invoking the Magi and reciting the "de profundis" for the souls of Purgatory!
And with this we have finished our tour of the Church of Santa Maria in Aracoeli. MyWoWo thanks you for staying with us, and will see you at the next Wonder of the World!