BUONCONSIGLIO CASTLE, Castelvecchio Part1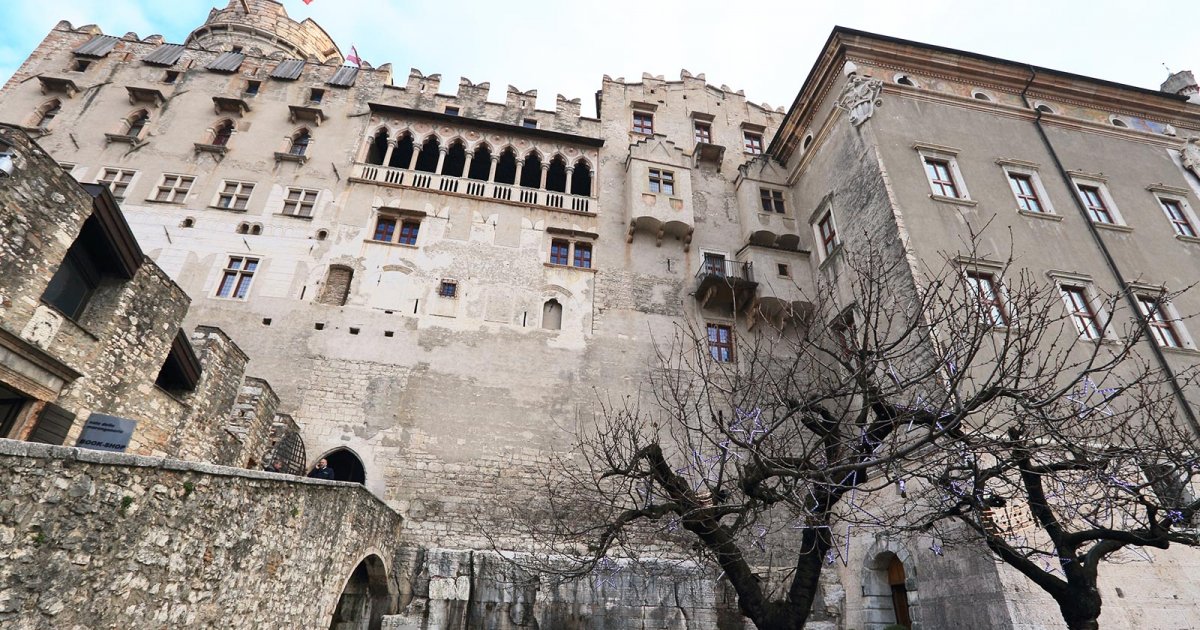 Audio File length: 2.27

Language: English / USA
Our visit to the interior of the Buonconsiglio Castle begins in the oldest part of the monumental complex, Castelvecchio, within the crenellated walls of which you can see what is perhaps the most characteristic architectural element of the castle: the keep, or circular-shaped main tower, built at the beginning of the 13th century.
This medieval construction was built for clearly defensive purposes, by the imperial Podesta, Soderigo di Tito.
Before entering Castelvecchio, take a moment to look at the facade, not so much to admire the style as to follow the numerous traces the varied history of the Castle has left on the building.
If you look upwards, you'll notice two rows of battlements, indicating the two occasions on which the castle walls were raised during the 14th and 15th centuries. In addition to the distinctive crenellated silhouettes of the walls, you can also note a number of windows divided into four sections by a Guelph cross, as well as others with an elegant, arched outline, introduced to give the building a more noble appearance. This marks a clear shift in the architectural history of the Castle: over the years, the defensive purposes took a back seat to the need to turn the castle into a noble residence, in keeping with the religious and civil importance of the prince-bishops who resided here.
Now press pause and press play again once you reach the Castelvecchio courtyard.
The desire to turn the castle into an aristocratic residence is also evident in the internal courtyard. A unique feature of this area are the three overlapping loggias, built in the late 15th century according to a project ordered by the prince-bishop Johannes Hinderbach. The frescoes decorating the courtyard were also begun in the same period but were not completed until the 18th century.
In the decoration of the capitals of the portico on the ground floor, you can observe a unicorn with flames, which also appears on the coat of arms of the Hinderbach family, as well as the eagle, the miter and the crosier, a clear reference to the prince-bishopric.
An interesting fact: look out for an old inscription in stone from 1484, explaining how Bishop Hinderbach managed to bring water to the castle from underground pipes.