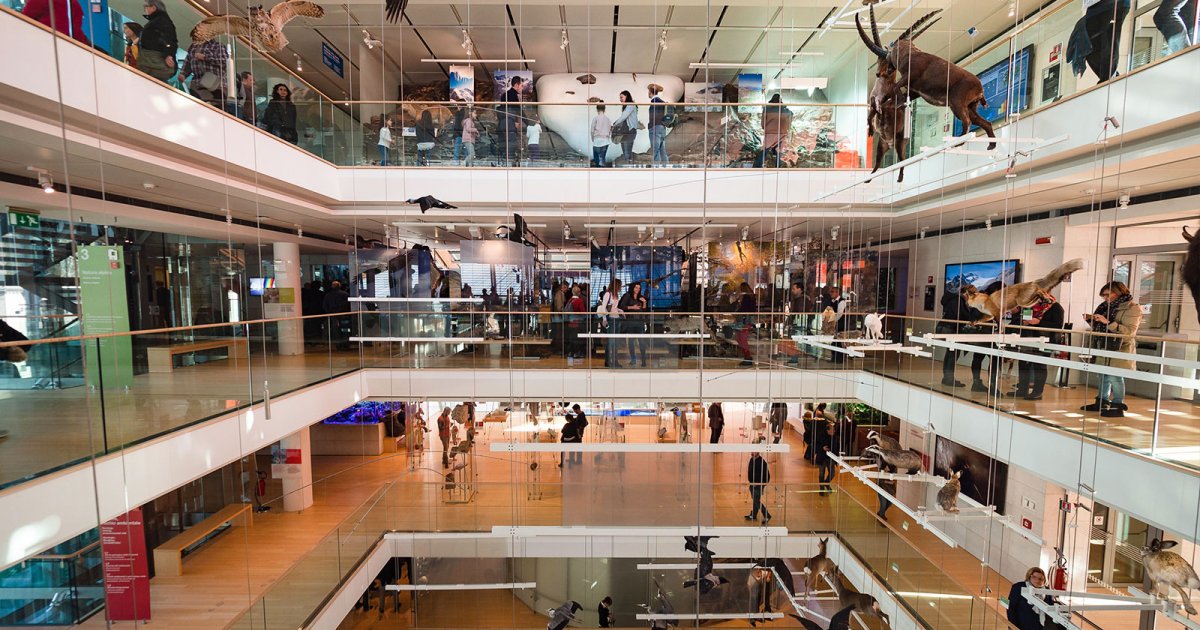 Audio File length: 2.55

Language: English / USA
Your visit now continues on the second floor of the MUSE, where you can admire numerous rocks, fossils and minerals, alternating with multimedia exhibitions dedicated to the geological history of the Alps.
The complex relationship between Humans and Nature is covered in depth in the section dedicated to the exploitation of underground resources. The exhibition ends with a section dedicated to natural disasters, with particular attention paid to the technologies that can help prevent them.
Once you've visited this floor, press pause, and press play again when you reach the first floor.
On this floor, you can take a fascinating trip through history, starting with the first signs of human presence on the Alps and continuing through the various phases in prehistory, from Neanderthals to Homo Sapiens, covering the introduction of farming and raising livestock during the Neolithic period and the major technological innovations of the Stone Age. Extremely realistic reproductions of prehistoric people carrying out daily activities allow the visitor to grasp just how difficult daily life must have been, and how extraordinary adaptable our ancestors were.
On this floor, the exhibition is brought to a close with a section dedicated to the negative effects of humans on the environment, with a particular focus on the challenge of achieving sustainability.
After you've visited the first floor, make your way down to the basement, making sure you don't miss the hands-on gallery, which offers a simple, fun way to experiment with some of the founding principles of basic science thanks to twenty or so interactive workstations.
Once you've explored this area, head down to the lower basement, where the last of the museum's exhibition spaces is entirely dedicated to life on earth, represented by fossils, skeletons and mounted animals. Plants without leaves or flowers, insects without wings, prehistorical reptiles and dinosaurs are just some of the creatures that inhabited our planet before the appearance of mammals, to which a large section is dedicated.
Before you leave the museum, don't miss the gallery about DNA and the tropical greenhouse featuring a reconstruction of the rainforest environment of the Udzungwa Mountains in Tanzania.
An interesting fact: here in the museum, you can admire numerous dinosaur skeletons, including the huge Dilophosaurus, a large predator that was an ancestor of the T-Rex, and the Kaatedocus, a dinosaur that became extinct 155 million years ago.
Our visit to the MUSE ends here. MyWoWo would like to thank you - see you again at another Wonder of the World!