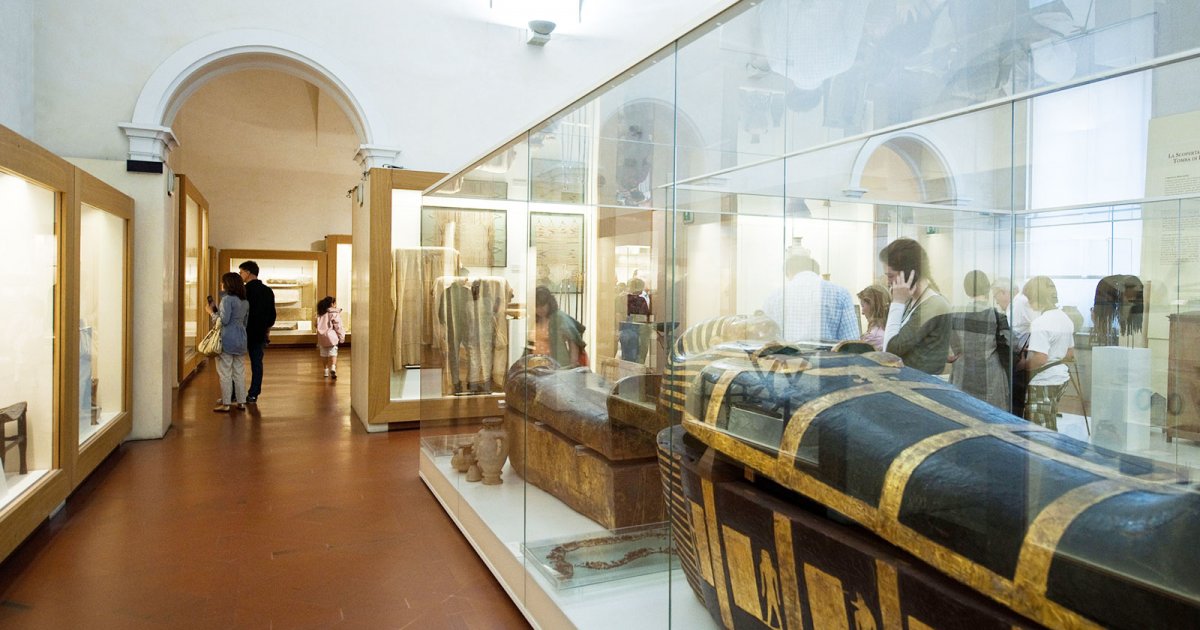 Audio File length: 3.00
Author: STEFANO ZUFFI E DAVIDE TORTORELLA

Language: English / USA
The Egyptian Museum is reconfirmed every year as one of the ten most visited museums in Italy, thanks to the spectacular new exhibition space that has doubled compared to the past. The museum's itinerary is split between four floors, which are divided into rooms that chronologically present five millennia of ancient Egyptian history. It starts approximately at the Pre-Dynastic Period of around 4000 BC, until the Islamic era of around 1000 AD.
At the very beginning of the itinerary you'll find a whole new section that tells the story of the museum's history, which is quite an adventurous one!
One the most interesting innovations you can enjoy is the new exhibition with one of the Museum's most important pieces: the so-called tomb of the Ancient Kingdom that dates back to the third millennium BC. The study of the tomb's excavation documents and original planimetry made it possible to carry out an incredible reconstruction. Aside from one of the mummies and some burial objects that are displayed in a separate window, you now have the opportunity to see the original position of each of the objects found inside the tomb by the archaeologists of the past!
The unbelievably rich burial objects of the architect Kha and his wife Merit from the period of the New Kingdom which were discovered in the Valley of the Kings have recently been moved to the much more spacious ground floor and are very interesting. Not only was beautiful artwork found in the tomb, but also everyday objects like food, drink, towels, clothes... it's crazy, but here you have an example of what daily life was like in Egypt nearly five thousand years ago!
While you peruse the museum's halls, there are many treasures that you absolutely can't miss: the rock Temple of Ellesyia, the reliefs of Djoser, the Royal Canon, also known as the Papyrus of Turin, which lists the sequence of the Pharaohs, and the so-called Papyrus of gold mines. In the next two files I'll specifically tell you about the museum's two highlights: the reconstruction of the village of Deir el-Medina, and the largest collection of sculptures.
FUN FACT: ironically, the first piece that became a part of the museum's collection was... a fake! It is the otherwise magnificent "Mensa Isiaca", a bronze tablet with inlays of other metals that mimics the hieroglyphs but was actually made in Rome in the first century AD, after the Egyptian Empire no longer existed. It was purchased by the Savoys at an auction of the Mantuan Gonzaga family's assets.