MOLE ANTONELLIANA, Structure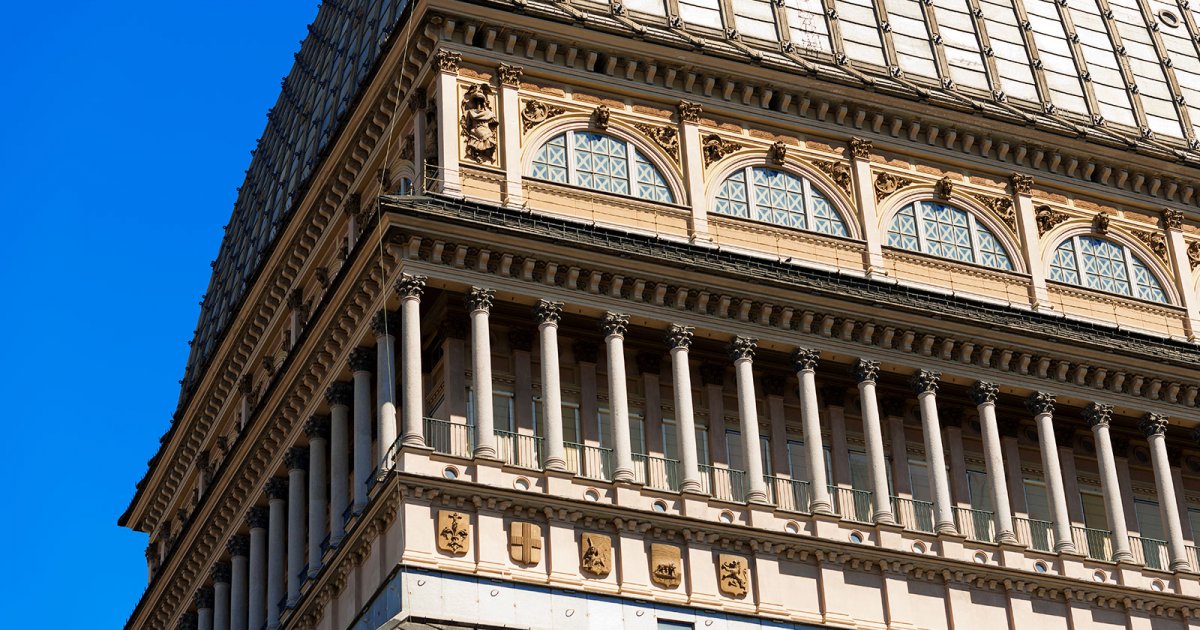 Audio File length: 2.30
Author: STEFANO ZUFFI E DAVIDE TORTORELLA

Language: English / USA
The Mole Antonelliana is a fine example of nineteenth-century architecture's "eclectic style", which I will now explain for you. It comes from Greek and means "choose" or "select": in fact, eclectic architects were inspired by different styles of the past, which they tried to harmoniously mix.
That's why when you look at the Mole you'll find neoclassical elements like the portico with six columns, but also neo-Gothic inspired structures like the tip of the spire with an octagonal base. The entrance, like a real temple, features a series of columns that support a triangular pediment.
The bottom has a square base and is incredibly massive: but the effect is lightened by the large windows above. As it rises, the Mole becomes thinner and thinner, up to the perfect point of its spire.
An element that's repeated in the structure is the loggia, which adds elegance to the building and culminates in the large square-shaped dome with an elongated vault and curved walls. There's another two-story structure above the dome that has the same neoclassical style as the entrance, and is therefore called "Tempietto", or little temple. The "Tempietto" supports the circular base called the "Lanterna", or lantern, which gives way to the long spire with its ten circular terraces that become smaller and smaller. A twelve-pointed star sits at the top.
You might find it interesting to learn that before the star, there was a winged genius that people mistook for an angel, but the sculpture broke in 1904, perhaps because of lightning. Miraculously it didn't fall to the ground, but got stuck on one of the terraces despite its enormous weight. Since then, the statue has been prudently conserved inside.
But the spire's adventurous history doesn't stop here. In fact, in 1953 a whirlwind broke it and a part fell into a small garden where, fortunately, it didn't harm a single person. At the end of the restoration works which concluded with the placement of the current twelve-pointed star, the Mole was re-opened on January 31st, 1961, in conjunction with the centenary of the Unification of Italy.
FUN FACT: the Mole Antonelliana is considered one of Italy's symbolic monuments, and you'll find it on the back of 2 cent coins minted in this country. But in 2002 the State Mint mistakenly put the Mole on the 1 cent coin. Today, each of these "incorrect" coins is worth 2,500 euros!