ACCADEMIA GALLERY, Legend Of Saint Ursula - 2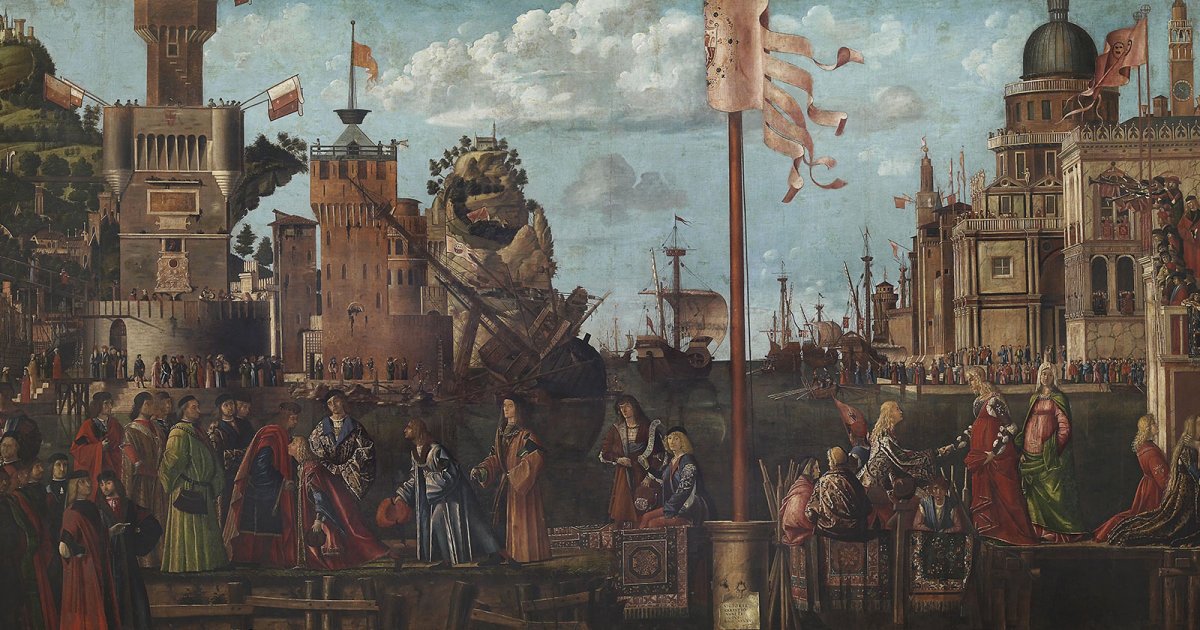 Audio File length: 2.36
Author: STEFANO ZUFFI E DAVIDE TORTORELLA

Language: English / USA
Are you ready to follow this movie separated into nine scenes? Then let's start with the prologue, where the king of Brittany and father of Ursula welcomes the ambassadors carrying Ethereal's marriage proposal, the crown prince of England. Like the scenery on a stage, this scene is divided into three parts: a porch on the left, the throne room opening onto a peaceful view of a lagoon, and finally Ursula's bedroom on the right, where her father patiently listens while the princess tells him that she will consent to the marriage as long as her betrothed converts to Christianity. An elderly woman is sitting outside the room: perhaps she is the nurse who has brought Ursula up, now realizing that the princess has become a woman with an iron will.
Now go to the next picture: The Departure of the Ambassadors. The Republic of Venice was famous for the excellent organization of its foreign policy, and this spectacular image transports you into a Chancellor's office where the gestures and attitudes are based on precise diplomatic etiquette. With a perfect dosage of light, Carpaccio shows you every detail of the clothes and furnishings. The large brass chandelier hanging in the center of the room is unforgettable.
Now go to the next picture: The Return of the Ambassadors. With deft directorial narrative, after the reserved scene set inside the diplomatic office, now we can see a vast open-air episode. The ship they have just arrived on is docked on the left, to a dock that looks a lot like the Arsenal of Venice. The messengers' motions, punctuated by the ritual bows, are observed by a crowd of onlookers on the docks. Don't miss the touch of humor in the little costume-wearing monkey teasing a guinea fowl along the stairs of the royal pavilion.
The next painting depicts the most exciting scene of the entire story: The Meeting of Ursula and the Prince. The large episode is divided in two by the banner waving in the center. Here Carpaccio masterfully mixes fantasy with real elements, such as the presence of many celebrities of Venice of his times.
FUN FACT: did you know that Carpaccio was a man of great culture? He knew much about archaeology, printing, Greek and Hebrew literature, and even music! In fact, in some of his works he even painted musical scores. A true universal genius!