ACCADEMIA GALLERY, Legend Of Saint Ursula - 3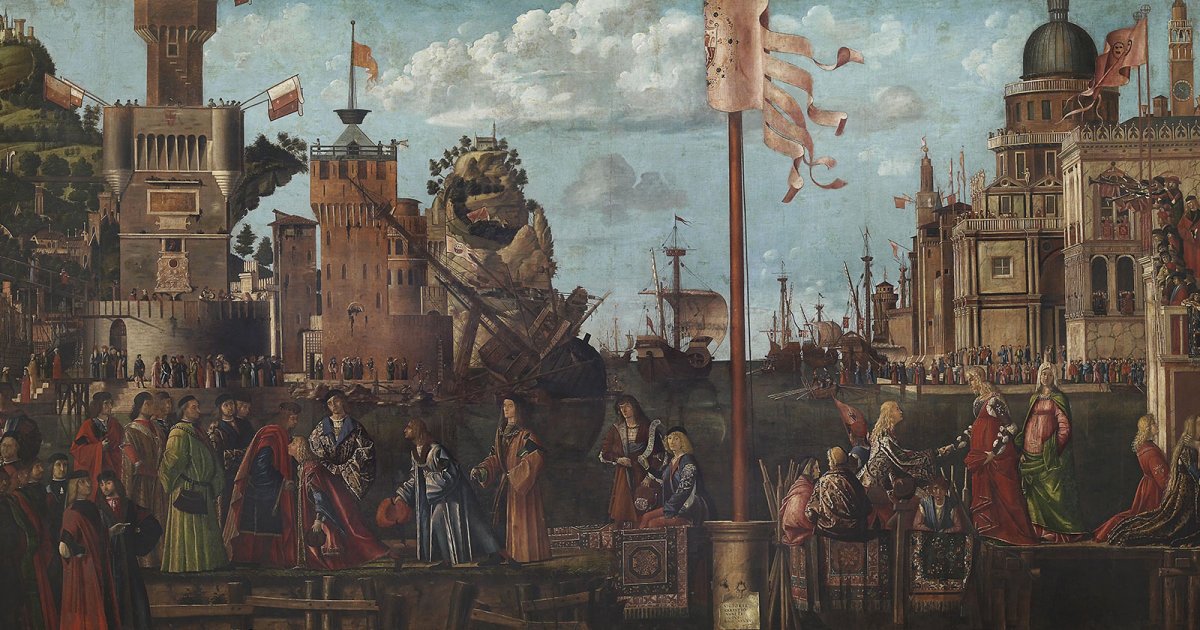 Audio File length: 2.38
Author: STEFANO ZUFFI E DAVIDE TORTORELLA

Language: English / USA
Going along the opposite wall in the same clockwise direction, let yourself be carried away by... The Saint's Dream: this painting is a masterpiece of sensitivity and tenderness, all made so with a delicate play on light. You can almost hear the silence that surrounds this picture. The angel delicately enters the room where Ursula sleeps, holding the palm of martyrdom. On the pillow you can read the word "Infanzia", or childhood, reminding you that the princess is still very young and innocent. The room's objects and furnishings are painted down to the smallest details, with a deep sensitivity for even the tiniest aspects.
After this silent night with just two figures comes a grandiose scene with a crowd that will leave you speechless: it's the next picture called... Meeting of the Pilgrims with the Pope. The painting is located under the walls of Rome, and you can see a solemn procession where two marches meet: that of the companions of Ursula and the following of the Pope. In the background, Castel Sant'Angelo is painted accurately enough to suggest that Carpaccio really made a trip to Rome.
Now go to the next painting: Arrival of the Pilgrims in Cologne. You should know that this was the first painting that Carpaccio finished in the cycle, and in fact you'll notice that his execution is still a bit premature, especially in the figures and perspective. St. Ursula and the pope overlook the ship's sides on the left, and come to learn that the barbarians have besieged the city of Cologne.
And now you've reached the final, sad painting: The Martyrdom and the Funeral of St. Ursula. Carpaccio uses a column to divide the scene into two parts. You'll be struck by the contrast between the fierce and chaotic massacre on the left at the hands of the barbarians, and the composed sadness of the funeral; the funeral bed and the saint's position are very reminiscent of the dream scene we saw earlier. At the back right, you can see the members of the brotherhood who had commissioned the paintings attending the funeral of Ursula.
FUN FACT: if the end of the story has saddened you, you may be pleased to find out that the beautiful Ursula became the patron saint of Cologne along with the companions that died, like her, at the hands of the barbarians. There were actually eleven girls, but a misinterpretation of the tombstone turned them into an impressive eleven thousand!