BASILICA OF THE FRIARS, HISTORY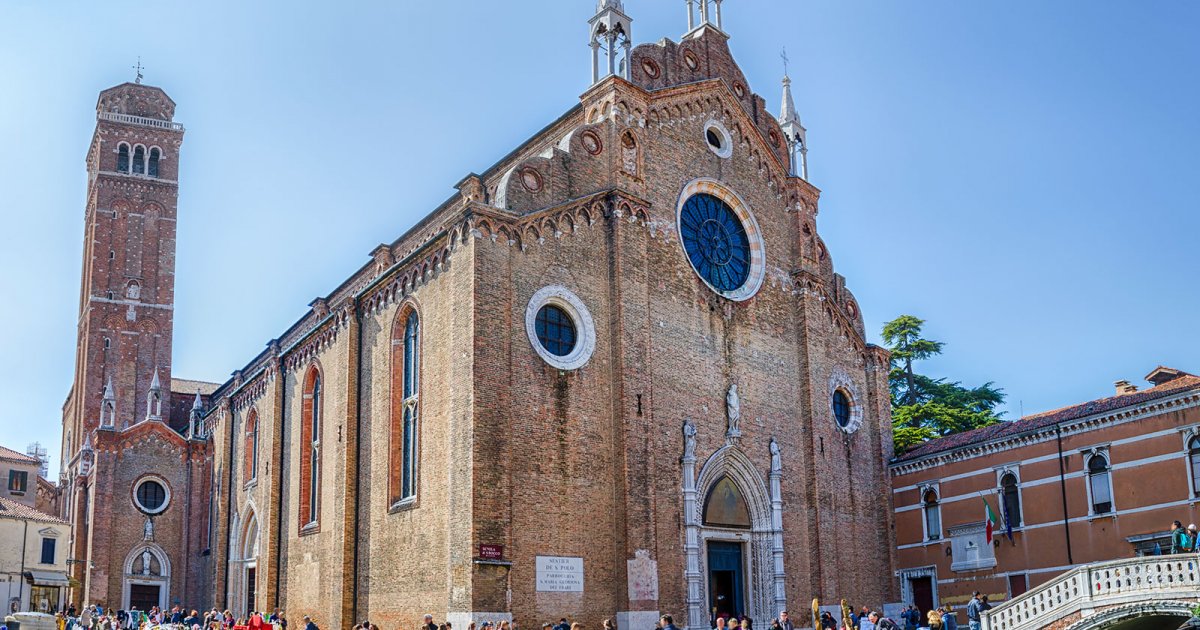 Audio File length: 2.16
Author: STEFANO ZUFFI E DAVIDE TORTORELLA

Language: English / USA
Hi, I'm James, your personal guide. Together with MyWoWo, I'd like to welcome you to one of the wonders of the world.
Today I'll accompany you through the Friar's Basilica.
The Basilica of the Frari, or simply the Frari, is one of Venice's richest treasures of art!
As you've probably already noticed, Venice isn't always easy to navigate what with its squares, hidden alleys, and tiny streets that lead directly to the water... It helps if you identify some reference points, and the Frari Basilica is certainly one of the best! This majestic gothic church with red bricks is full of spires, columns, and ornaments of light-colored Istrian stone, dominates the San Polo district, and is famous above all for its painting masterpieces and tombs of illustrious artists. If you look closely, you'll see that its front is rather small, and then it almost seems to widen and make space between the buildings surrounding it.
The church is devoted to Our Lady of the Assumption, which is the name the Virgin Mary was given when she was welcomed into heaven; this tradition of faith is particularly dear to the Franciscan Friars, or "frari" as they're called in the Venetian dialect. According to tradition, the church was founded in 1220 by Saint Francis himself when he stopped in Venice on his way back from a trip to Egypt: but it's not quite clear if this actually happened or not. What is clear is that a few years later, the doge gave the friars a marshy ground to found a church and a monastery on. After a painstaking reclamation of the land, the first church was erected and was so popular that it had to be replaced by a larger one, then finally the present one was built beginning in the first half of the 1300s, and the façade was finished a century later.
In line with their role of humility and poverty, the Franciscans modified the models of Gothic architecture in more sober forms, and the result is both simple and monumental.
FUN FACT: if you're here during Christmas time, you'll be able to admire the Nativity scene set up by the Franciscans. They've been putting one up in the church for decades, and it's adored by both children and adults.