BASILICA OF THE FRIARS, INTERIOR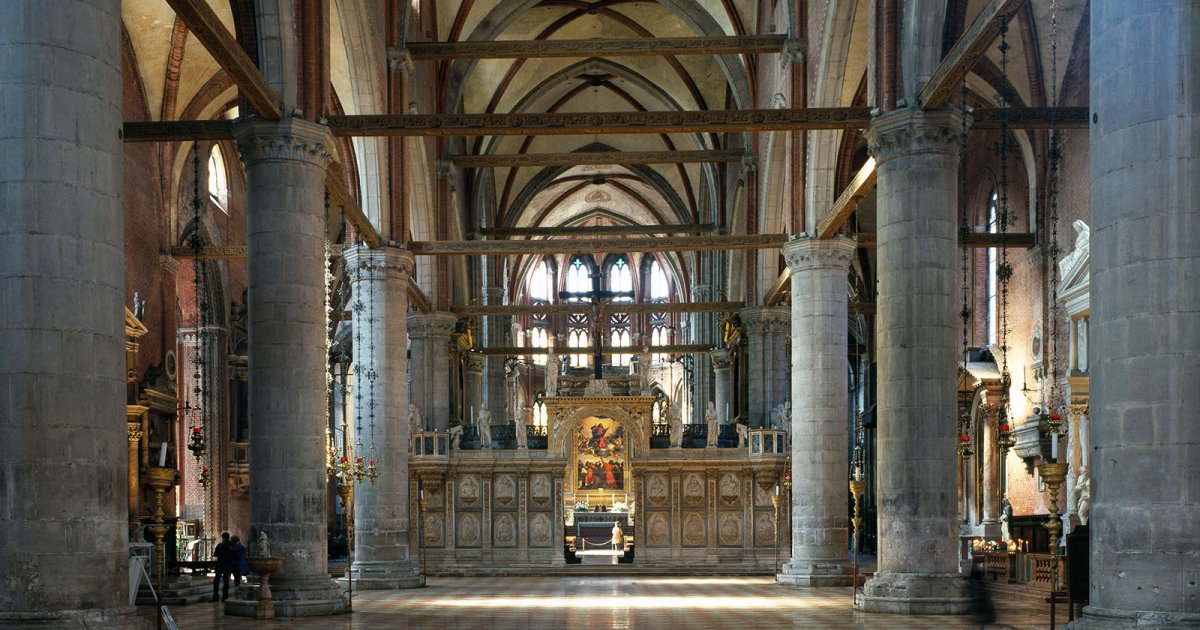 Audio File length: 2.36
Author: STEFANO ZUFFI E DAVIDE TORTORELLA

Language: English / USA
The Frari Basilica was the first church in Venice to charge an entrance fee, which is why you most likely came in from the left side. In any case, go to the very beginning of the central nave to get an idea of ​​the entire church's general structure.
The first impression that you'll probably get is of a bright church that's also rather austere. The three naves are marked by twelve tall and mighty cylindrical columns, which are a clear symbolic reference to the number of Apostles. The edges of the arches are terracotta, and you can appreciate the pleasant contrast with the light plaster that gives a warm tone to the vastness of the church. The vertical thrust of the Gothic architecture is attenuated by wooden beams connecting the arches.
You may have noticed an unmistakable element at the end of the central nave: the large choir of the friars, which is the set of carved seats within the large stone enclosure decorated with bas-reliefs. Its opening in the center above the high altar proudly displays the magnificent altarpiece by Titian, the Assumption of the Virgin.
Walking along the naves of the Frari is like going on a fascinating itinerary in Italian art from the 1300s to the 1800s. The numerous chapels filled with paintings and statues and the imposing tombs seem to contradict the church's simple structure.
Before going further into the majestic central nave, take a quick look at the most important tombs. The most spectacular is the one dedicated to the Doge Giovanni Pesaro in the middle of the left nave: a triumph of 17th-century white and black marble designed by the same architect to which we owe the church of Santa Maria della Salute here in Venice, Longhena. On the same side you can see the monument dedicated to the great Neoclassical sculptor Antonio Canova and the highly esteemed composer Claudio Monteverdi. Titian's tomb on the opposite aisle has some of his masterpieces reproduced in bas-reliefs, including of course the Assumption you just saw!
FUN FACT: Titian is one of the most long-lived artists of Italian art history; he was almost ninety when he died, while in Venice a plague epidemic was raging. As was his wish, he was buried in the Frari, but given the dire situation of the times, he was only given a rushed ceremony with a simple headstone. This marble monument was erected only in the mid-1800s, but its cold and pretentious aspect doesn't do justice to the master of Venetian painting of the 1500s.