BASILICA OF THE FRIARS, Sacristy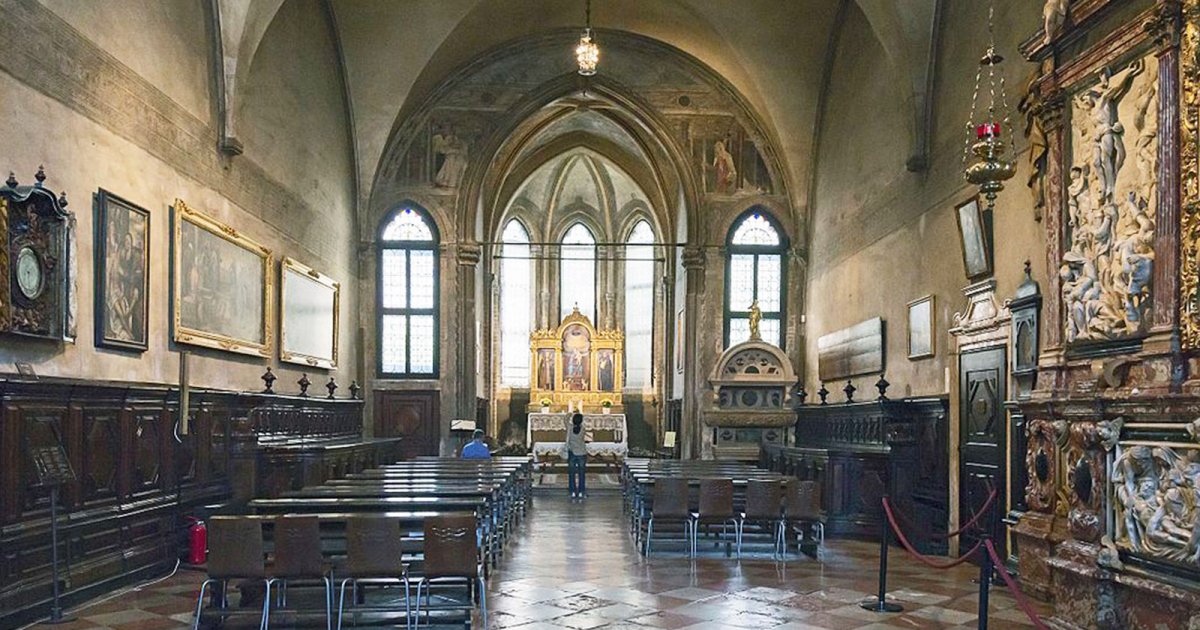 Audio File length: 2.17
Author: STEFANO ZUFFI E DAVIDE TORTORELLA

Language: English / USA
The Basilica of the Frari's sacristy is a precious place with dim light; you can admire new and extraordinary treasures of art here. The first is right in front of the entrance: the altar of relics. Note both the container, which is this magnificent cabinet carved with scenes from the Passion of Christ, and its contents, which are reliquaries and other religious objects that offer an amazing testimony to Baroque style.
At the back left, spend some time contemplating the triptych, or triple painting of the Madonna and Child with Saints Nicholas, Peter, Mark, and Benedict. This was painted in the late 1400s by the great Venetian artist Giovanni Bellini, known as Giambellino.
The great American novelist Henry James was not disappointed by Titian's Assumption and gave this work first place in his very personal classification of paintings, saying: "There is no other work of art as perfect in Venice... it personally sums up the genius of a painter, the experience of a lifetime, the education of a school. The painting seems to be painted with melted gems that have been purified by time; it is solemn and magnificent, as simple as it is profound".
Can you feel this atmosphere of mysterious silence, where the magnetic gaze of the exceptionally realistic figure on the right, St. Benedict, stands out? He is the only one among the saints looking outwards into the eyes of the viewer, who is almost brought into the scene, becoming involved in his mystical vision and driven to deep meditation. The sense of perspective is also extraordinary, especially in the central panel with the Madonna and child that creates a striking three-dimensional effect.
FUN FACT: before you leave the sacristy, go see an object that will surprise you just to the left of the entrance: it's a 17th-century clock in carved wood that's full of figures referring to the inexorable flow of time. This is a perfect example of Baroque art and its aim to astonish at all costs through refined virtuosity.
And with this we have finished our tour of the Basilica of the Friars in Venice: MyWoWo thanks you for staying with us, and will see you at the next Wonder of the World!