DOGE'S PALACE, Carta Gate And Courtyard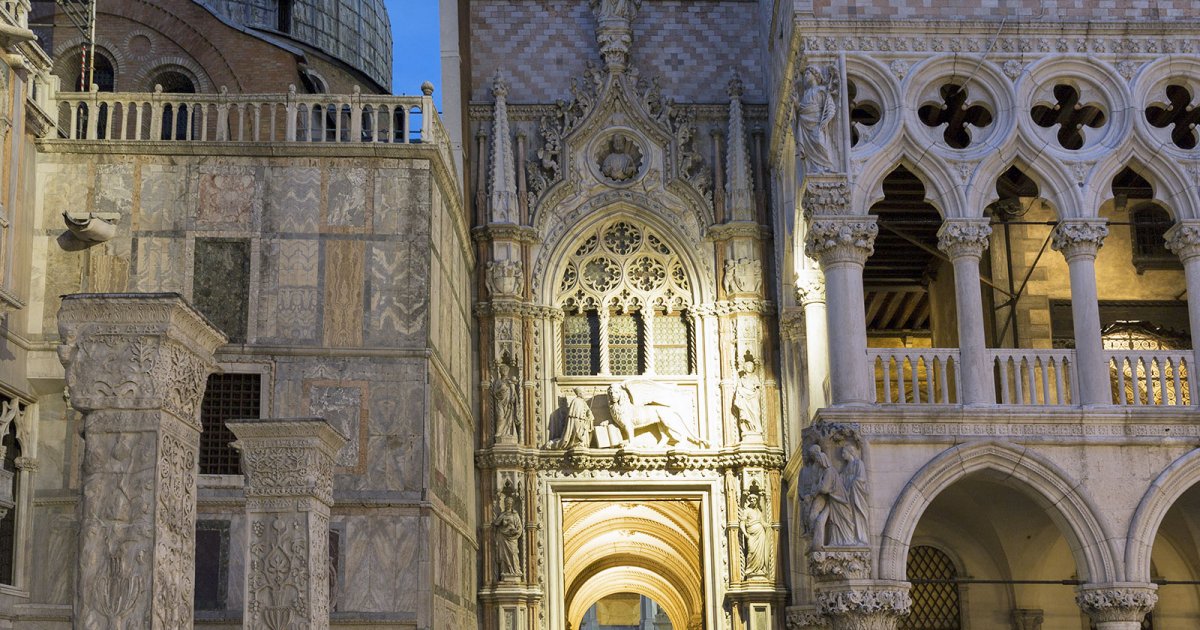 Audio File length: 2.07
Author: STEFANO ZUFFI E DAVIDE TORTORELLA

Language: English / USA
The monumental entrance before you, between St. Mark's and the Doge's Palace, is the meeting point of the two main buildings of Venice. It is the rich Porta della Carta, or Carta Gate, a lavish example of late Gothic architecture and decoration that was built in the first half of the 1400s. It got its name from being the gathering place of public writers and from being near where they kept the "carte", or the archives of state documents. Above the cornice, you can see the Doge Francesco Foscari depicted, kneeling before the winged lion with his paw resting on an open book, which is the symbol of the evangelist Mark (the patron of Venice) which was adopted as the Republic's official emblem.
Now go under the entrance arch, and after passing through a long, dark portico you'll reach the bright main courtyard. This courtyard lets you admire the synthesis of the Palace's various construction phases and architectural styles that have been applied through the ages. On both sides, you can see the pointed arches of the same loggias you admired from the exterior, while a spectacular Renaissance scene can be noted at the back.
If you look at the so-called "clock façade" dominated by the domes of St. Mark's Cathedral, you can get an idea of the church's "naked" aspect where it's simply bricks without the marble cover and bas-reliefs of the main façade.
From the back side, which separates the main courtyard from the senators' courtyard, you can take a grand staircase that was built in the late 1400s and is the main access point to the upper floor, or "piano nobile" of the building. The stairway got the name "Scala dei Giganti", or "Giants' Stairway" from the monumental statues of Mars and Neptune, the war and sea gods, which are sixteenth-century works by Jacopo Sansovino.
FUN FACT: speaking of the Doge Francesco Foscari you saw on the entrance ledge, you should know that he ran into tons of trouble thanks to his slightly reckless son, Jacopo. The story was told by the English poet George Byron and later set to music by Giuseppe Verdi in the opera "I due Foscari".