DOGE'S PALACE, High Council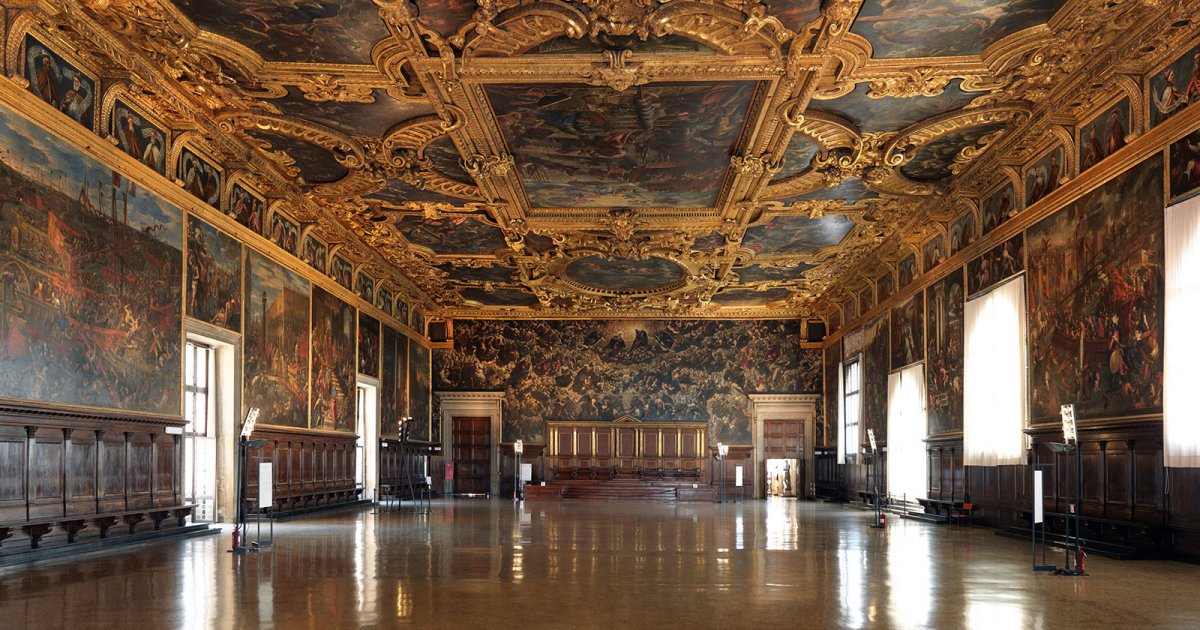 Audio File length: 2.48
Author: STEFANO ZUFFI E DAVIDE TORTORELLA

Language: English / USA
Your visit to the State Apartments continues with the Armory: there are four large rooms where you will see over 2,000 weapons, firearms, and parts of armor.
Among the various heirlooms, pay particular attention to the war armor of the French King Henry IV, which was donated to the city by the king himself, and was considered so important that it was placed in a recess specially designed by a famous architect.
Now pause the audio and go down to the first floor, into the Chamber of Quarantia Civil Vecchia.
As you can guess from the Gothic window with two arches and the remains of frescoes on the walls, you are now in one of the oldest halls of the palace, which however is decorated with paintings from the 17th century.
Now pause and go to the Hall of the High Council.
The immense room you are now standing in is the heart of the palace. It was meant to hold the largest representative body of Venetian politics, the noble assembly of those over the age of twenty-five: just thinks that in the 16th century, this included more than two thousand men! It was devastated by the fire I mentioned in previous files, but was rebuilt and finished in record time by the best painters in the city. To get an idea of the power of the Republic and its art, just look at the images and think about their size: 53 meters long!, 25 meters wide and 15 tall!
The ceiling includes 35 canvases painted in the second half of the sixteenth century, some of them by Veronese. The large central oval is the last great composition of this incredible painter. It shows Venice sitting proudly on a throne among spectacular twisted columns and surrounded by the goddesses of Olympus. Victory with a crown flies over her head: if you look closely, the strange figure seems to be doing a somersault, which could also allude to the defeats that the Republic of Venice had to suffer at the hand of the Turks in those years.
FUN FACT: the back wall of this immense room has the canvas of Paradise, which was painted by Jacopo Tintoretto with the help of his son and other collaborators. The canvas was assigned to the painter after a competition involving several masters, and is in the Guinness Book of Records as the world's largest canvas! It's 22 meters wide by 7 and a half in height! In short, it's as big as a volleyball court!
And with this we have finished our tour of the Doge's Palace in Venice: MyWoWo thanks you for staying with us, and will see you at the next Wonder of the World!