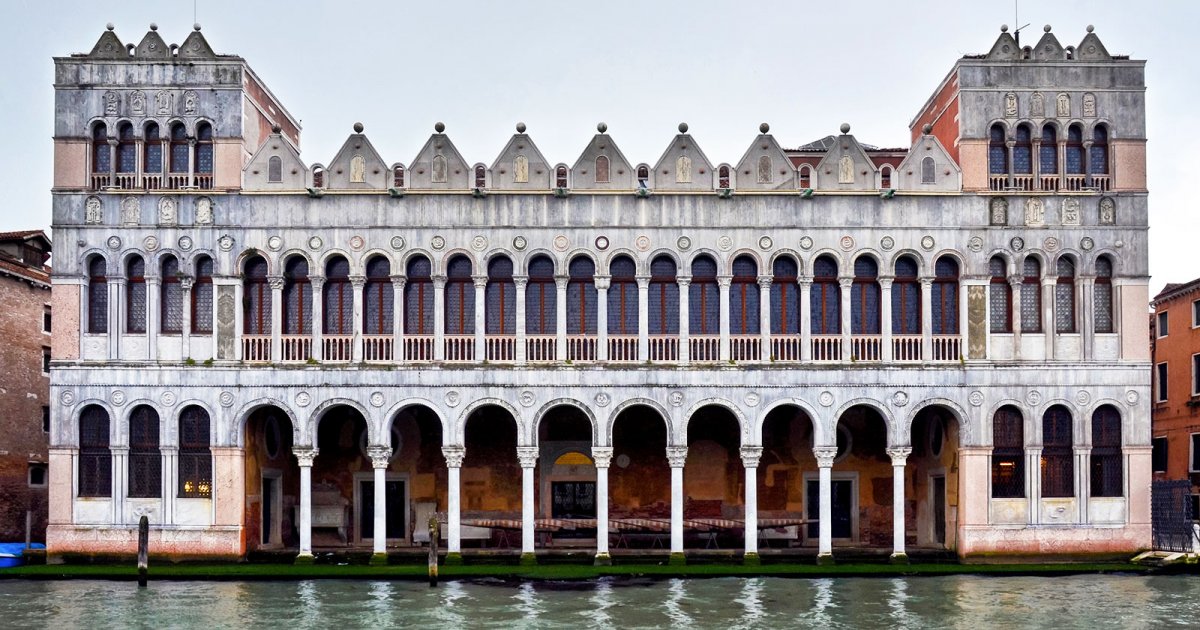 Audio File length: 2.47
Author: STEFANO ZUFFI E DAVIDE TORTORELLA

Language: English / USA
Opposite from San Marcuola, you can see the grandiose Fondaco dei Turchi, which was once the sales headquarters for oriental merchants, and is the Natural History Museum today. It is a medieval building and one of the most typical and photographed buildings of the canal, although its appearance is the result of a heavy 19th-century restoration that refreshed its Byzantine façade crossed by a long loggia and enclosed between two towers.
Soon after, again on your right, you'll see a 15th-century crenellated building, which is the severe Deposito of Megio, or the Millet Deposit, which basically means it was the general location for storing grains. And now here's the fun Belloni Palace, a Baroque building by Baldassarre Longhena, with two tapered pinnacles pointing up to the sky. This palace, like some of the others in the first section of the Grand Canal, belonged to a family of non-ancient nobility: in fact, you should know that the Senate of Venice also gave "new" families the possibility, after paying large sums of money, to sign up to the aristocracy's golden registry, thus becoming part of the caste of the powerful.
Now quickly look at the other side of the canal, otherwise you risk missing the magnificent Vendramin Calergi Palace, which is one of the most important in this section of the canal, and is also famous because it hosts the Casino of Venice. Work on it began in the late 1400s, and it is a masterpiece of Renaissance harmony for its refined and beautiful arched windows framed by ribbed columns.
After a short break, on the right near a narrow part of the canal, you'll find yourself before the beautiful façade of San Stae (Sant'Eustachio). You can take advantage of the chance to visit the church, which dates back to 1709 and contains twelve panels, each one dedicated to an episode in the life of an Apostle. Each painting is by a different artist, including some big names such as Piazzetta and Tiepolo: it is basically a "collective" of Venetian art from the beginning of the 18th century.
On the opposite shore, in front of San Stae, you can admire a picturesque palace from the 1500s which still retains some of its external frescoes.
FUN FACT: the palaces along the Grand Canal often have double names in memory of relatives or passages of property. I'll give you an example: Vendramin Calergi Palace was built for the Loredans but was later bought by Calergi, then by Grimani, and finally Vendramin, before becoming city property. Yet ironically, the palace is most associated to the great musician Wagner, who died there in 1883.