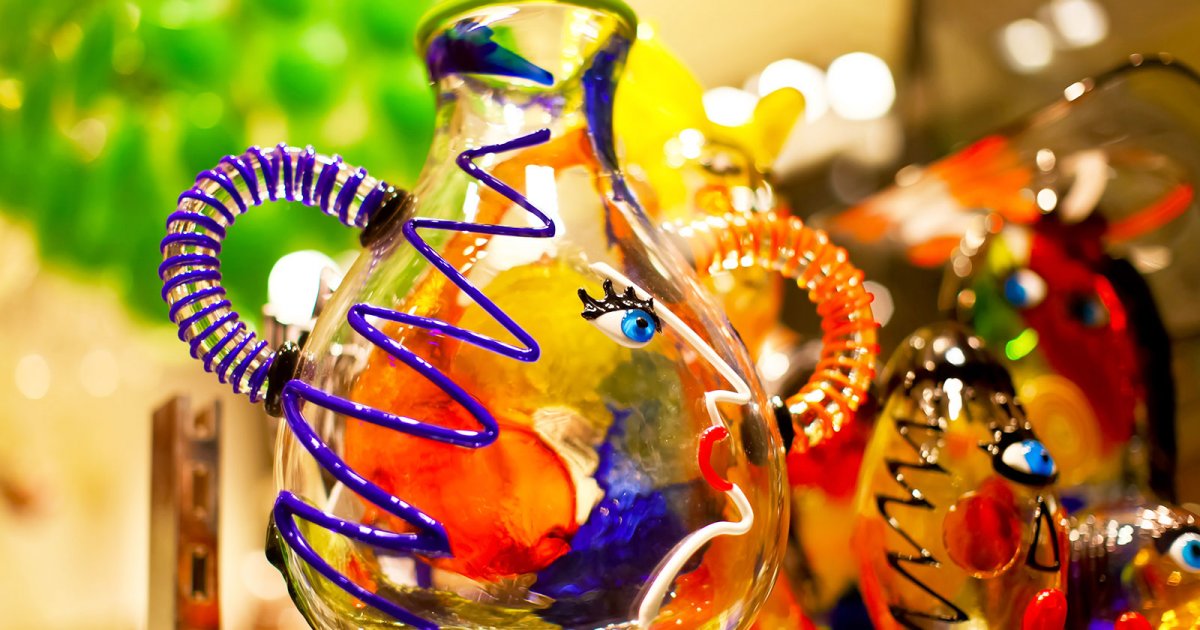 Audio File length: 2.05
Author: STEFANO ZUFFI E DAVIDE TORTORELLA

Language: English / USA
Did you know that the most characteristic aspect of Murano glass is the free use of color? In the 1500s the masters began to experiment with increasingly elaborate forms, also to combat the increasing competition with majolica tiles, which were becoming more and more fashionable. It was during this period that crystal was introduced, which could be used to blow cups, goblets, pitchers, lamps, and bowls that were decorated with new engravings and motifs. The elaborate pieces were made on commission, and carry the coats of arms of famous, aristocratic, Venetian families.
In the section dedicated to Baroque art, you'll learn that local production was facing the competition of Spanish and Boheme glassware at that time: an international challenge that stimulated Murano to invent new solutions but also, in some cases, to resort to imitation.
After the nineteenth-century glass, much of the second floor of the museum is dedicated to glass in modern art. Here you can see how important the Venice Biennale Exhibition has been in providing new insight into the art of Murano's glass workshops, which instead of going back to a nostalgic editing of the past, interpret and match the tendencies in taste and style. You'll learn how the Toso brothers introduce Liberty motives into the art of glass, while Vittorio Zecchin specializes in glass mosaics with golden inserts. And lastly you'll admire the virtuous masterpieces made in the twenties by Napoleone Martinuzzi, who worked for the famous Venini factory.
FUN FACT: the glass workshop Barovier & Toso, headquartered in Murano, is one of the hundred oldest companies in the world: it was founded more than 7 centuries ago in 1295!
And with this we have finished our tour of Murano and its Glass Art Museum: MyWoWo thanks you for staying with us, and will see you at the next Wonder of the World!