SAN ZANIPOLO, Altarpiece Of Saint Vincenzo Ferrer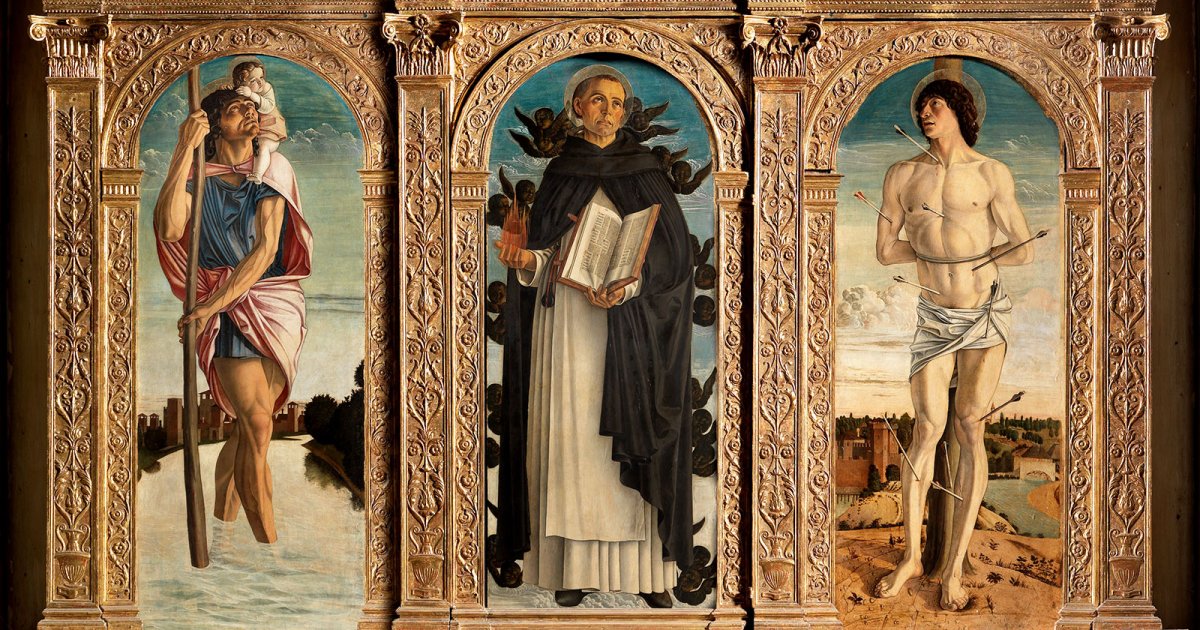 Audio File length: 2.32
Author: STEFANO ZUFFI E DAVIDE TORTORELLA

Language: English / USA
Continuing to walk down the right nave, at the second altar you'll find one of the most significant works preserved in the Basilica of San Zanipolo: it's the magnificent Altarpiece of Saint Vincenzo Ferrer, with nine panels enclosed in a rich golden frame. This is an early masterpiece by Giovanni Bellini that was painted in the second half of the 1400s. You should know that this altar belonged to a fraternity that was founded to promote the canonization of Vincenzo Ferrer, a friar of Spanish origin who became famous among the Dominicans for his moral integrity and oratory skills. His sermons full of prophetic references and apocalyptic tones were hugely successful.
The solemn figure of the saint with his carved face and eyes raised to heaven takes the place of honor in the central panel. The folds of his white cassock and black cloak fall perfectly, almost like those of a statue, giving off an authoritative impression; to his left you can see a muscled and sinewy St. Christopher who almost seems carved out of wood crossing the River with baby Jesus on his shoulder, while on the right you can see a young, muscled, half-naked St. Sebastian, his body pierced with arrows. Both are standing solemnly against the landscape thanks to the expedient of a very low horizon.
At the top you can see, both painted in half-figures, an elegant angel in the act of Annunciation and the Virgin Mary praying against a red curtain. In the center you can see Christ laying down and held up by two angels, which is a habitual scene that dates back to Byzantine art and was very popular in Venice.
The altarpiece is completed at the bottom with three panels where one of the collaborators of Bellini's workshop painted some of Vincenzo Ferrer's miracles: these must have been suggested by a friar who was well-informed of the facts of the preacher's life.
FUN FACT: did you know that the Basilica of St. Zanipolo comes from the a Doge's dream? His name was Jacopo Tiepolo, and while dreaming he had a vision of white doves flying over colorful flowers, after which two angels came down from heaven and a voice cried: "This is the place I have chose for my preachers". No sooner said than done: the next day the Doge immediately obtained the Senate's support to start construction.