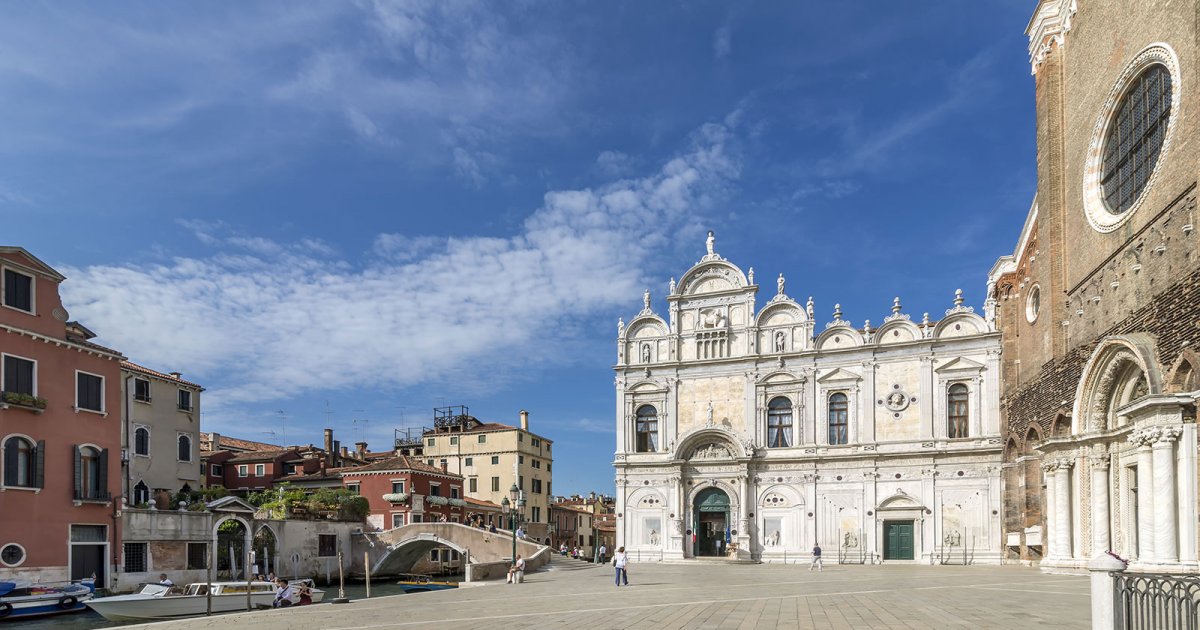 Audio File length: 2.38
Author: STEFANO ZUFFI E DAVIDE TORTORELLA

Language: English / USA
Hi, I'm Ed, your personal guide. Together with MyWoWo, I'd like to welcome you to one of the wonders of the world.
Today I'll accompany you through the Basilica of Saints John and Paul.
The Basilica of San Zanìpolo is one of the most spectacular churches in Venice!
You are near one of the jewels of the city's Gothic architecture. The church of Saints John and Paul, known by the Venetians as San Zanìpolo, was built in 1200 by the Dominicans in this large field of the Castello district as a response to the equally monumental Santa Maria Gloriosa dei Frari built by the Franciscans a few years earlier. Today you can still note how the two big Gothic monasteries are located in symmetrical positions on opposite banks of the Grand Canal. The two most important monastic orders of the Church were in competition for many reasons, and their respective areas of influence in the city were divided. Besides being the largest Venetian church, the Doges were traditionally buried at San Zanipolo, and therefore it was considered the guardian of civic memories and center of the city's spirit. In fact, its immediate surroundings are full of charitable public and private complexes that are artistically prized, such as the Scuola Grande di San Marco and the beggars' hospital. I'll discuss the monument in front of the church dedicated to the leader Bartolomeo Colleoni in the next audio guide. Note the contrast between the church and the houses around it, which are of modest size and have a normal appearance.
To calmly admire it all together, choose a panoramic position in front of the church and with your back to the river. Among other things, you should know that this was one of the great painter Canaletto's favorite views, as can be seen in his works.
On the left you have the Scuola Grande di San Marco, which is now a city hospital; it's one of the best examples of Venetian early-Renaissance architecture. The marble façade is full of decorative details, with precious and delicate bas-reliefs protected by sheets of glass. The statue of St. Mark sits at the top, and those of Saints John and Paul at the sides: they respectively pay homage to the Senate and the Dominicans of the nearby convent.
FUN FACT: if you happen to be in Venice in late June, don't miss the race of Saints John and Paul, where youth battle it out using oars and gondolas. It departs from right here at the square before San Zanipolo, and the award ceremony also takes place here.