SCUOLA GRANDE DI SAN ROCCO, Ground Floor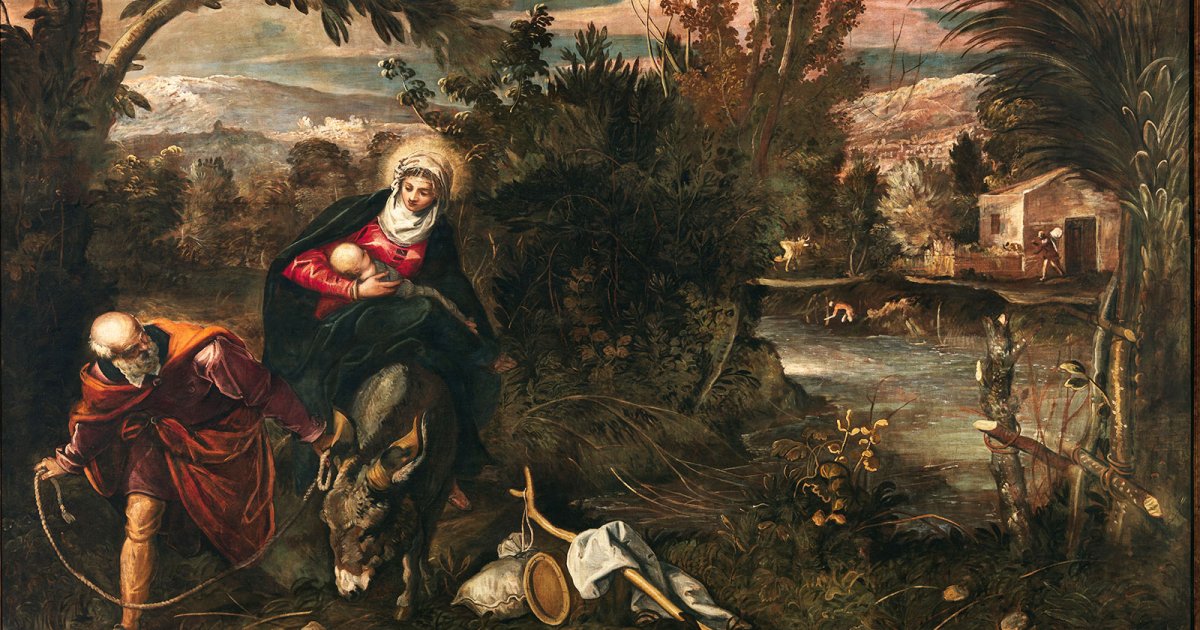 Audio File length: 2.35
Author: STEFANO ZUFFI E DAVIDE TORTORELLA

Language: English / USA
You've now come back to the ground floor, right below the upper hall, in a room with slender columns that's beautiful but not very bright.
Almost twenty years after his first appearance here, Tintoretto came back to work in the Scuola di San Rocco to paint eight large canvases. At this point he was past the age of seventy: the storm of lights, action, and perspectives that animated the scenes of the Great Hall has now calmed; his attitude is more contemplative, his spirituality is quieter and more poetic, and this is reflected in his new approach towards the landscape.
You can particularly notice this by admiring the work Escape in Egypt. Here Tintoretto's sensitivity towards a kind of simple and popular devotion reaches highly poetic accents. Natural elements, trees, water, animals, and clouds are caressed by a shining, vibrant light, and seem to take on an inner intensity, almost like a soul.
This novelty in the relationship between figures and nature can also be appreciated in two narrow and elongated canvases showing Magdalene and Mary of Egypt, two young saints immersed in the landscape. In the two magnificent natural scenarios depicting sunset, the saints are alone and thoughtful. A poetic light animates the leaves moved by the wind, the reflections in the water, the nuances of the horizons: it is the same mysterious light that protects their fascinating serenity.
Now go to the Annunciation. This painting has a totally new point of view: from the top looking down. The angel breaks into the simple house of Mary, among broken brick walls and crushed straw chairs. The Nativity scene is set in a two-level hut, with the shepherds downstairs and the Madonna with Newborn Child upstairs in a sort of barn, under an intricate, wooden-beamed ceiling.
FUN FACT: Tintoretto claimed to feel "great love" for the San Rocco School, and for this reason he accepted reduced payment so as to not burden the finances of the "venerable" School. On the other hand, the artist was given total creative freedom, which allowed him to interpret some typical themes of sacred art in a new and very original way.
And with this we have finished our tour of the Scuola Grande di San Rocco: MyWoWo thanks you for staying with us, and will see you at the next Wonder of the World!