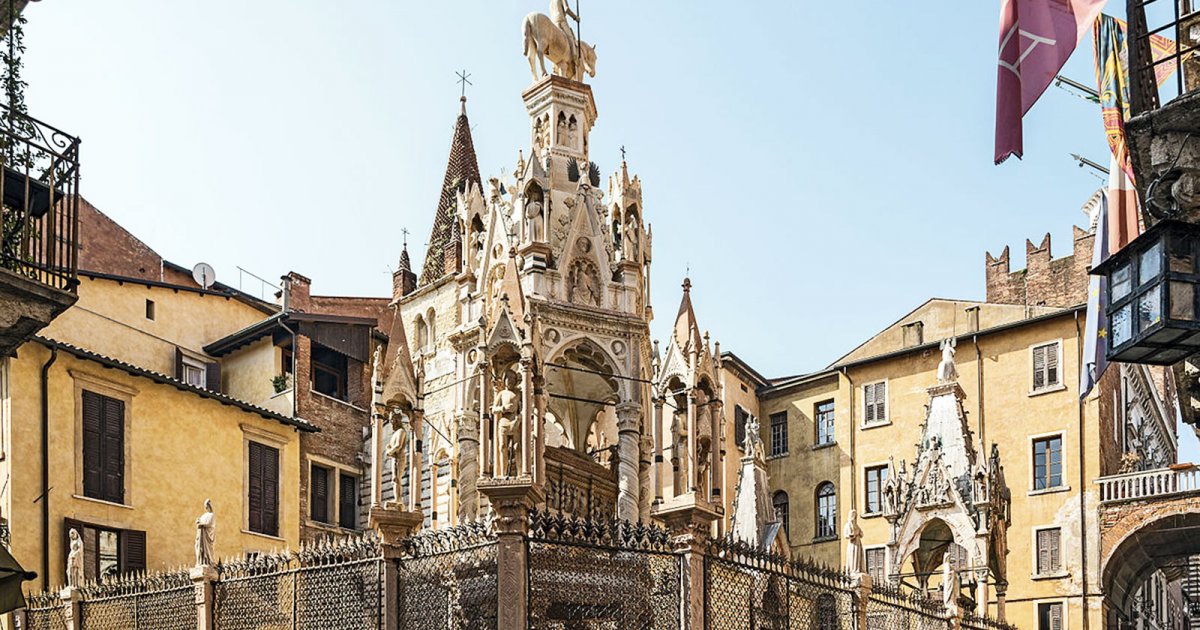 Audio File length: 2.36

Language: English / USA
At the back of Piazza dei Signori, Palazzo del Governo and Palazzo dei Tribunali are linked by an archway known as "Arco della Tortura", or arch of torture. On the other side is a little square that in the 14th century was turned into an extravagant Gothic fantasy. This is a truly special place, virtually unrivalled in Europe: most of the square is closed off by a wrought iron grille, featuring the symbol of the Scaliger dynasty, a simple ladder.
This group of funerary monuments known as the Scaliger Tombs contains the tombs of the seven lords of the Scaliger dynasty, who governed Verona between the 13th and 14th century.
The monument is the work of different sculptors from the local area and from Lombardy and Tuscany, but the overall effect is particularly striking, forming an open-air museum of Gothic sculpture.
The complex is topped with three main tombs, in which the actual sarcophagi are located under the jagged canopies covered with statues. At the top are the equestrian sculptures of the deceased in armor.
The tomb of Mastino II was begun in 1345, and features a menacing image of the lord with a helmet pulled down over his face; the tomb of Cansignorio, built in 1375, features an abundance of statuettes, pinnacles and decorations by the sculptor Bonino da Campione, from the Canton of Ticino, and the tomb of Cangrande I, who died in 1329, rests against the portal of the little church of Santa Maria Antica.
The tomb of the most famous of the lords of Verona is the finest masterpiece of local Gothic sculpture, although the famous sculpture of a smiling Cangrande on horseback is actually a copy of the original, on display in the Castelvecchio Museum.
The little church you can see at the back, with an attractive bell tower, dates to the time of the Longobards, and was rebuilt in Romanesque style in 1185.
An interesting fact: near the Scaliger Tombs, heading in the direction of Santa Anastasia, there is a small fourteenth-century building that is claimed to be "Romeo's house"; however, this description has not brought it the same success as Juliet's famous balcony!
Our visit to the squares in Verona Old Town ends here. MyWoWo would like to thank you - see you again at another Wonder of the World!