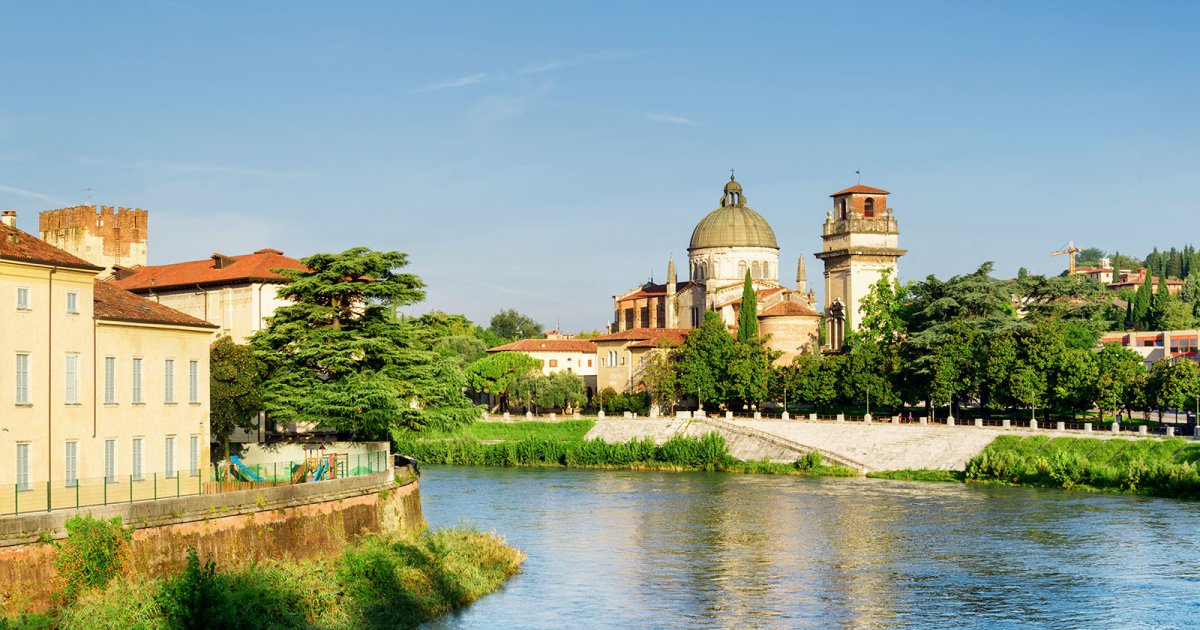 Audio File length: 2.33

Language: English / USA
Hi, my name's Scott, and I'm your personal guide. Along with MyWoWo, I'd like to welcome you to one of the Wonders of the World: the Oltre Adige neighborhood, around Verona Old Town.
All it takes is a look at a map to see that the historical nucleus of the city developed along a long bend of the Adige River.
Spread over this flat urban space, on the right bank of the river, is a network of roads of Roman origin that make up an orderly, densely packed checkerboard of streets and squares.
The first hills start almost immediately beyond the river.
The wide riverbed is crossed by centuries-old bridges, and the banks make up a sort of lengthy balcony, where you can enjoy beautiful views.
This itinerary offers the chance to discover a large number of extremely interesting buildings located along the left bank which is less popular with tourists, yet full of pleasant surprises.
You can start from Ponte Garibaldi, the bridge near the Cathedral, and follow the riverbank, maintained as a park in this area, with high walled embankments built in the 19th century to protect the city from flooding.
Within the large ring of the Scaliger walls, you'll soon reach the Renaissance Church of San Giorgio in Braida, easily recognizable thanks to the large round dome designed by Michele Sammicheli around 1530. The large, single-nave interior has a barrel-vaulted ceiling, and is flanked by superb sixteenth-century chapels.
There is a hugely important series of paintings from the 16th century, including the organ shutters by Gerolamo Romanino of Brescia, a Baptism of Christ by Tintoretto on the interior facade, as well as many other works from the same period.
On the high altar is the large Martyrdom of Saint George, featuring many characters and undoubtedly the finest work that Paolo Veronese left in the city of his birth.
The crystal-clear light and the bright colors are typical of the central phase of the great painter's activity.
An interesting fact: a distinctive feature of the left bank is the imposing Castel San Pietro, an ancient fortress turned into barracks by the Austrians in the mid-19th century. The building is partially concealed by cypress trees. If you visit it, I suggest you take a walk up to the esplanade, which offers the finest views of the Old Town.