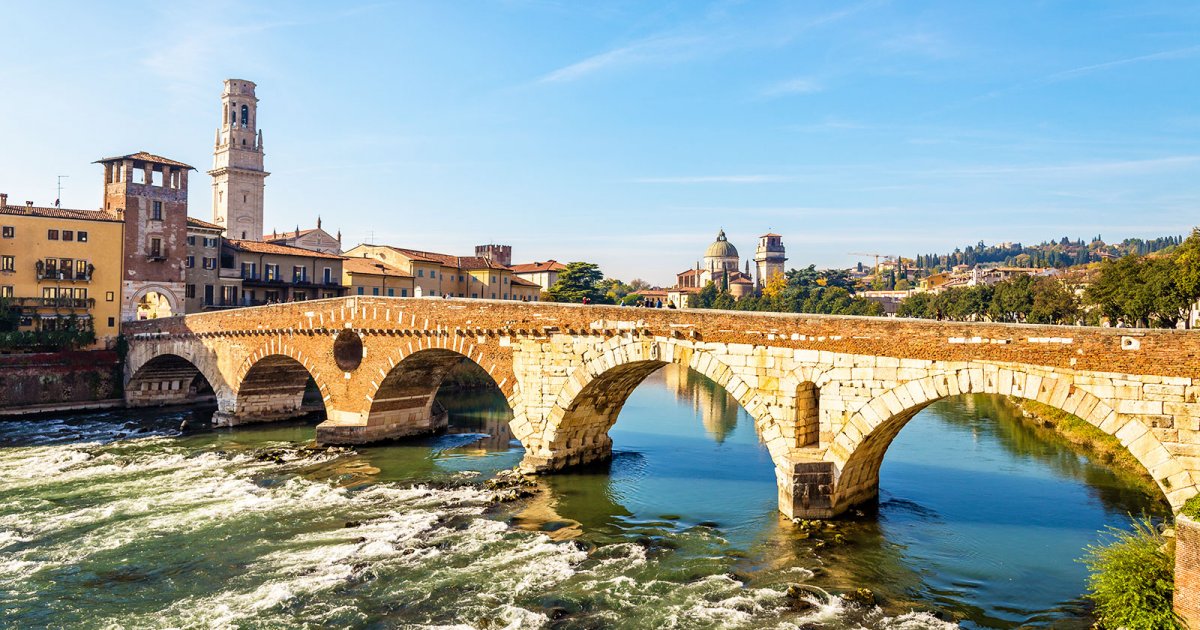 Audio File length: 2.53

Language: English / USA
Our itinerary along the left bank of the Adige will take us to the ancient church of Santo Stefano, surrounded by the little houses of a working-class neighborhood. The Romanesque facade features the traditional alternating red and white stripes that distinguish Verona's medieval architecture. The exterior has an octagonal dome with a double order of windows, clearly visible from the right side.
The dimly lit interior has a particular charm, and if you look carefully, you can recognize all the historical stages of its construction. The perimeter walls date to the 6th century, while the columns, capitals and cathedral are from the 8th century, and the crypt from the 10th.
At the start of the right-hand nave, you can see a chapel dating to 1620 that is one of the finest examples of Baroque decoration in the city.
This is the most spectacular stretch of the bank along the Adige, near Ponte Pietra, a faithful reproduction of the original bridge, part Roman and part medieval, after it was destroyed during the Second World War. The different materials used make it possible to identify the periods when the work was carried out. On the opposite bank, where the bridge is protected by a tower, you can see the bell towers and the rear parts of the Cathedral and Sant'Anastasia, the beautiful churches of the Old Town.
This takes you to the archeological area of the Roman Theatre, built in the 1st century AD and making the most of the natural shape of the hill. Striking remains of the terraces can still be seen, divided into six sectors.
The overall effect created by the bend of the river, the archeological remains and the cypress trees in the park has a particularly distinctive charm.
In the area of the Roman Theatre, you can admire buildings dating to a variety of periods, linked by ramps, arches, steps and loggias. Especially striking, in the center, is the medieval church of San Siro and Santa Libera, while the buildings of the former monastery of Gesuati now house the important Archeological Museum, with exhibits that illustrate the history and art of Verona in Roman times.
A particularly appealing aspect of the museum is how the visitor route alternates between modern and ancient elements, including the refectory and the cloister of the convent.
An interesting fact: this area of the city, known as "Veronetta", has a more popular, less noble flavor than the Old Town on the other side of the river. In 1801, under the political agreements reached between Napoleon and the Austrian Empire, the course of the Adige was used as a border that divided the city into two: the Old Town, under French rule, and the Veronetta under Austrian rule.