MUSEUM OF WESTERN ART, MAIN BUILDING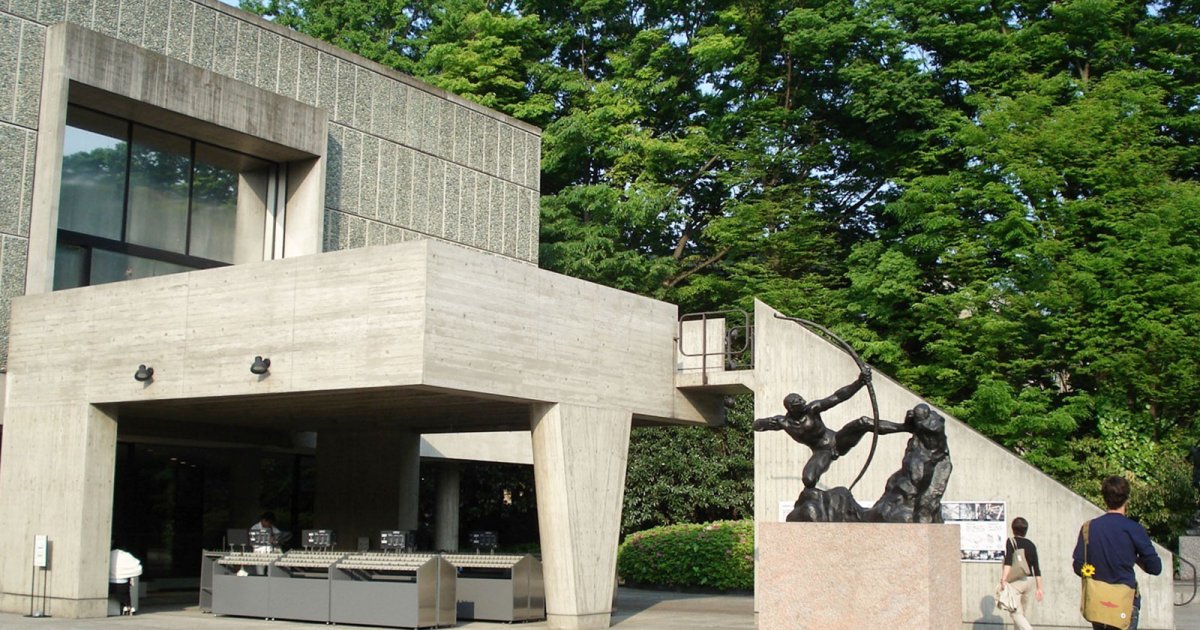 Audio File length: 2.41

Language: English / USA
The National Museum of Western Art is divided into two parts: the original building and the new wing.
The main building is one of the most important architectural works in Tokyo. It was designed by one of the greatest names in international architecture, the Swiss-born French citizen, Charles-Edouard Jeanneret-Gris, better known as Le Corbusier. The building is considered a work of genius on a par, in terms of beauty and significance, with the paintings that can be admired inside. Built in reinforced concrete, it was officially opened on June 10th 1959, after work which lasted two years.
The exterior is covered with prefabricated concrete panels. The green bricks you can see today were added later.
The museum has a square floor plan, with the main body of the galleries on the first floor raised on seven columns.
The entrance to the museum is on the first floor, where you'll find the 19th Century Room, dedicated to the works of the sculptor Auguste Rodin. This space, on two levels, is illuminated from above with a pyramid-shaped skylight intersected by reinforced concrete beams and a column. From here, a passageway designed to offer spectacular views of Rodin's sculptures, leads to the galleries where you'll find masterpieces by Veronese, Tintoretto, Rubens, Bruegel and Fragonard.
The painting gallery is arranged on three levels, and surrounds the 19th Century Room. On the first floor, you may be surprised by the rather low ceiling; Le Corbusier designed it like this so it could be illuminated by natural light through four openings that are no longer used because they have been replaced with new LED lights.
In the new wing, added in 1979, you can admire works by more recent painters, such as Delacroix, Courbet, Manet, Renoir, Monet, Van Gogh, Gauguin, Picasso, Ernst, Miró and Pollock. The wing was designed to blend both visually and structurally with the main building, and the two parts together surround three large zelkova, gingko and camphor trees.
In this building, you'll also find drawings and prints by Boucher, Fragonard, Delacroix, Dürer, Rembrandt and Goya.
An interesting fact: it was the French government that set the condition that the Museum was to be designed by Le Corbusier, in exchange for the return of the works owned by Matsukata.