ODAIBA ISLAND, Rainbow Bridge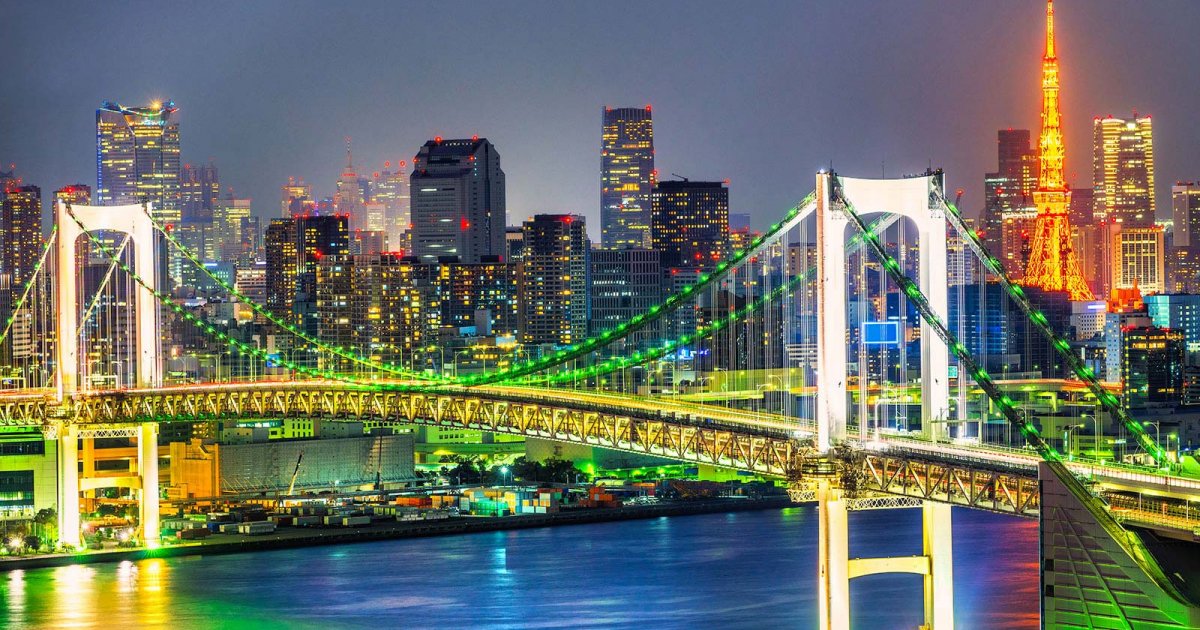 Audio File length: 2.20

Language: English / USA
The Rainbow Bridge crosses Tokyo Bay, between the Shibaura Pier and the Odaiba waterfront.
The citizens of Tokyo gave the bridge this colorful name for two reasons: for its splendid illumination after dark, and because its official name is extremely long and tricky to pronounce.
Built by Kawasaki Heavy Industries, the bridge was inaugurated in August 1993. Its dimensions are impressive: 798 meters long and 49 meters wide, while the two central towers are 126 meters high. The central span is 580 meters long and is 52 meters above sea level.
The towers supporting the bridge are white, designed to blend in with the skyline of central Tokyo as seen from the island of Odaiba. Lamps strung along the cables supporting the bridge are illuminated in red, white and green every night, using solar energy accumulated during the day: it's an enchanting, spectacular sight.
The Rainbow Bridge is built on three levels, with metropolitan railway lines running along the top and bottom deck. The middle level is for cars, and there are also two pedestrian walkways.
You can enjoy a delightful walk across the bridge from Tamachi Station, on the island of Odaiba, or from Shibaura-futō, on the mainland. On one side you can admire views of the port and the Tokyo Tower, while on the other you can see Tokyo Bay, or even Mount Fuji on a clear day.
Bear in mind, however, that you can only cross the bridge from 9 a.m. to 9 p.m. in summer, and from 10 a.m. to 6 p.m. in winter, and that access to the walkways closes half an hour before closing time.
An interesting fact: over the years, the Rainbow Bridge has become an international symbol of the city of Tokyo, and even more so for the Japanese, since it appears in numerous popular TV series and films, four of them starring the well-known Japanese monster Godzilla, who clambers up onto the bridge each time.
Our visit to the island of Odaiba ends here. MyWoWo would like to thank you - see you again at another Wonder of the World!