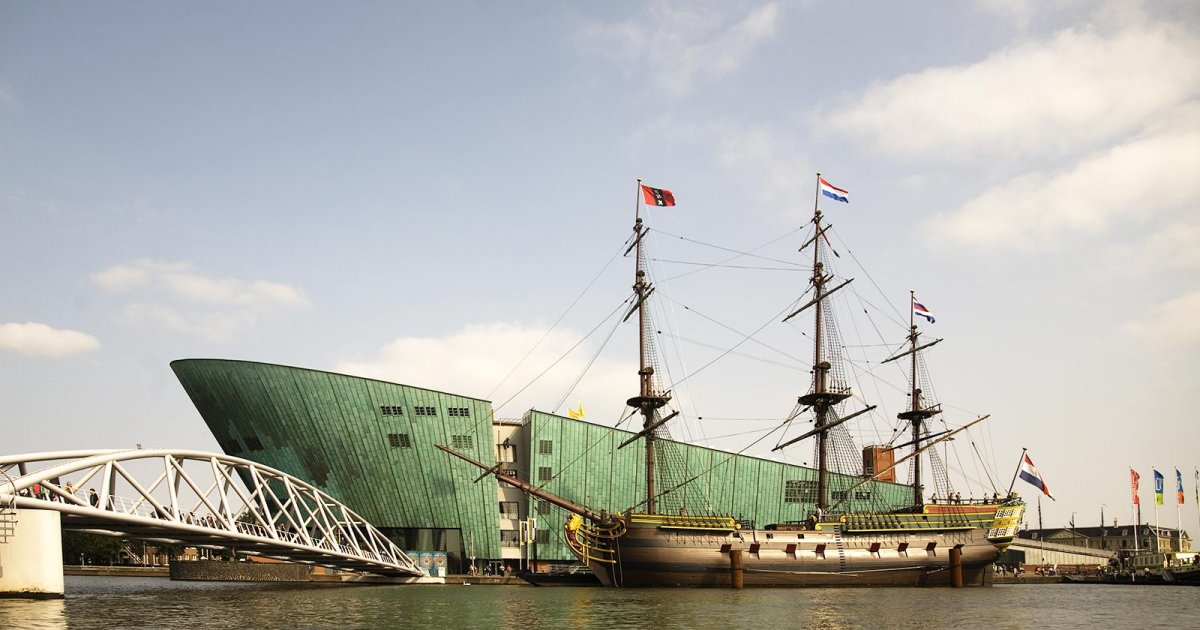 Audio File length: 2.40

Language: English / USA
The Oosterdok, or Eastern Dock, was created in 1832 when the IJ canal was built, to regulate the effects of the tides. The Prins Hendrikkade riverside area, partly planted with grass and trees, is dominated by the extravagant Shipping House, built in 1911 as an office block. The shape is reminiscent of the bow of a ship, and the decorative elements are a symbolic reference to the glories of the Dutch Navy. Among the sculptures is a portrait of Peter Stuyvesant, the last Dutch governor of New Amsterdam, now New York, which was sold to the English in 1674.
Not far from here, along the pleasant Oude Schans Canal, is the Montelbaanstoren, a sixteenth-century brick tower with a Baroque top, erected to protect the port.
Among the buildings on the bank, there is an impressive, modern, gleaming structure built in glass and aluminum along the water, known as the ARCAM, the headquarters of Amsterdam's architecture center, with spaces for temporary exhibitions, a specialized bookstore and an information center on the modern architecture of the city.
The building covered in green metal facing you is the Nemo Science Center, one of the unmistakable features of the Amsterdam skyline. It was designed in 1997 by the Italian architect Renzo Piano at the underpass that runs under the IJ canal and accessible via a pedestrian walkway; the outline resembles the hull of a sinking ship, which explains why it's nicknamed the "Titanic".
The interior is organized like a science park, where you can watch experiments and demonstrations of various kinds, and the terrace looking onto the port offers some marvelous views.
At the end of the dock, you can see the large former admiralty warehouse, dating to 1656, which today is home to the important National Maritime Museum, a favorite with children. The Museum hosts an exceptional collection of relics, memorabilia, models of merchant ships and warships, and uses multimedia technologies to offer an engaging account of the history of the Dutch naval conquests. The collection of atlases, globes and scientific instruments is particularly fascinating.
An interesting fact: moored in front of the Maritime Museum is the Amsterdam, a magnificent replica of a galleon of the East India Company, which you can step onto to get an idea of what life was like on a large seventeenth-century ship. The original was less fortunate, and sank after just 18 days at sea!