VAN GOGH MUSEUM, The Potato Eaters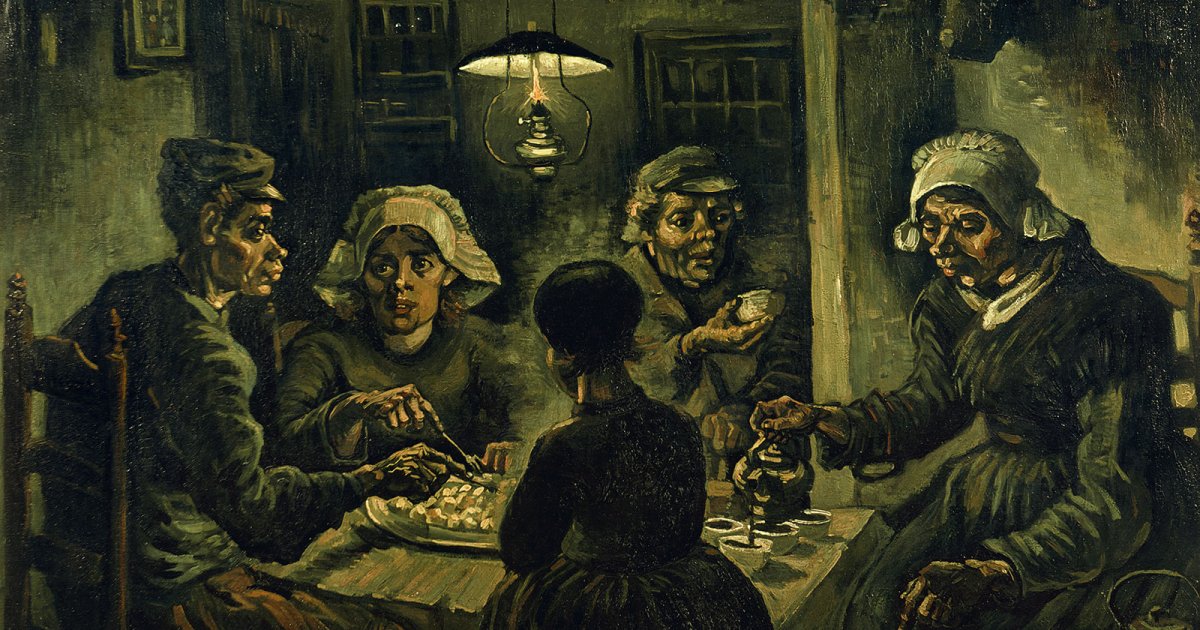 Audio File length: 2.39

Language: English / USA
The Potato Eaters is one of the first famous paintings by Vincent Van Gogh, heavily influenced by the tormented experiences of his youth.
Born in 1853 in Groot Zundert, Van Gogh was the eldest of the six children of a Calvinist pastor. Raised in an austere, harsh environment, he was not a particularly gifted student, and at the age of 15 he began working for Goupil, a company that traded in artworks. After he had spent a few years with the company, for which he had moved on several occasions, he was dismissed as a result of his behavior: his existential malaise was such that it had become impossible for him to pursue his professional activity. He was replaced by his brother Theo, who managed to carve out a decent career for himself, which allowed him to support his beloved brother, also financially, throughout his life.
The young Van Gogh, driven by an almost obsessive faith, then attempted to study theology with the aim of becoming a pastor. Although he was unsuccessful, he did manage to obtain a post as a preacher in a mining area in Belgium, where the absolute poverty of the local workers made a deep impression on him.
Moved by the ecclesiastical authorities for taking the suffering of others too much to heart, he went back to study art in Brussels in 1881, and in 1883 moved to Nuenen, a little farming town, where he began painting the tired, malnourished faces of the poor peasants.
Painted in 1885, The Potato Eaters is one of the works he painted in Nuenen. As you can see, the faces are placid, yet coarse and ugly; there is no attempt to transmit a sense of beauty, but rather the misery of poverty and the dignity of manual labor. In a letter to his brother Theo, Van Gogh wrote that his intention was that the observer should "get the idea that these folk, who are eating their potatoes by the light of their little lamp, have tilled the earth themselves with these hands they are putting in the dish…"
Van Gogh is taking realism to the extreme here. As you can see, the predominant tones are shades of brown, the color of the earth, and the brushstrokes are almost as rough as the subjects he is seeking to depict.
An interesting fact: potatoes, now so common and so popular throughout Europe, did not actually reach the Continent from America until the 16th century. In the centuries that followed, they saved the population of several countries from terrible episodes of famine.