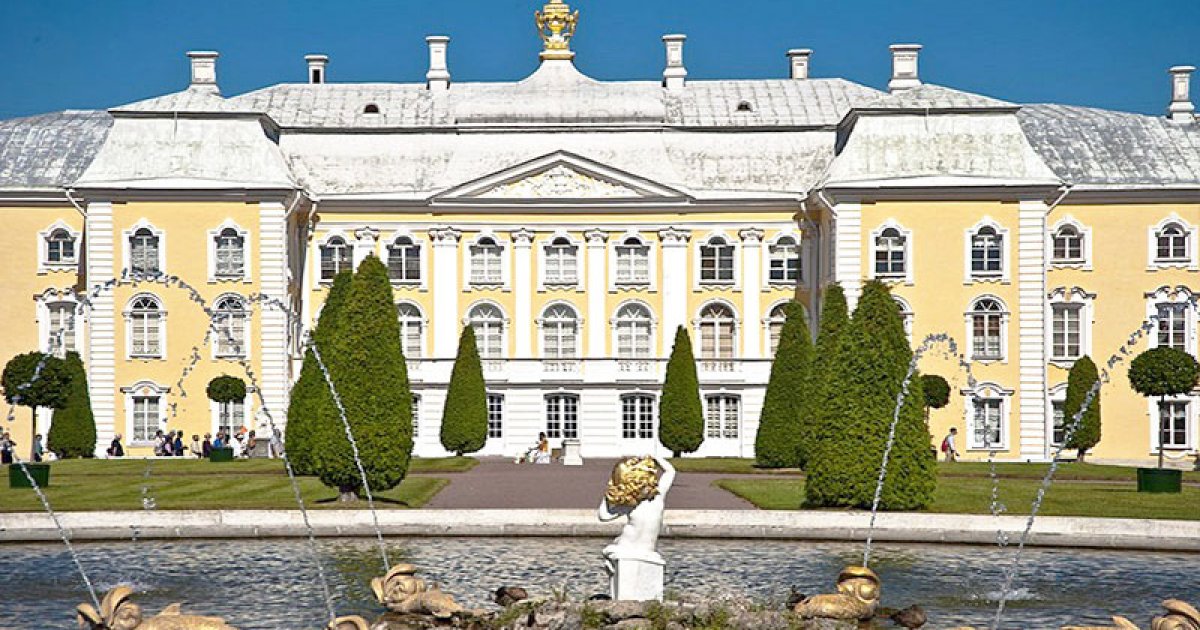 Audio File length: 2.23

Language: English / USA
Seen from the garden, the Grand Palace of Peterhof looks really impressive, but in reality, it is not particularly large. In fact, it only has around thirty rooms. It was built between 1714 and 1721 on a design by the architect Jean-Baptiste le Blond following the original drafts of Peter the Great who wanted a two-storey villa with two side wings built on a hill.
The present appearance is mainly due to the work carried out during the reign of Empress Elizabeth, daughter of Peter the Great. The palace was modified and enlarged by the Italian architect Francesco Bartolomeo Rastrelli, who added a floor, a new wing and a small dome church. In addition, the interior was renovated in Baroque style, with the exception of the study of Peter the Great, which remained intact.
The Palace was further embellished during the reign of Catherine the Great, when Yury Felten decorated the wonderful Throne Room, the largest of the Palace, of about 300 square meters.
During your visit, you can enter the wonderful rooms of this palace and imagine the sumptuous lifestyle of the greatest Russian emperors.
Once you have climbed the splendid Gala Staircase in Russian Baroque style, decorated with stuccoes in pure gold, there are rooms and galleries that bring together objects, furniture and works of art, all of them real masterpieces.
Among the most interesting rooms, I recommend the Chesma Hall, with 12 large paintings by the German, Jacob Philipp Hackert, of the Battle of Chesma, the extraordinary naval victory of the Russian-Turkish war.
Don't miss the Picture Hall, so called because of the walls are almost entirely covered by a series of 368 paintings, mainly depicting women who differ in appearance, clothing and age, although many are portraits of the same model. The two magnificent Chinese lounges, the original study of Peter I, the Blue Lounge where there is a nineteen-century porcelain service used for official banquets and the Throne Room are all extraordinary.
Fun fact: In order to make the paintings of the battle of Chesma more realistic, Tsarina Catherine II blew up a frigate in the port of Livorno in Italy, so that the artist, who had never seen a naval battle, could draw inspiration from it.