ST. ISAAC'S CATHEDRAL, Interior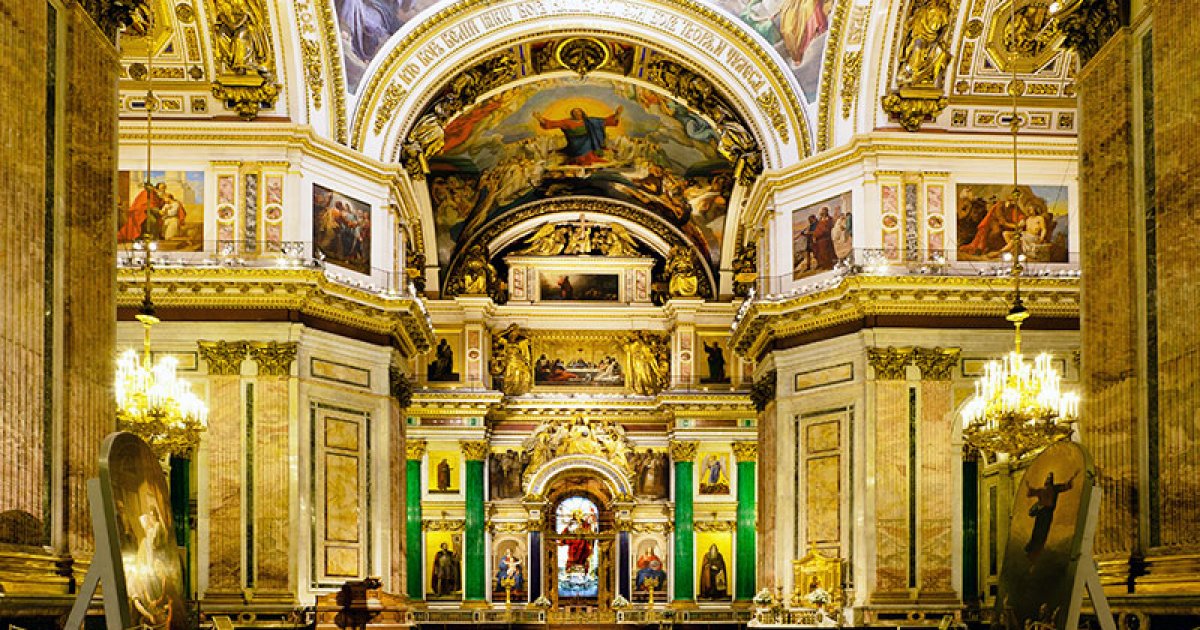 Audio File length: 2.38

Language: English / USA
The interior of the cathedral is even more spectacular than the exterior. The floor, walls, arches and huge pillars are beautifully decorated with fourteen types of marble and 43 types of precious stones, including jasper, malachite, lazurite and porphyry. It also features bas-reliefs, gilded stuccoes, frescoes and 600 square meters of mosaics created by over 200 artists. More than 400 kilograms of gold, 1,000 tons of bronze and 16 tons of malachite were used for the decoration.
If you look up towards the inside of the large dome, you'll be immediately awestruck by Karl Bryullov 's huge painting entitled "The Virgin in Glory", covering more than 800 square meters and depicting the Virgin surrounded by saints and angels. Hanging in the center of the dome is a silver-plated bronze dove, symbolizing the Holy Spirit and peace. The walls below are painted with images of the Apostles and the Evangelists.
Look around and admire the gilded sculptures of the Cathedral: they are the earliest example of the galvanoplastic technique, used to forge metal statues that were hollow and therefore particularly light. The technique was invented here in St. Petersburg by the Prussian physicist Moritz Hermann Jacobi.
Now press pause and press play again near the main altar.
This magnificent masterpiece is an example of the encounter between different artistic traditions, embellished with ten columns in green malachite and two in blue lazurite, and is divided into three levels: two lower ones featuring gilded icons, and an upper level painted in bright colors.
Equally majestic are the royal doors of the altar, made of gilded bronze and weighing five tons. Above the arch of the doors is a gilded sculpture entitled Christ in Majesty or Christ in Glory, and a mosaic icon depicting The Last Supper, influenced by the fresco of the same name by Leonardo da Vinci.
An interesting fact: During the Second World War, the Germans besieged the city for almost two and a half years, and during this time the cathedral was used as an air-raid shelter, because it was considered the most solid building in the city, also thanks to the robust dome.
Our visit to Saint Isaac's Cathedral ends here: MyWoWo would like to thank you - see you again at another Wonder of the World!